While my subconscious state was eager to re-orient myself with Sigmund Freud whose house was a few blocks away from the café, my conscious self had fallen victim to such distractions brought by the pleasure-principle and the compulsion to see some of the city's landmarks. I sauntered around the Innere stadt (Inner city) in Vienna's 1st district encircled by the Ringstrasse, the city's grand boulevard. There is something charming about ambling along cobblestoned streets especially when you walk on the same street where Orson Welles (aka Harry limes in the Third Man/3man Museum houses some memorabilia) once stood (or supposedly fell from the building).
One can easily get used to snacking on apple strudel or wiener schnitzel, which is by the way bigger than the plate on which it is served. At the next corner, I was tempted to order a glass of sparkling wine, from vineyards grown just outside town. Vienna's suburbs are rich patchworks of wineries and home to many heuriger or wine gardens. Having quenched my thirst, I went on to see the prestigious State Opera house having hosted world class performances from Mozart, Wagner and Strauss. It's worth noting that the 37 year old Gustav Mahler became its artistic director in 1897. Opposite the opera is the majestic Hotel Bristol which at one time had been the US Army headquarters during the Second World War. Vienna was then occupied by the four international powers – America, Britain, France and Russia. Its gilded staircase is marked by dents from soldiers who accidentally hit the rail with their rifles while running down during the invasion.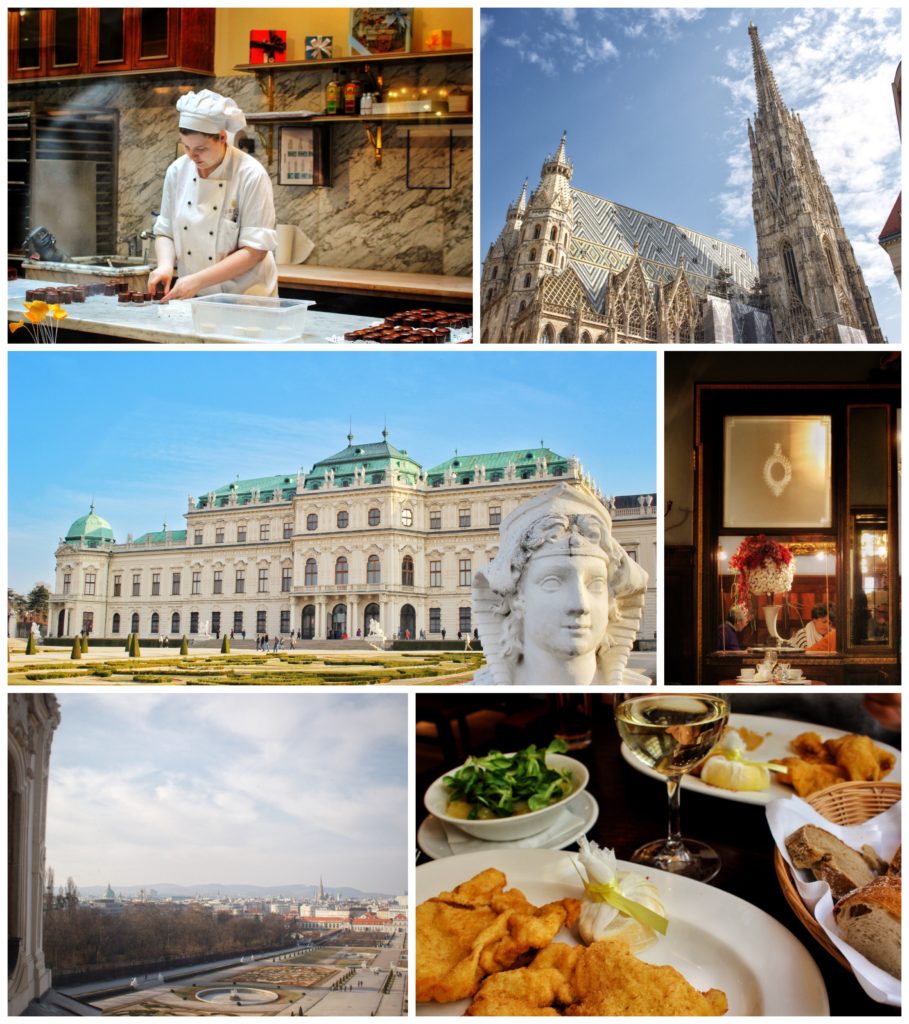 What makes the walk in the Innere stadt even more delightful is that everything is within walking distance. I hopped from cafés to courtyards while salivating at the exquisite window display of cakes, chocolates and pastries at Demel and Café Sacher. If this alone is not enough to satisfy the visionary pleasures, then a foray to the nearby Spanish Riding School where one marvels at the pageantry of galloping dancing horses.That afternoon, I went to see Gustave Klimt's The Kiss at the Belvedere museum. If Picasso had his "Blue Period", I was intrigued with Klimt's "Golden Phase". Contemplating on this, I head out for a walk in the museum's 17th century garden. The sun was just about to set, casting a warm golden glow, as if bidding farewell to his lover; locked in an intimate embrace. Watching the city from afar, I began to think that Vienna was infusing a romantic bond to my psyche.
I was just about to finish the last sip of my coffee when the man with the walking stick, whom I saw earlier, was now leaving the café. I took it as a signal to head out and get to my appointment at Bergasse 19 in the ninth district. An address well-known by many of his followers for this is where Sigismund Schlomo Freud lived for 47 years. It is not that I came to seek any kind of interpretation of my waking dream but rather see for myself the place where the man lived, who revealed the secrets of the mind. Now, a Sigmund Freud Museum, it welcomes many of the late doctor's enthusiasts but no longer receives the delusional and neurotic.
Like his patients had done in the past, I buzzed myself to be let in. At the entrance, encased in a glass is his cane and hat. It had been like that ever since a brief klepto-episode occurred during 1970. Only a few possessions were left behind. Most of Freud's accouterments are in display including his famous couch in Hampstead, which he took with him when he fled the Nazis to find safety in London. The waiting room still embodies a timeless vision of what it was like to be one of the patients waiting to be ushered in his office, and then questioned about their childhood and memories, while lying down on a couch.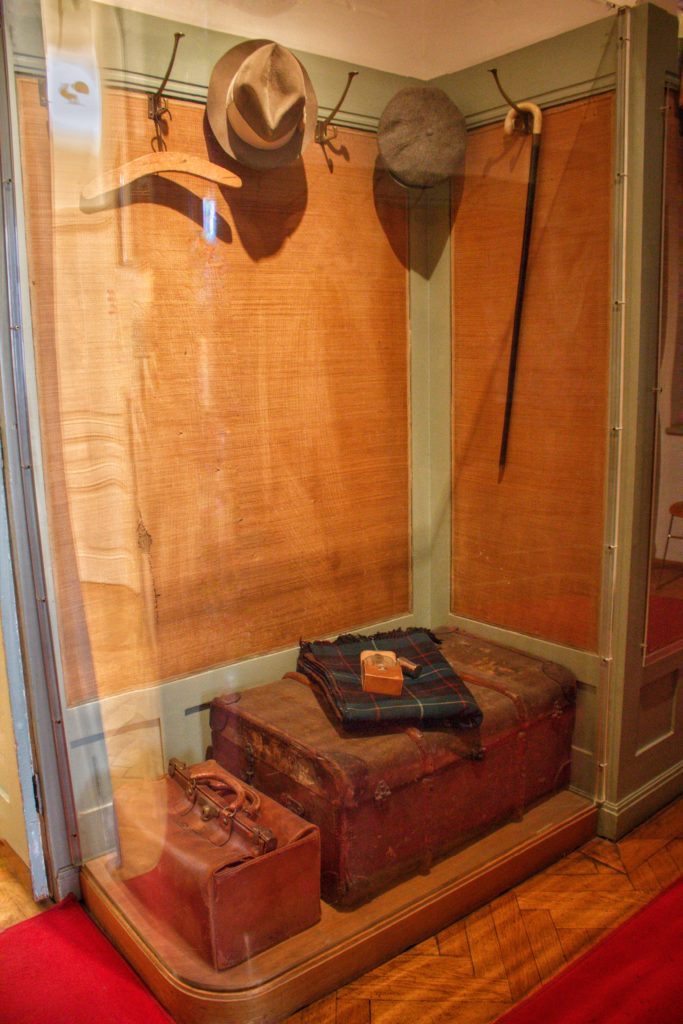 Grainy black and white family pictures dot the walls throughout the house, some turning yellow with age. Many snaps show some of Freud's colleague from the Psychological Society. My favorite was the ghostly image of his in a dramatic pose where he leans a bit as if intently listening to something.
Freud was obsessed with time and tobacco. He was a creature of habit so much so that Anna Freud called her father the 'little clock man'. He would have his breakfast precisely at 7am demanding that the whole family to be present. This routine was repeated at 1pm lunch time and the 7pm dinner. He was never a big fan of smiling but he did enjoy his tafelspitz, an Austrian boiled beef dish served with fried potatoes, horseradish, apple sauce and sliver of pancakes. At a later stage of his life, Freud developed a terrible oral cancer where he undergone more than 30 operations on his mouth.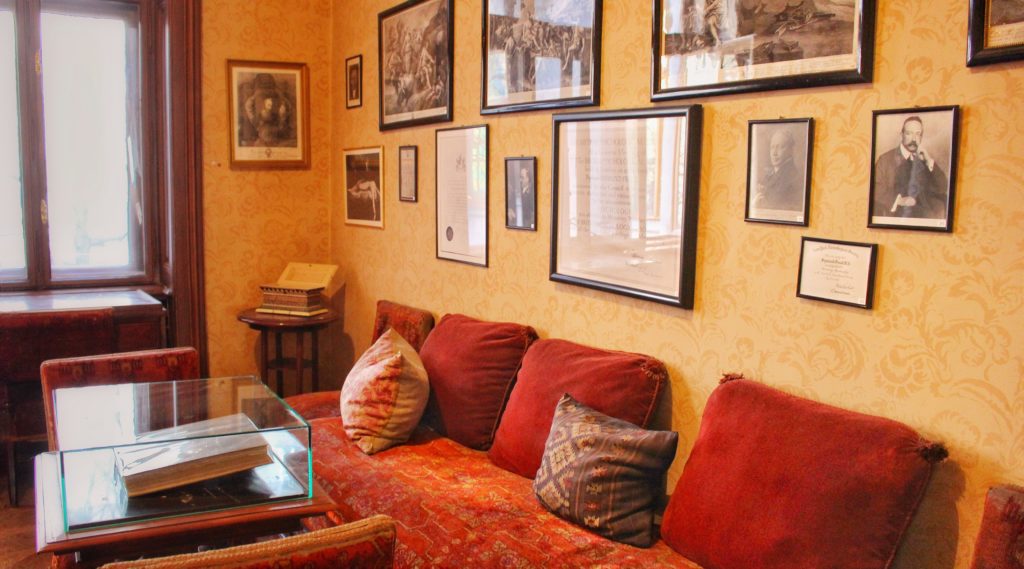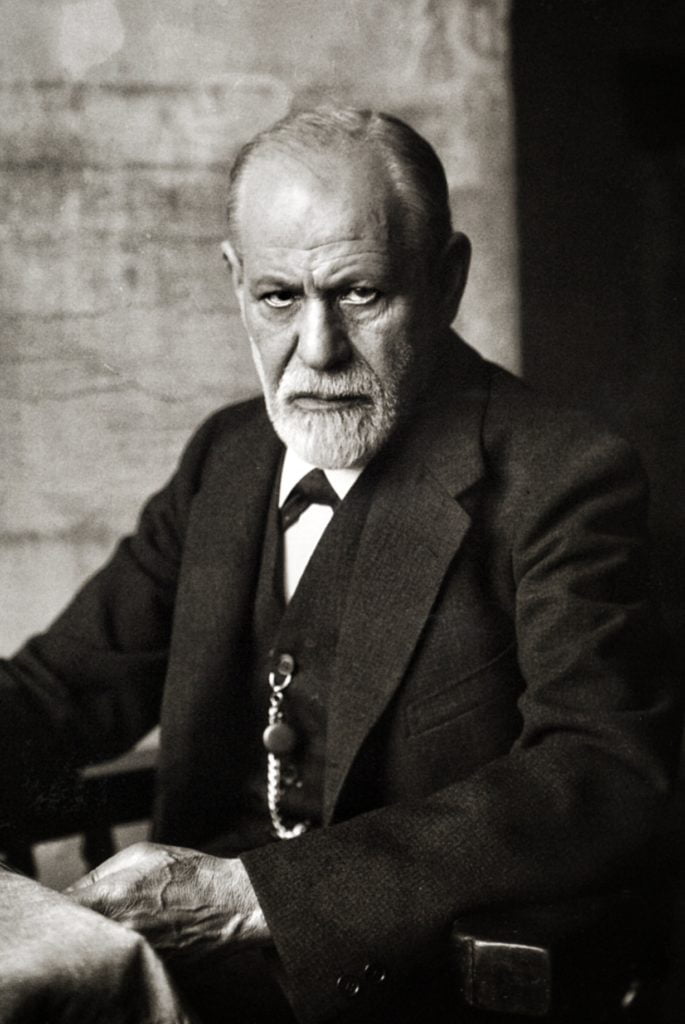 Perhaps the most fascinating part of the museum is the videos that Anna Freud fondly narrates. There were scenes and footage from the house, vacations, childhood, Christmas and the trips made by the Freud family outside Vienna with their pet dog Lun, the happy moments and up to the days when the doctor's heath was in decline.
I was told that to get a glimpse (or even feel) Freud's medical background, I needed to see the campus where Freud began his studies on neuropathy and the human mind. The University of Vienna was close by. Even closer so was the Josephinum, Vienna's first medical school now a medical history museum and the Narrenturm "Mad's Tower" – Europe's oldest insane asylum which dates back from 1784 (also turned into a pathological museum). Here lies a startling relic before Freud's time of how mental illnesses were treated. Such display includes deformed skulls, some strange looking human parts, a floating specimen of a full-size Cyclops baby, and even conjoined twin animals. The thought of it animated me.
But like Freud who stuck to his regular routine and liked to go for a walk after lunch, I was also keen on following mine. The visit to the university may have to wait. For now, I would like to take it slowly. Perhaps walking (or wandering) as Freud may have believed, was the best aid of thought. This of course warrants further analysis.
In my lucid intervals, while visiting Vienna, I was reminded of what the doctor wrote in his book 'The Interpretation of Dreams', where he so eloquently said "So far we have mainly been concerned with probing after the hidden meaning of dreams, the route we should take to discover it, and the means the dream-work has employed to hide it." Vienna allows us to indulge in a waking dream and there is nothing more real than setting foot in this alluring city.
Video by filmspektakel.at @FilmSpektakel