K
UALA LUMPUR, Malaysia – Tony Fernandes has the kind of passion that inspires you – the kind that makes most, if not everyone, believe in the power of one's dreams. The kind of excitement but afflicting passion that sends you out of the conference room feeling like a millionaire.
And it is his passion that makes Tony a crowd favorite and a real darling among fans at the Global Entrepreneurship Summit (GES) held last October 11-12, 2013 in Kuala Lumpur. Launched by the US President Barrack Obama four years ago in Washington, DC, the summit was then moved to Cairo, Istanbul, and finally to the heart of Southeast Asia, Malaysia.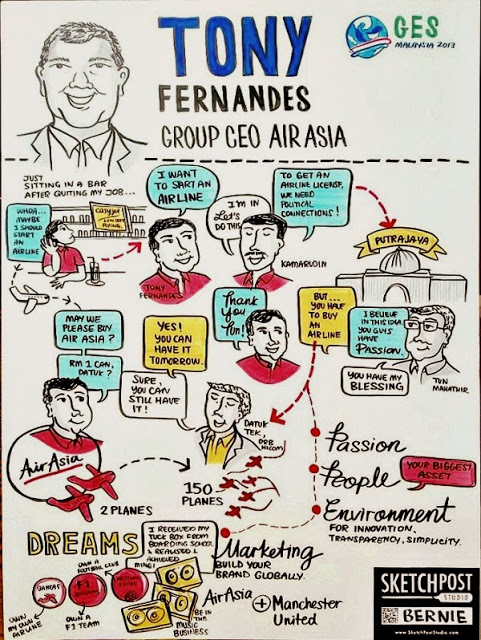 Sitting with Tony Fernandes in a room filled with young, driven, and budding entrepreneurs from all over the world while recounting his stirring "story" with subtle touches of comical wit was enough to get a roaring applause from the audience and some went to a consuming frenzy of having a close-up picture with the Group CEO of Air Asia.
In the competitive world of airline industry, Tony who is a great believer in the power of passion and ambition started his empire and with boldness proclaimed "I will buy Air Asia for one Malaysian ringgit!" Few months later, Air Asia took flight with 250 employees and two ageing Boeing 737 jets flying to a single destination.
Though successful in buying the airline business for a token 25 cents from a Malaysian-government owned company in September 2001; he inherited a 40 million ringgit (US$11 million) worth of debt. In the same month, 9/11 tragedy occurred and caused many people around the globe to develop a fear of flying.
This didn't stop the ambitious "kampung" boy seizing an opportunity to capitalize on the dire situation. Airline lease costs had dropped 40% and lay-offs in the industry had afford Tony to save some money, hire more experienced staff for a lesser expenditure and began revolutionizing the airline as a short-haul no frills – budget carrier.
A year later, Air Asia paid off all its liability and finally once more his passion soared high as the company grew from two planes in 2002 to a fleet of 150 aircraft flying 30 million people around the world.
That first time encounter with Tony, who dreamt big since 37 years ago, now owns not just airline but Formula 1 team and a football club. Tony Fernandes, the man behind AirAsia is also a great advocate of South East Asia and ASEAN and just recently moved the airline's headquarters to Jakarta to be closer to the seat of ASEAN.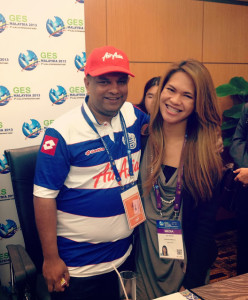 When asked about his joint ventures in other ASEAN nations he was very bullish on both Thailand and the Philippines and sees enormous potential particularly in the Philippines saying that the present government there is by far the best in ASEAN.
Donning a red AirAsia cap, Tony yet again proved that the world is full of possibilities and just like his credo "Believe the unbelievable. Dream the impossible. Never take "no" for an answer!" Surely, I didn't take no for an answer to shake his hand and ended the day by having our picture taken together.