Always pulsating with life and vibrancy – Barcelona gravitates toward what's hot with its great city spots, enticing visitors for centuries and makes everyone ask- where to and what's new?
Spain's second-largest city will bowl you over with its rich history, architectural wonders and nonstop gastronomical delights. As one takes a stroll to one of Spain's busiest streets – Las Ramblas, it's not hard to notice that this Catalan capital wants to be acknowledged as more sophisticated than Madrid, more prosperous than Paris and certainly more efficient than Rome. In fact, Catalonia has been trying to get away from its motherland ever since its inception.
Its very own economy is the lifeblood of the city and Barcelona just seems to know how to play the ball and kick it to the goal.
Surely, what is not to love in Barcelona? A 24 hour layover in this magnificent metropolis with its strong penchant for predicting future trends before they happen leaves one in awe.
While most are attracted to exploring the eclectic art scene, posing in front of Gaudí's houses on Paseo de Gracia or visiting his fairytale creation – Parc Güell; others have found their way of admiring the famous works of Picasso and Miró. A trip to this part of Spain is not complete without having visited some of Barcelona's infamous tapas bars and reveling in the buzzing nightlife during the summer months which tend to be the busiest times of the year.
In my quick winter jaunt to Barcelona, there was nothing but constant admiration for the city that stimulates the first-time visitors and can still, without a doubt, excite those who have been coming back for the last 30 years. One can always visit but leaving is always the hardest.
In this lovable city, you can be crazy and innocent, frugal and generous; everyone will be tempted to play a role on its stage. Wherever your feet will take you and to some – their libido, always have time to look for the new, but don't forget to experience the old favorites too!
Come, and let me take you to Barcelona!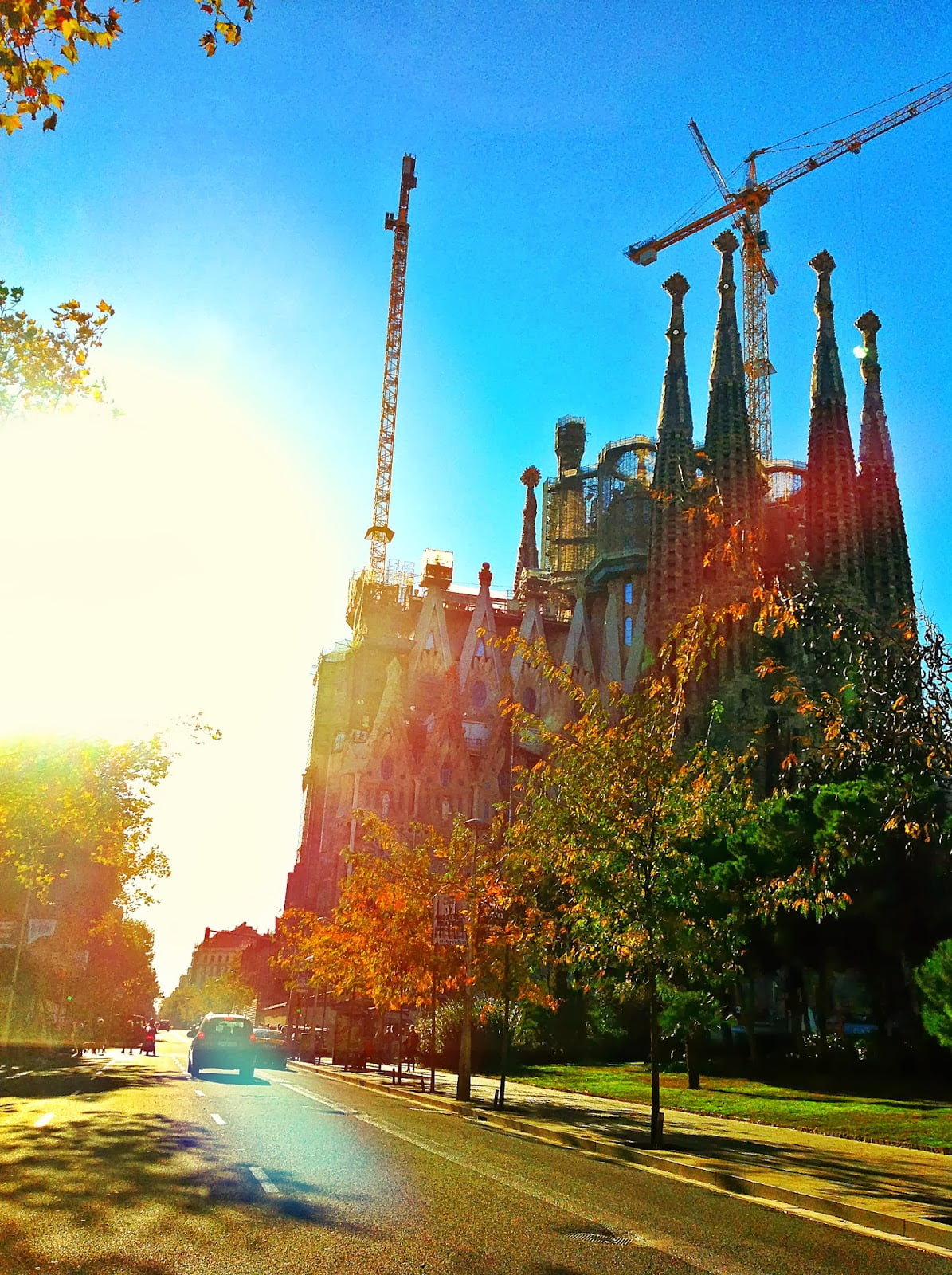 6:00 am – A touch of miracle
La Sagrada Família – for centuries, this architectural masterpiece inspired by Antoni Gaudi is still in construction proving that no two visits to this cathedral are alike. Its towering 558 feet height, which is ornamented with stained-glass windows, extravagant arches and intricate stonework is not hard to miss.
A quick peek is free but going inside means a little spending of one's money ($18). Opens daily at 9am and closing time depends on the season.
8:30 am – House of Gaudi
Even if you knew nothing about the famous Catalan architect named Gaudi, looking closely at his creations makes one understand the man behind the whimsical buildings.
Start in L'Eixampl then head south to Passeode Gràcia, passing the twisted facade of Casa Milà, known to many as La Pedrera and the spellbinding exterior of Casa Batlló. Walk down Las Ramblas to Palau Güell, a stunning mansion that features horse stables, beautiful living quarters and whimsical rooftop chimneys.
10:00 am – Life is a beach
For beach lovers, Barcelona is a place where you can spread out your towel, hoist your umbrella into the sand and smear yourself with sunblock. A stretch of 4.5km long coastline offers a great experience for relaxation and fun under the Mediterranean sun. Take a dip into Barcelona's cool beaches. Sant Sebastià (best location) Barceloneta (fun atmosphere) Nova Icària (great restaurants) Bogatell (peace and quiet) Mar Bella (simply beautiful)
NOON
12 noon – Hunger strike
Have you heard about the new carnivalesquetapas restaurant that opened last year? One of Barcelona's sizzling tickets in the world of gastronomy is to taste the food wizardry of the brothers Ferran and Albert Adrià.
While the food has kept some of the legendary El Bulli expertise, the introduction of the new menu surprises everyone's palate. Don't miss out ordering the juicy tuna belly garnished with jamón ibérico, delicate fish skin in a paper cone, the "liquid" olives and try the classical cocktail with an Adrià twist – where the oxygen from the ice is sucked out so it shines like a real diamond.
1:30 pm – Quickie
When in Barcelona, there is no time for siesta. There are just so many things to do and explore. To fuel the day's adventure, drop by at any all-day restaurant for some refreshments. A block from Las Ramblas is the Bar Lobo where you can enjoy an afternoon snack like the Don Quijote combo — start with café con leche, a bite of toasted open-face sandwich with Catalan sausage, and a thick slice of manchego and finish with a freshly squeezed juice.
For those on the go, fast food is always around the corner or just get few flavored packed of roasted almonds as you head out to your next destination.
2:00 pm– Museu Picasso
With its five medieval stone mansions, candid courtyards and interesting staircases make the Museu Picasso – a memorable place to visit and one for the photo album. The museum displays Pablo Picasso's work concentrating on the artist's formative years and progression to new forms of expression that after spending a few moments at the museum, one can definitely say that Picasso was a real artist always a step ahead of himself.
NIGHT
6:00 pm – Say cheese!
Don't get to be surprised if I tell you that a Scottish woman makes the best Spanish cheese and owns the only cheese shop in Spain that is dedicated to Spanish cheese! Nibble some of these luscious cheeses that came from a small-production farm in the back room of Formatgeria La Seu. If you can't have enough of the sample, pay a little extra and sip it with a glass of local wine while taking in the mysterious feel of the infamous Barrios Gotico.
7:00 pm – Palau de la Musica Catalana
Opened in 1908, the Palau de la Música Catalana, a UNESCO World Heritage Site remains one of the finest concert halls in the world, and is a cultural highlight in Barcelona. Snap a few photos of the intricate mosaic pillars and sculptures depicting such famous musicians as Bach and Beethoven. And if you are unable to attend one of their famous concerts, be happy since throughout the year, it hosts both classical performances as well as contemporary concerts featuring popular Catalan artists and rock groups. There's no way of missing any shows here!
9:00 pm – Dinner time
Not only do people in Barcelona looooove their tapas, they also indulge themselves with sumptuous cuisine every cena. Try those mouth-watering paella, pulpo (octopus), calamari, sardinas and 15 or so other small plates cooked up to perfection. It's everything and all you can dream of. It may not be gluten free, but it's certainly food for the palate.
11:00 pm – Be regal. Rest like a royal: The 5 Rooms
Tucked away from the main street, The 5 Rooms boutique hotel is housed within the confines of a 19th century Catalan apartment building and is a treasure in its own right. This hotel nestled in incognito amongst residential, offices and a few local shops, has recently opened its doors to everyone who is in search of peace and quiet amid the busy streets of Barcelona.
Once inside, you will be taken to an era where Senyoritas and Senyora as well as Don are spoken before your first name is uttered. A traditional courtyard that sports black and white tiles gives a sense of coziness and intimacy. Although named The 5 Rooms, it actually consists of 12, made up of swanky rooms, suites and two apartments all with a New York loft vibe and feel too it. Inspired by its owner, Yessica – whose designs and creations were a product of great imagination and a labor of love, this is a place in Carrerde Pau Claris that is almost home.
01:00 am – Dance the night away
The night is always young! From an Ibiza-style beach club to an underground party, this Spanish gem has set the gold standard for European nightlife and offers everything from salsa and jazz, but what has made Barcelona a legend is its outrageous nightclub scene.
One of the biggest Barcelona nightlife areas is Passeodel Born. This district is a late night hotspot for bar hoppers of all kinds. Plaça de Sol and Plaça Reial are two other squares and nightlife areas where you can listen to live music, dance all night at booming clubs and sometimes forget yourself.
Surely, Barcelona is more than just a banquet for all the senses. With panache and effervescence – time and time again, let Barcelona surprise you!