There's a new wind blowing in Bangkok.
It's not that it's going to storm. It's a kind of breeze, refreshing enough to cool down the sweltering heat, and the kind that stimulates a visiting traveler's imagination.
Taking advantage of a break in the sultry monsoon weather, I am on the corner of Sathorn and Rama IV Roads witnessing a gallant Gallic breeze as it collides with the mild Asian squall. At the heart of this episode, there is really no sense of fretting. It's just wind that blows music to trendy spirits; and right here, is the perfect spot where I have decided to spend the night.
Whether you are a weary urban lover, fashion oriented or the ultimate culture connoisseur out to make the most of the City of Angels or perhaps in search for an artful scene, there has never been a better time to put one's feet up and let one's hair down but here.
As one of Monsieur Christian Lacroix's products an example of uninhibited imagination and overflowing creativity –
Sofitel So in Bangkok
can be quaint and nostalgic to exotic and transporting.
After spending weeks in Paris tracing Monsieur Lacroix's flamboyant fashionable footsteps, from his office in Place Saint Sulpice and to one of his inspirational works in the Latin Quarter close to the Seine, I was curious to see how could a collision of hybrid French chic and local design stir and electrify the energetic Thai capital and also its visitors after So's opening two years ago.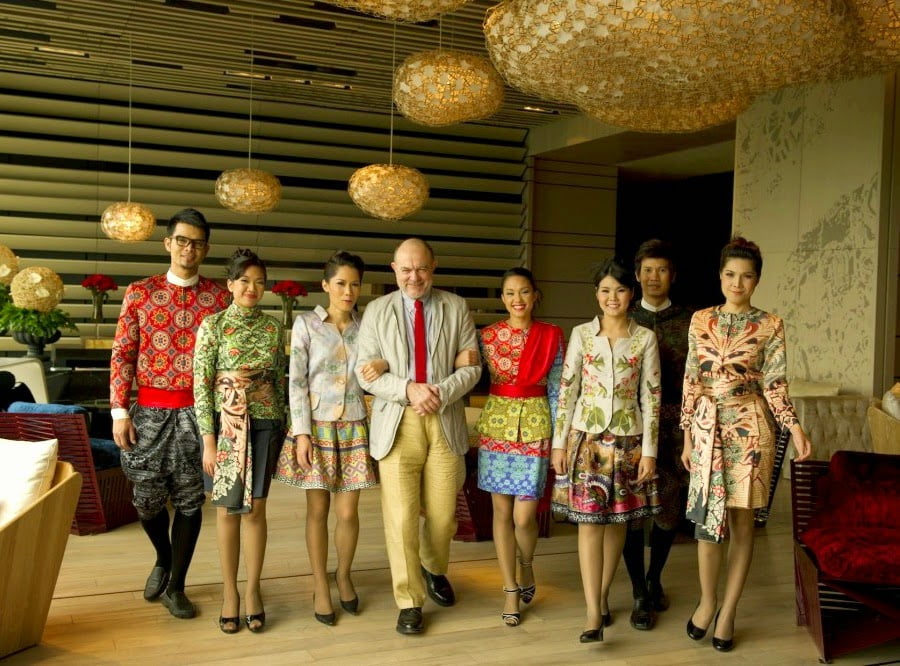 So tonight, I am not only staying in the hotel to sleep and eat, but most of all I'd like to hear its story and to know what happens within its walls.
If you take a Thai architect, five local hotel designers all creatively working and inject a French DNA from a fashion designer, Christian Lacroix, you get an amazingly super dramatic mixture of fantastical design. Then imagine a hotel, luxuriously dressed in that magnificent design. I think it is a wonderfully conceited idea that brings inspiration to life and Sofitel So perfectly captures that essence.
"The hotel is delightfully unique. Stepping inside, the décor captivates one's senses giving a glimpse on Thailand's origins. Time advances as one ascends the floor with ever changing concepts and climaxes to today's urban lifestyle at the summit," explains General Manager Yves Mudry.
The hotel also rises above Lumpini Park and it is expressed by the hotel's very own "Neo Arbre de Vie" Christian Lacroix's Tree of Life motif – an Asian-inspired nouveau that comes from an ancient symbol of nature found in both east and west and an iconic emblem unique to the hotel. From the tree, it branches out to the five elements of oriental philosophy: water, earth, wood, metal and fire where each element is conceptualize by every floor level and room design.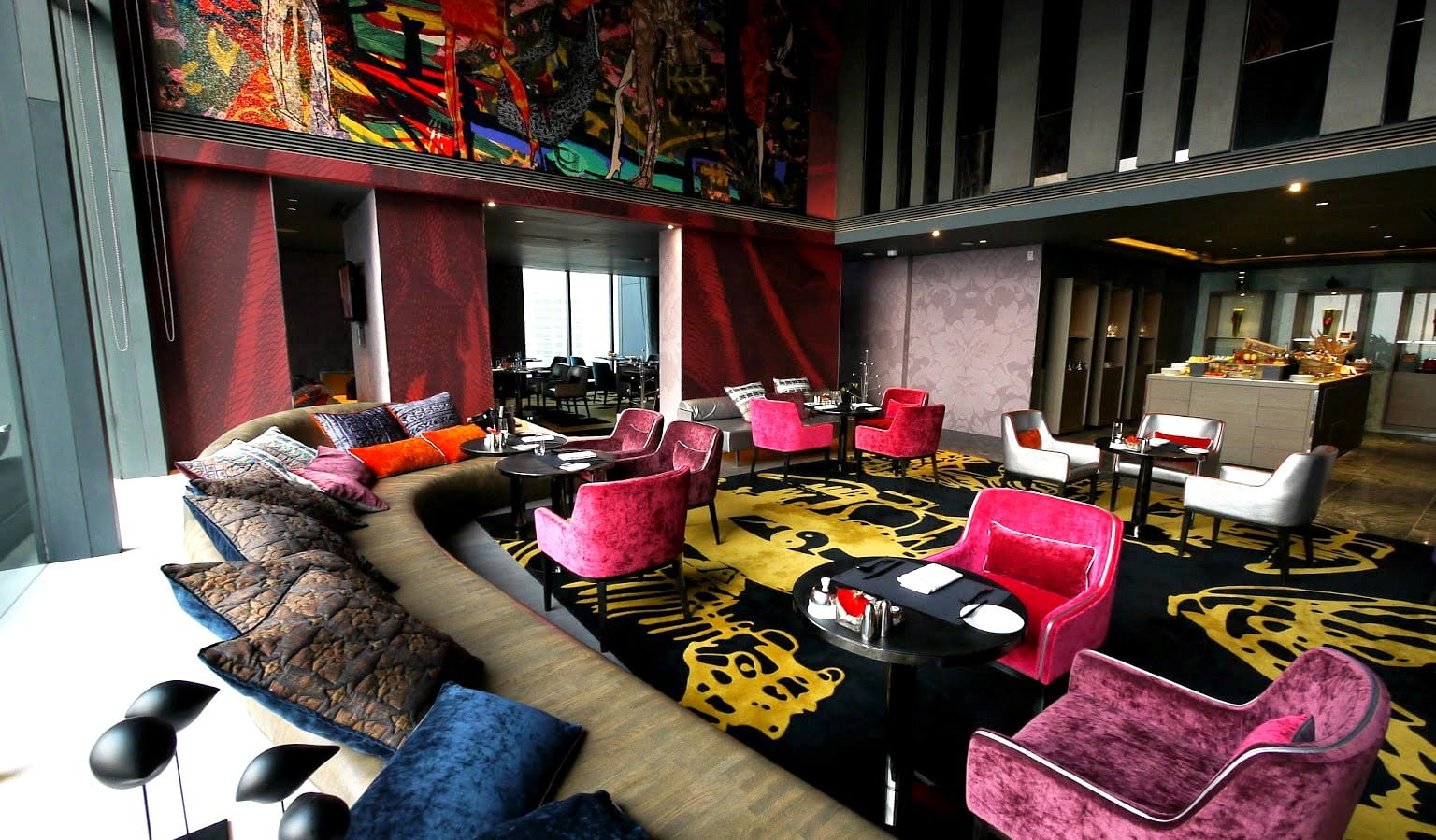 Up to the hotel's club level is Lacroix's theatrical stage. A playful act of cultural fusion between the old Siam and 19th century France, with oversized murals in the background, French songs  playing alongside the world of haute couture, making this artful place a wonderful experience. This is where the City of Lights meets the City of Angels.
"For the most part, its subtle French flair, with local design ideas at the fore," says Accor's Director of Interior Design Asia, Beatrice Martinet. "Christian Lacroix was keen to incorporate Thai elements into his own design sensibility, which he did in the lounge, with the hill tribe textiles of staff uniforms, and with the huge lobby mobile that features mythological Thai animals."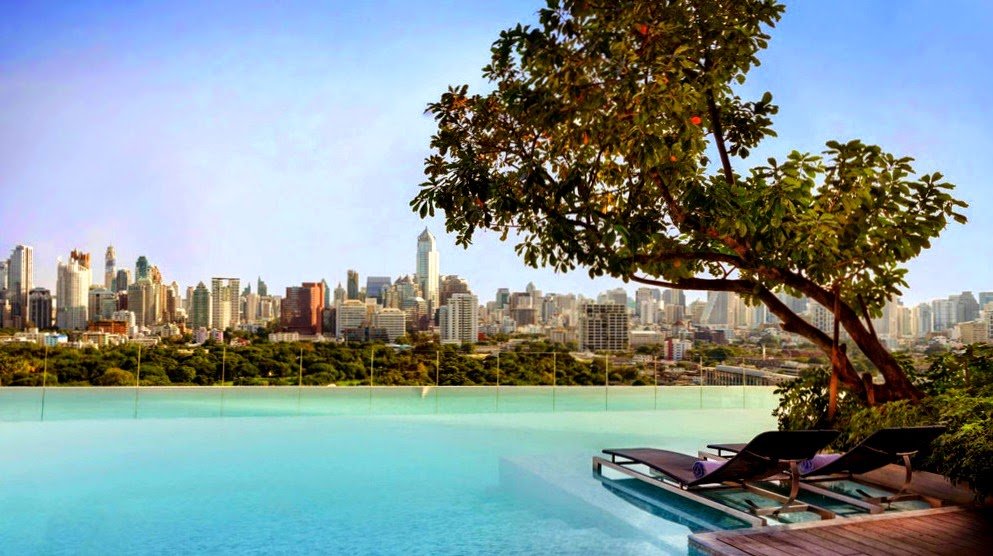 For all its scorching heat and spontaneity, Bangkok can feel claustrophobic to even the most enthusiastic lover of metropolitan chaos. The hotel's lobby atrium has huge windows, overlapping wood panels and perforated walls that play with light and city vistas – it's not hard to forget that this could be paradise.