Vienna was Freud's perfect place for his theories on the human psyche. Austria's pulsating capital can also be every traveler's waking dream and art aficionado's nirvana.
O

tto Ernst Wiesenthal does not need a palace. He is happy in his thriving cosmos in Vienna's 7th district, not far from the former imperial playground of the Habsburg dynasty. The fact is, at no. 41
Kirchengasse,
he feels very much at home. 
It is the same impression I get from his daughter Saskia Wiesenthal. She revels in showing locals and guests around her father's art-filled dominion. It might not be too obvious, but Saskia has a habit of making you feel that you're a part of a tight-knit, growing Altstadt Vienna family.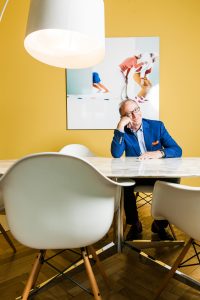 "Back in the days, my father used to work for a computer company and when away for business trips, he would spend countless nights in hotel rooms that all looked the same. He got tired of it and could no longer see himself staying in a faceless hotel." Saskia tells me this as we wander around the hallway and are about to check an artist's commissioned room.
"You see, my father loves to host dinner parties. He takes pride in his cooking, loves his art deeply and enjoys the comfort and familiarity that a home offers." We went down the staircase, passed the life-sized blue painting in the foyer, then turned into a corner and arrived at Room 19. "I guess it's that essence of a home that my father wanted to celebrate and he may have found a way to do it through his personal art collections and share them with everyone."
Saskia takes out the key, opens the door and in an instant we step into Carsten Fock's Zen world. The abstract, color-intensive German artist, like a calligraphy master, left his bold Provençal purple brushstrokes on the immaculate white-washed wall behind the bed and planted two paintings in the room that tap the temper of our times.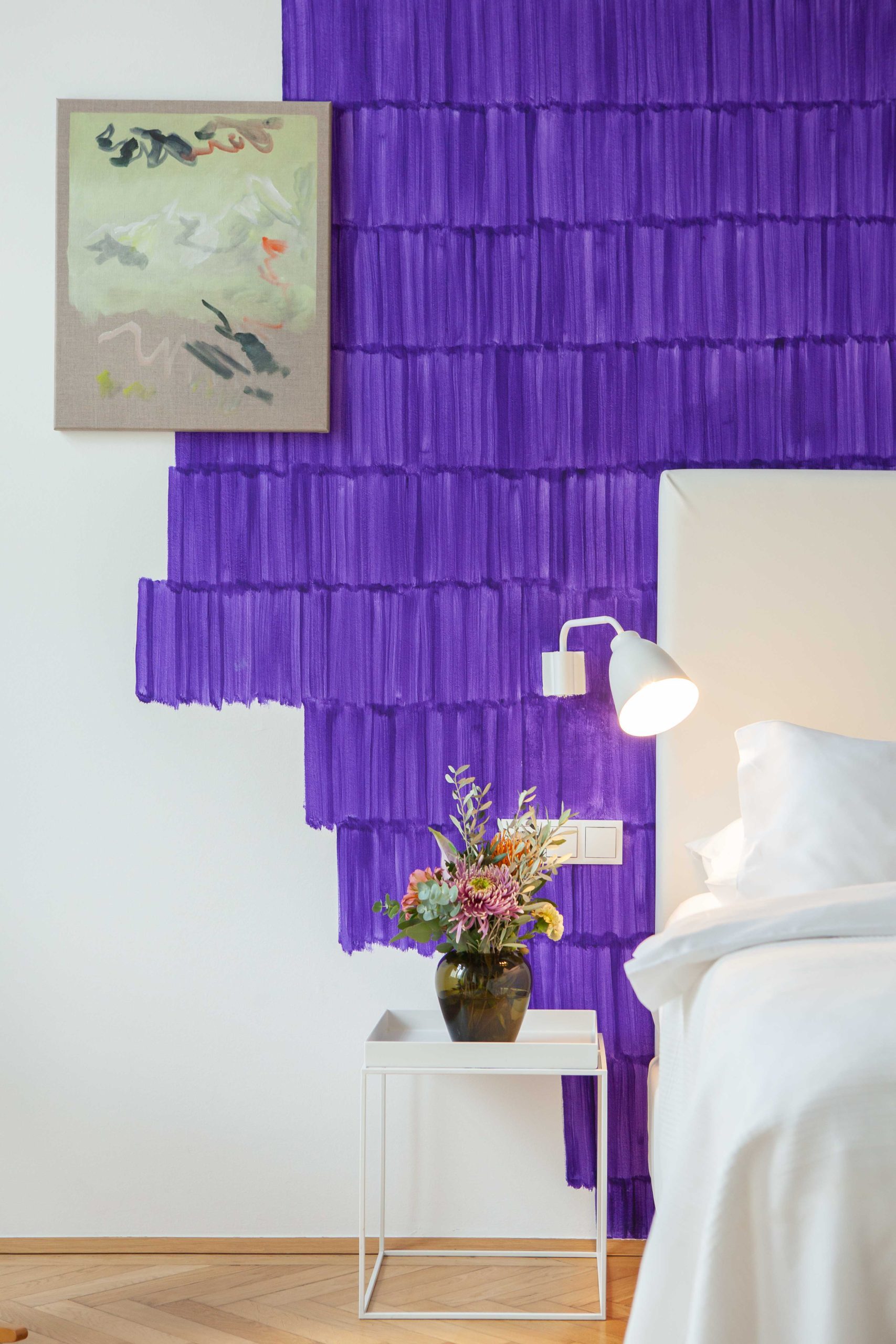 Photo from top to bottom: (1) Otto

Wiesenthal, owner of Altstadt Vienna Hotel and an avid art collector. (2) The Violet Suite – "Every Day Is A Day" featuring the works of the renowed German artist,

Carsten Fock.
"Well, here we are. A home away from home. It was one of my father's first slogans. He really wanted to open up his own place where people feel at home, find a refuge while traveling", Saskia explains and beams.
A glimpse through the window, I could see the moody spring in late March throwing a fit in the form of a rainshower. It seems it's a typical thing for a city about to wake up from a deep winter slumber. But while it was gray and raining outside, Room 19 was awash with the
esprit
of spring. As if someone intentionally spilled a splash of paint, kept the sunshine in the room and managed not to let it out. I have come to the city, it is to say, for a Viennese fix. Perhaps it might as well be to seek refuge. Here at Altstadt Vienna, I may have just found it. 
"Finding myself back in the city for a dose of a Viennese fix, resurrected my spirit, as if raising lady Lazarus from the dead."
It seems that the building's ethos remains unchanged over the years even before Mr. Wiesenthal opened his hotel here in 1991. The building, in a sense, resembled a place of refuge to say the very least. Back in the days, Russian immigrants would sojourn here while waiting for passage and papers to travel to the free world, perhaps somewhere in America, Canada or Israel.
After the computer company closed, Mr. Wiesenthal, now a free-agent, was determined to transform the tired guesthouse and put his personal stamp on it in keeping with the same philosophy of providing a refuge and a place that people can go to and relax, take a pause and appreciate art.
It was only a matter of time when Mr. Wiesenthal's long-nurtured dream became a reality; to create a hotel with an art gallery in it, or build an art gallery that comes with accommodations. Whichever you look, the rooms at Altstadt Vienna are never the same. Each one is a personalized portrait of a Viennese lifestyle. Artworks by Andy Warhol, Annie Leibovitz, Yayoi Kusama and Bruno Gironcoli hang alongside homegrown talents, Otto Mühl, Markus Prachensky and Friedensreich Hundertwasser. The art of hospitality a la Wiensenthal, literally, dwells and thrives here.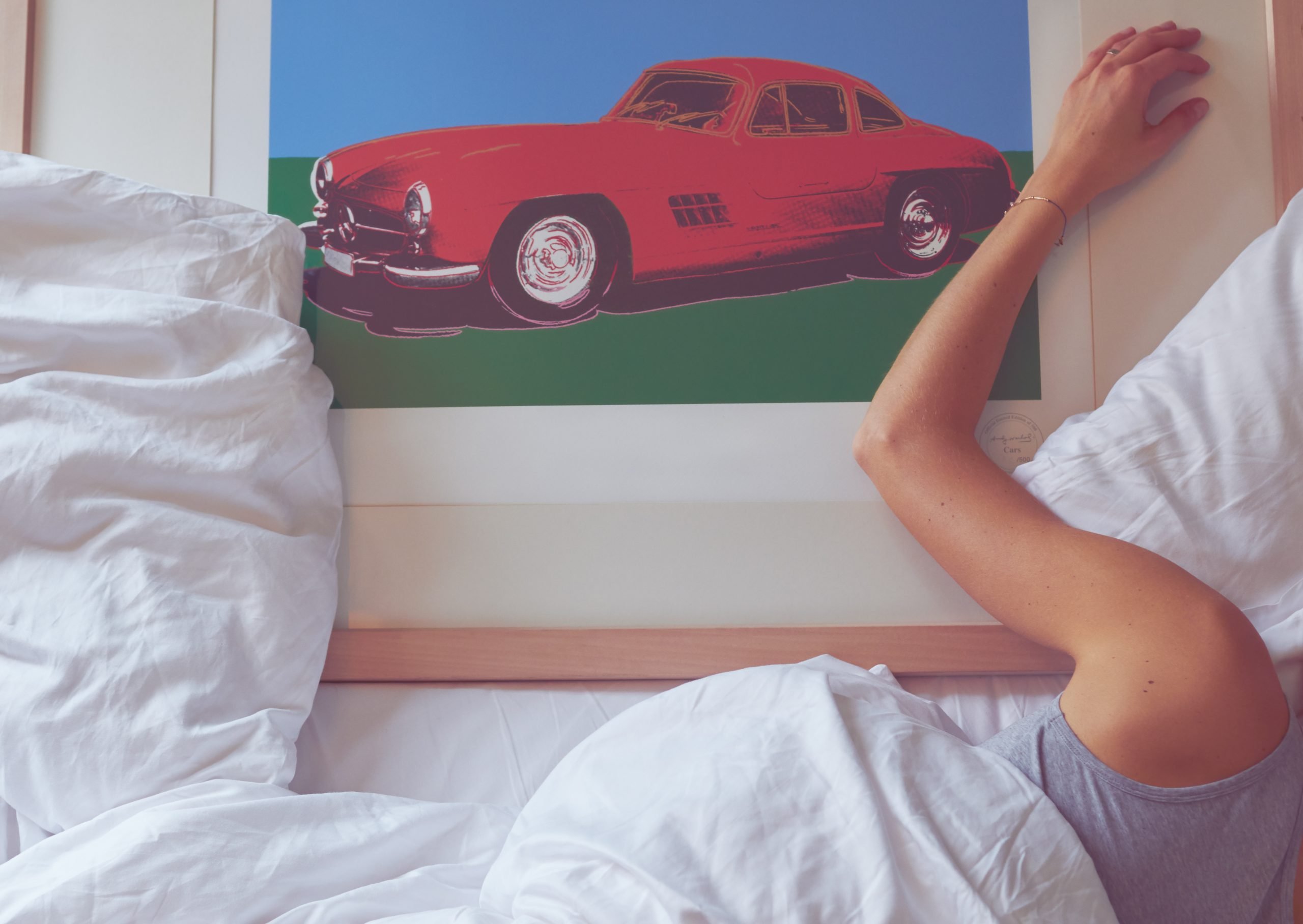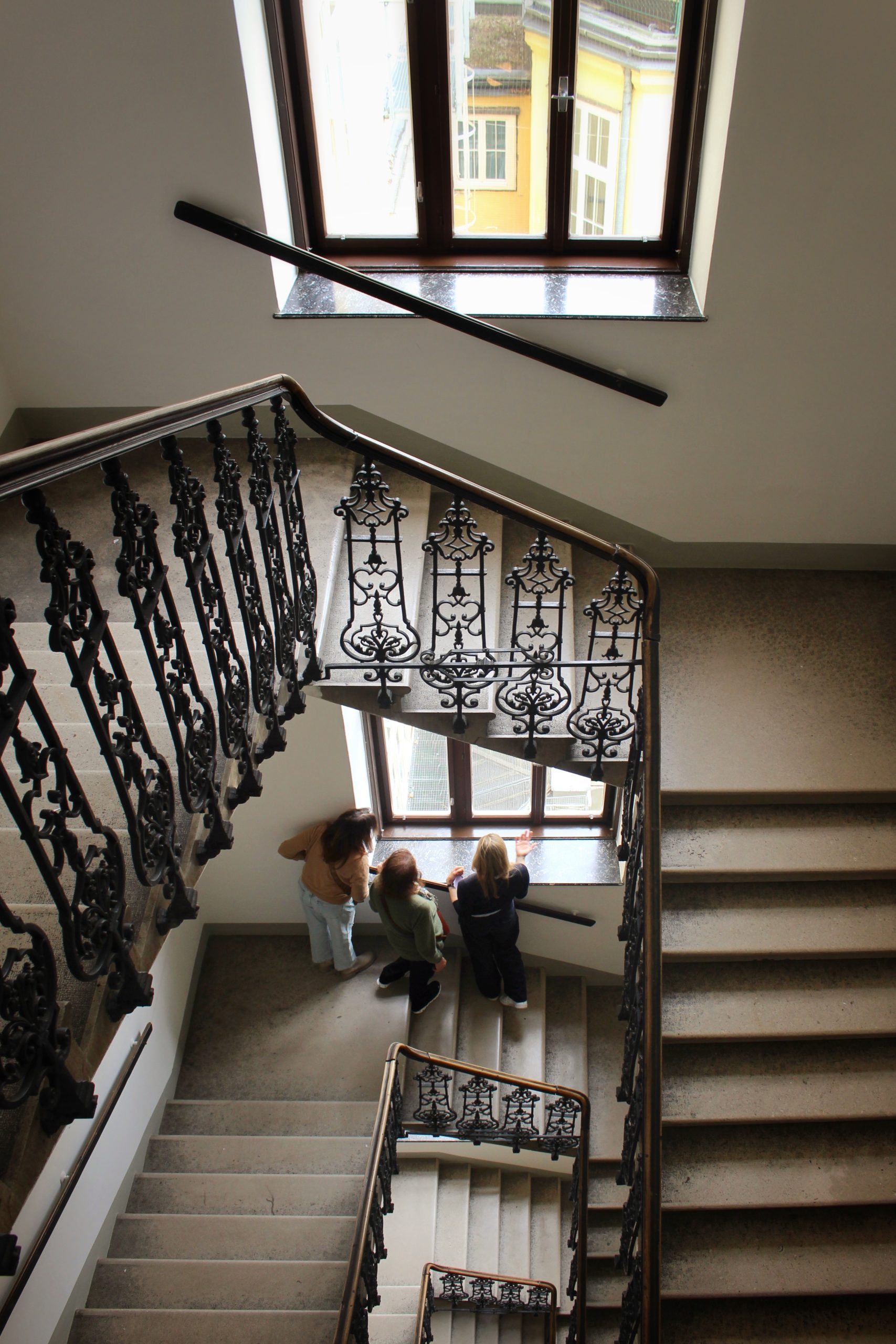 Photo from top to bottom: (1) One of the sought-after hotel rooms showcasing an Andy

Warhol art piece from the owner's personal collection. 

(2) Saskia

Wiesenthal, daughter of the

 

Altstadt Hotel founder, on a personal tour with guests.

(3) The author meditating infront of an artwork.
Saskia's phone rings, I take it as a signal for me to move along. I'm guessing it's another art pilgrim waiting to be shown around as I did and everyone before me with aspirations of coming in contact with works of art and perhaps even sleeping with them.
Saskia and I parted ways and I headed back to Room 53 where Andreas Lackner, a sought-after lifestyle stylist brought his vision of old regal Vienna to the contemporary. As someone responsible for staging some of the world's biggest events, the Fête Impériale, Life Ball and 2016's Carnival in Venice; I was not surprised to see a modern portrait of the Infanta perching above my bed. The sage in staging somehow anticipated my matronly arrival to what was once the capital of the world.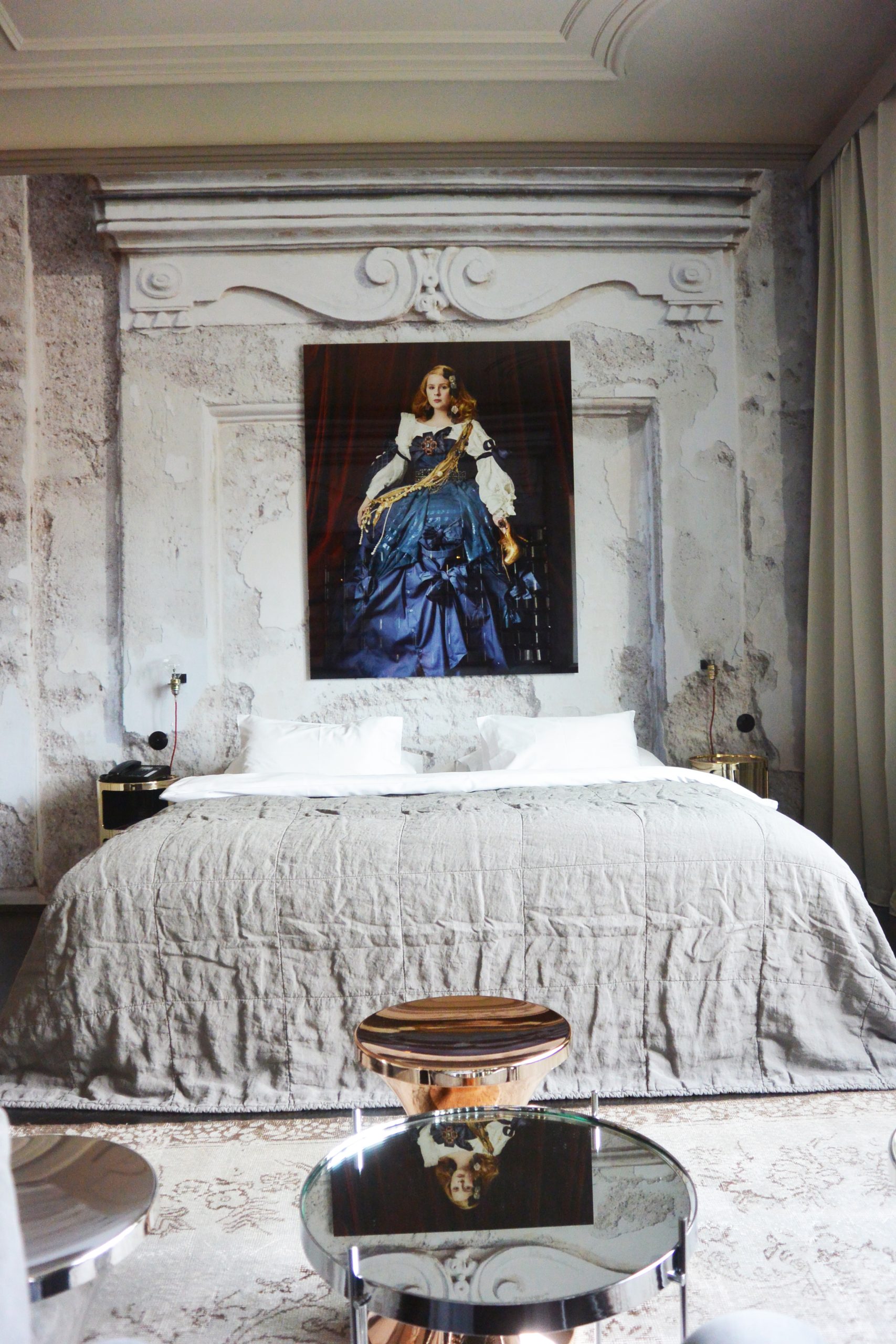 Photo from top to bottom: (1) My assigned chambre d'art –

Room 53 staged by Andreas Lackner.

(2) The room next door with the same view as mine. Room 52 features selected furniture pieces from Spanish star designer, Jaime Hayón and the american sculptor, Alexander Calder.   
While I couldn't shake off the thought of seeking a refuge in a city that over the years has learned to spoil me, it seemed rather appropriate to indulge in the present – my mindfulness of the moment. My last planned trip to Vienna was put on hold several times, due to strict covid lockdown and the ever evolving travel restrictions. Finding myself back in the city for a dose of a Viennese fix, resurrected my spirit, as if raising lady Lazarus from the dead. Just as the infamous Viennese legend would have it and was said to have taken place just across my street. Sometime in 1679, the year of the plague, bagpiper Marx Augustin, Vienna's favorite minstrel, woke up one morning amongst a pile of corpses, in what was to be the most terrifying hangover of all time. The deflated tavern performer had had too much to drink after a night's empty house performance, passed out on the side of the road, only to be mistaken as another dead body and was dumped into the plague pits.
Unable to call for help and free himself out of the mass grave, Augustin reached for his bagpipe and blared it as loud as he could, stopping the bewildered churchgoers in their tracks, who then found Augustin and brought him out of the pit.
Surviving his brush with death as well as the plague, Augustin became the symbol of Viennese tenacity as well as their sense of humor. So much so that Vienna's popular biweekly street paper was named after him. 
Between Augustin's almost comedic resurrection and mine, what are the odds that I might end up celebrating tonight – hopefully not to pass out in some ditch! Looking at the spire of St. Ulrich church from my window, I see the twilight mist rolling in. Down below, the cobbled streets look glossy and wet. Plants enjoying a sip. Spout. Splash. Sprinkle. It seems, to me, that Vienna, like a living art, sparkles ever more so – come rain or shine.
Will you be traveling to Vienna anytime soon? What do you think about art hotels and which one is your favorite? Do you know a cool hotel that you want me to check and experience? Love to know what's on your mind and do share them in the comment section below.