While the temptation of regenerative treatments flow abundantly in the Austrian Alps, visitors look the other way and seek out a new kind of healing.
At

age 68, with a voluminous coif in a shade reminiscent of a melting snow, Ike Ikrath is overflowing with energy. So much so that he calls running a hotel his therapy. 
Donning his usual Clark Kent rimmed glasses and expressive whimsy, he gestures to an Alvar Aalto's Paimio lounge chair stationed neatly in a corner where newly arrived guests and those with trained eyes would spot it with ease. 
"What are the odds?" I said quietly to myself. "My wobbly knees carelessly bumped into it returning from an early brisk walk this morning." Perhaps the Paimio piece afterall serves a higher purpose.

It's only been a few minutes since we started chatting, waiting for the late July rain in Austria's Bad Gastein to subside, when I began to notice Ike, in his architect kind of peculiarity, takes pleasure in describing things and their inner essences as a way to express his ideas. 
Coincidence? I doubt. Intentional. Maybe. My thoughts moved back to Aalto's chair again.
As one of the most photographed in the planet and coveted objet d'art, armchair 41 embodies the late Finnish architect's keenness to abate "the long and painful life" of patients housed in Finland's tuberculosis sanitarium.
Around me are lush lofty evergreens, dripping whilst jabbing the afternoon Austrian mountain mist. If anything, my alpine admission is likely to be 'fleeting and pleasurable'. As an all too familiar cliché would have it, time flies when you're having fun.
I am starting to see the subtlety and slowly catching up on Ike's therapeutic way in allowing his guests at the

Hotel Miramonte

to experience as well as to embrace one's own version of Alpine cure.  
On a precipitous tiered cliff of the Hohe Tauern mountain range of Austria, the town of Bad Gastein bear hugs this portion of the Alps. A waterfall gushes in the middle of town evoking a disney-like feel in a Wes Anderson backdrop.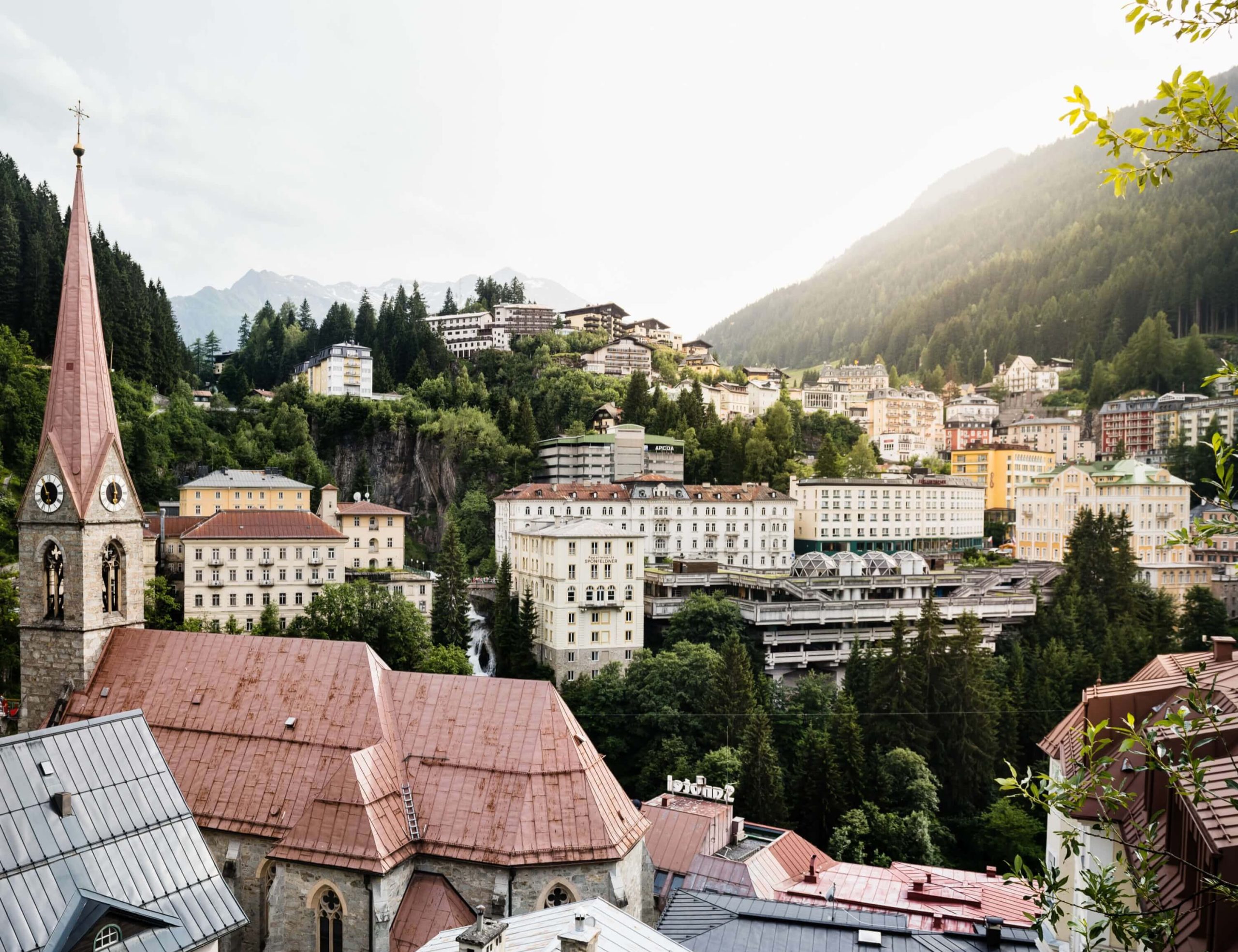 Above photos: (1) Ike Ikrath, architect by trade, hotelier and cultural provocateur by passion striking a pose with his Miramonte staff. (2) Bad Gastein is one of the three charming Alpine towns (Hof Gastein and Dorf Gastein) in the Gastein Valley. 

With nine direct trains from Salzburg, it is a swift 90 minute scenic journey. The name 'bad' means 'spa' reflecting the town's roots as health haven.

Image: Gasteinertal Tourismus GmbH.
Gold was the only thing everyone could talk about when the town struck it rich in the 15th century. But it wasn't for this earthly fortune that sent emperors, european aristocrats and statesmen packing en masse to Bad Gastein. Rather, the craze came from another earthly source – thermal springs. Since then, the town's radon-rich water became its most prized possession enticing popes, musicians, scholars, glitzy celebrities and travelers far afield to dip themselves in the spring's restorative powers. 
Investments came pouring in along with new fangled ski facilities.  However, tourism soon trickled in the late 60's as spa culture began to lose its fizz. Many of Bad Gastein's belle epoque properties took a hit from the increasing costs of the upkeep. Storefronts shuttered up. A number of hotels become empty shells of their former selves and lay dormant. The town, was as if it had pricked its finger on a spinning wheel and fell into a slumber.
"Bad Gastein is a place of possibility." Ike tells me. "I'm fond of transformation and awakening the inner creativity." It seems only natural for a painter's son to find Bad Gastein an ideal canvas. As he would refer to it, a sandbox waiting to be shaken, stirred and shaped into something like a force of change.

Photos from top to bottom: (1) Miramonte's lobby is a merry mix of futuristic flair and 60's glam. The hotel takes a traditional mountain chalet into a new height. (2) The sun terrace is a favorite hang-out amongst guests and the creative set. (3) Balconies with spectacular views. (4) The spa room comes with Aveda treatment thermal baths. Images: Steve Herud.
Joined by his wife Evelyn, who grew up in the area, they acquired an abandoned 1960's bank on a steep slope overlooking the vast expanse of the Gastein Valley. With the support from other designer friends, the group transformed the tired building into a 36-room boutique hotel warmed by modernist artifacts that thrives in an 'open space' philosophy. A concept adopted from its older sister hotel, the Haus Hirt that Evelyn runs after inheriting from her parents.
Miramonte's approach to 'open space' however, is more deliberate. One sees the presence of large communal dining tables with individual ones tucked away in cozy corners. Shared balconies come with outdoor hammocks as demarcation lines instead of walls, a spacious sun terrace that turns into an outdoor movie theater in the summer and an open fireplace in the colder months exuding kumbaya kinship. The less obvious reason, Miramonte in itself is a space that houses art, people and creative spirit.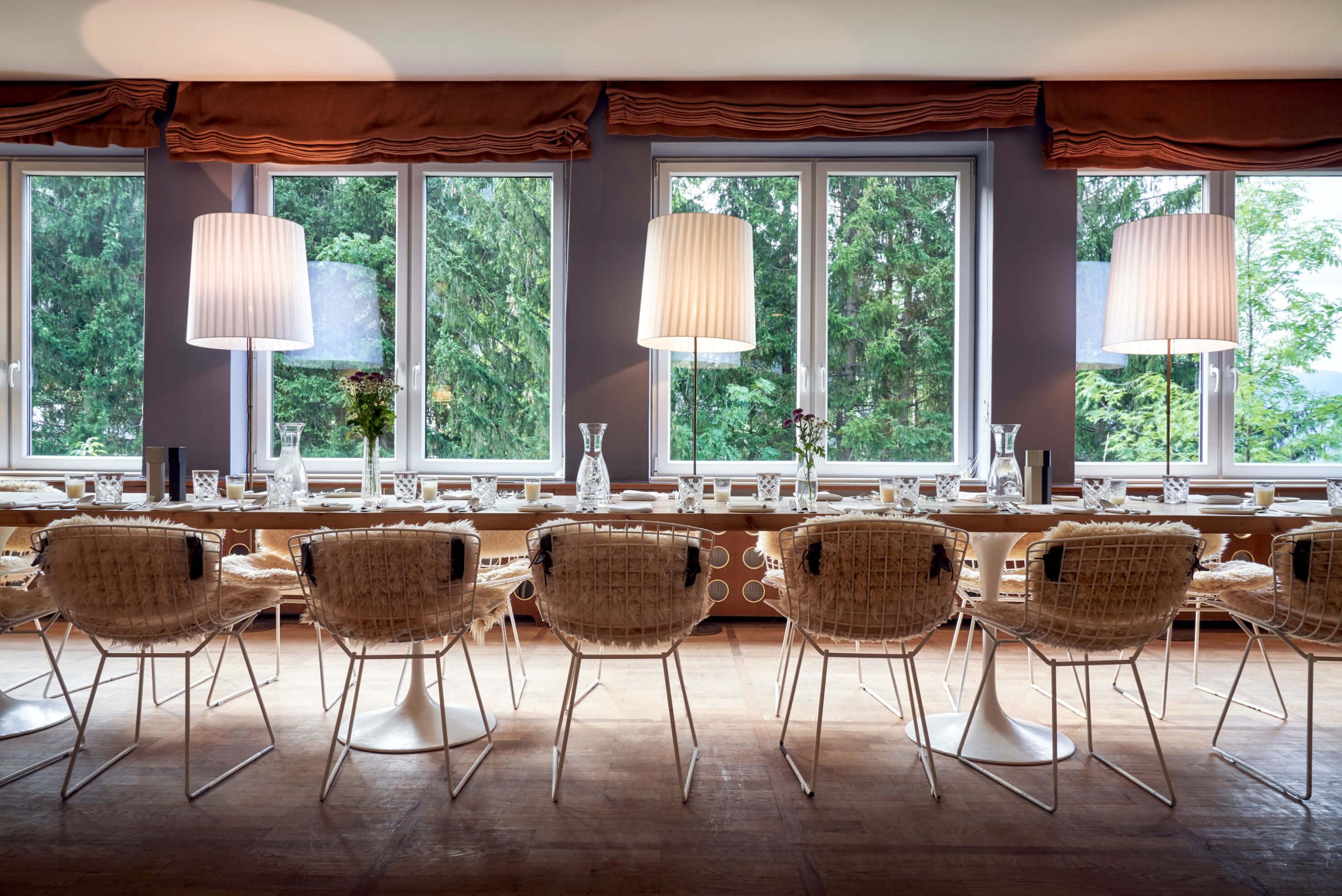 The latter proved to be its greatest asset. Artists have taken notice and art aficionados caught a whiff of its eclecticism and bohemian ethos. Overtime, the hotel no longer just a hideaway in the Alps became an enclave for free thinkers to meet as well as individuals constantly in pursuit of cerebral artistic ideas.
One of the most influential futurists in the German speaking world, Matthias Horx frequently spends time here. Contemporary Milan based designer Piero Lissoni, who also leads an architect firm in New York's Soho district is a fan of the hotel as well as Germany's famous hip hop artist and disc jockey Michi Beck. On several different occasions, Paul Strathern, the Scottish-Irish novelist and academic writer hopped between Miramonte and Haus Hirt only to leave a trail of his signed books behind, now a part of the hotel's library collection.
The creative list balloons in the summer. Prominent and up-and-coming young artists
from various parts of the globe take part in the town's annual
"
Summer.Freshness.Art" festival that
Ike launched twelve years ago, projecting Bad Gastein as the new artist's playground.
Throughout the entire summer, the Gastein Valley undergoes a cultural high. In addition to art spaces, musical performances also take place in elevated altitude. Many of the artists hunker down for a week at Miramonte brushing elbows with fellow contemporary artists and regular guests.


Photo from top to bottom: (1) Musicians flock to town for the summer jazz and classical music festival. (2) Dance festival takes center stage at Kliene Scharte (3) Art and print exhibit on display from visiting artists (4) An orchestra playing classical music at 2000 feet above sea level (5) An art installation "In the name of a day" by Kazunori Kura (6) Art lovers and afficionados stopping from thier Kaiser-Wilhelm Promenade art mile run to inspect the paintings. Images: Gasteinertal Tourismus GmbH. 
"I would like to think that art and other forms of creative mediums can ultimately be the new source of energy for Bad Gastein." Ike quips. "Here at Miramonte, we lend artists the opportunity and ideal place to tune their creativity while relaxing in a therapeutic space."
He was right. Creativity may just be the right antidote to lift Bad Gastein's curse 'old world for old people on low-budget cures' once and for all.
When Ike tells you running a hotel is his therapy, it's not as if he really needs one. Perhaps it's his way of inviting the inner curiosity to bubble up to the surface while nudging the consciousness into finding the hotel as a form of therapy – those who are in search of inspiration and a different kind of cure altogether.
Miramonte which loosely translates to 'admire the mountain' is a homage to the landscape. In a more profound way, it can also be interpreted as 'peace on the mountain'. 'Mir' being the Slavic word for 'peace' and the Italian 'a monte' as in 'on a mountain'. What a truly fitting name for a hotel that embodies Bad Gastein's rebirth and healing.