Love it or loathe it, Malate is a kind of place that lives up to its legendary reputation and the best way to know it is to embrace it.
B

etween the patchy phone line and the tropical downpour brought on by an approaching typhoon, I could barely make out what my former college friend was saying.
"Malate?", she repeated disbelievingly. An endless tittering ensued. Just before I could say anything, the line suddenly cut-off and went silent.
It seems Malate, where I'll be bedding down for two nights, still conjures up a certain reputation. A sort of neighborhood in Manila marked with red dotted lines in the imaginary maps of the overly cautious.  You hear stories about bandits nipping your trousers. While some gasp at the prospect of coming face-to-face with a colony of courtesans engaged in the ancient ritual of enchantment. In fact, a popular song in the 90's by a local artist named Andrew E., made reference and alluded to the phenomenon of the 'Banyo Queen' of the same title.
Yet, Malate isn't just a scene that comes straight from a Pedro Almodovar playbook. It has long been held as a refuge since the days of Raja Sulayman and other exiled nobilities of Manila after losing their dominions to the Spanish in 1571. By the late 50's, it became an upper-middle-class suburb. Overtime, Malate has attracted all sorts of people – those who are in power, intellectuals, celebrities, expats, renegades, the cultured and the outcasts, a community of bohemians and the misfits – a merry old mix, to say the very least.
Of all other districts in the Philippines' city capital, Malate uniquely possessed a characteristic that is distinct, unapologetic and real. Sneered at and often ridiculed, this unbowed neighborhood has taken all sorts of infamy thrown on its doorsteps. It continues to bear the brunt, without batting an eye. Shrugs off all gobs of jokes. Endures all slews of insults. It's definitely where I would want to be.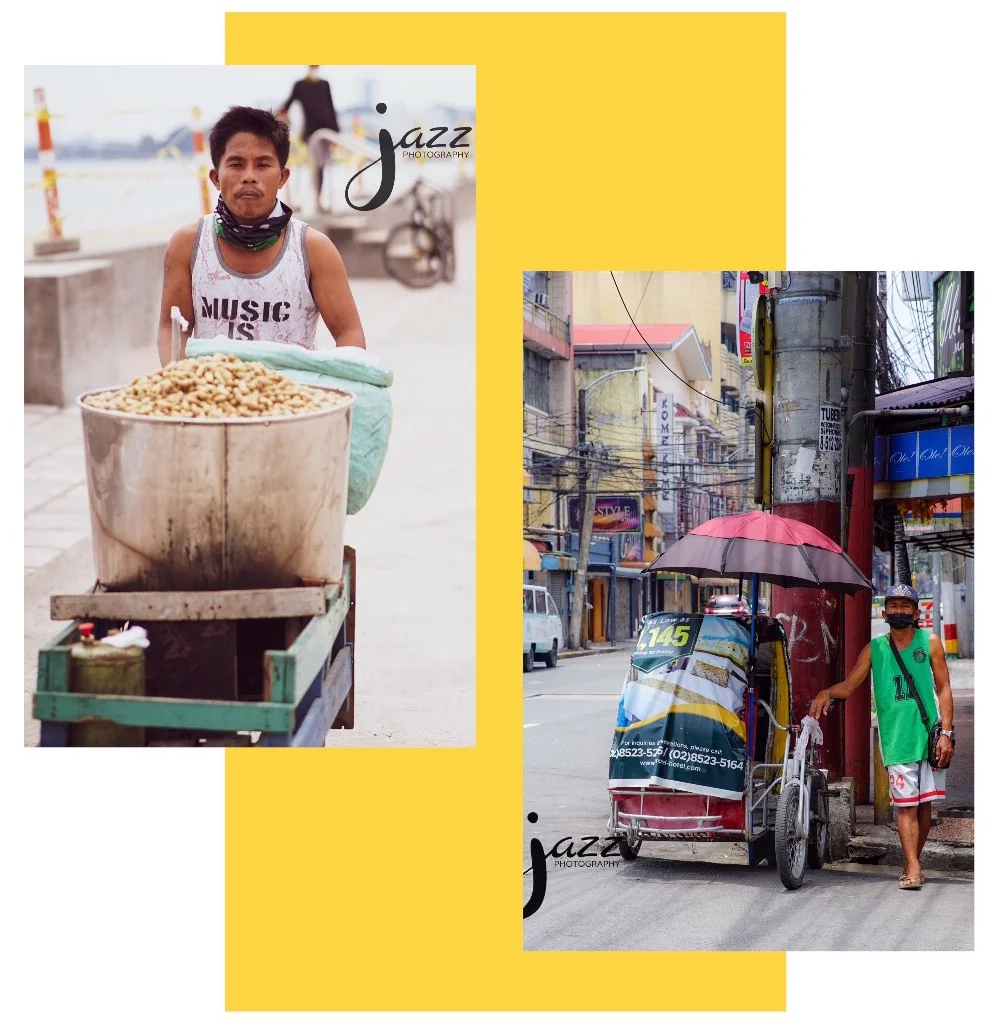 The rain pelted heavily on my hotel window that September evening. Knocking and wanting to be let in. The same way how Malate would want to be let in – as if telling a traveler that any journey to the city of Manila should or rather begin in this neighborhood of folkloric origins.
Malate calls out to you. Even back then when the name 'Malate' was first heard. As two Spanish soldiers wandered off their post and asked locals for directions, the two unable to comprehend the words began calling the place 'malate' from 'maalat, ate' (sister, it's salty) as one local cried out.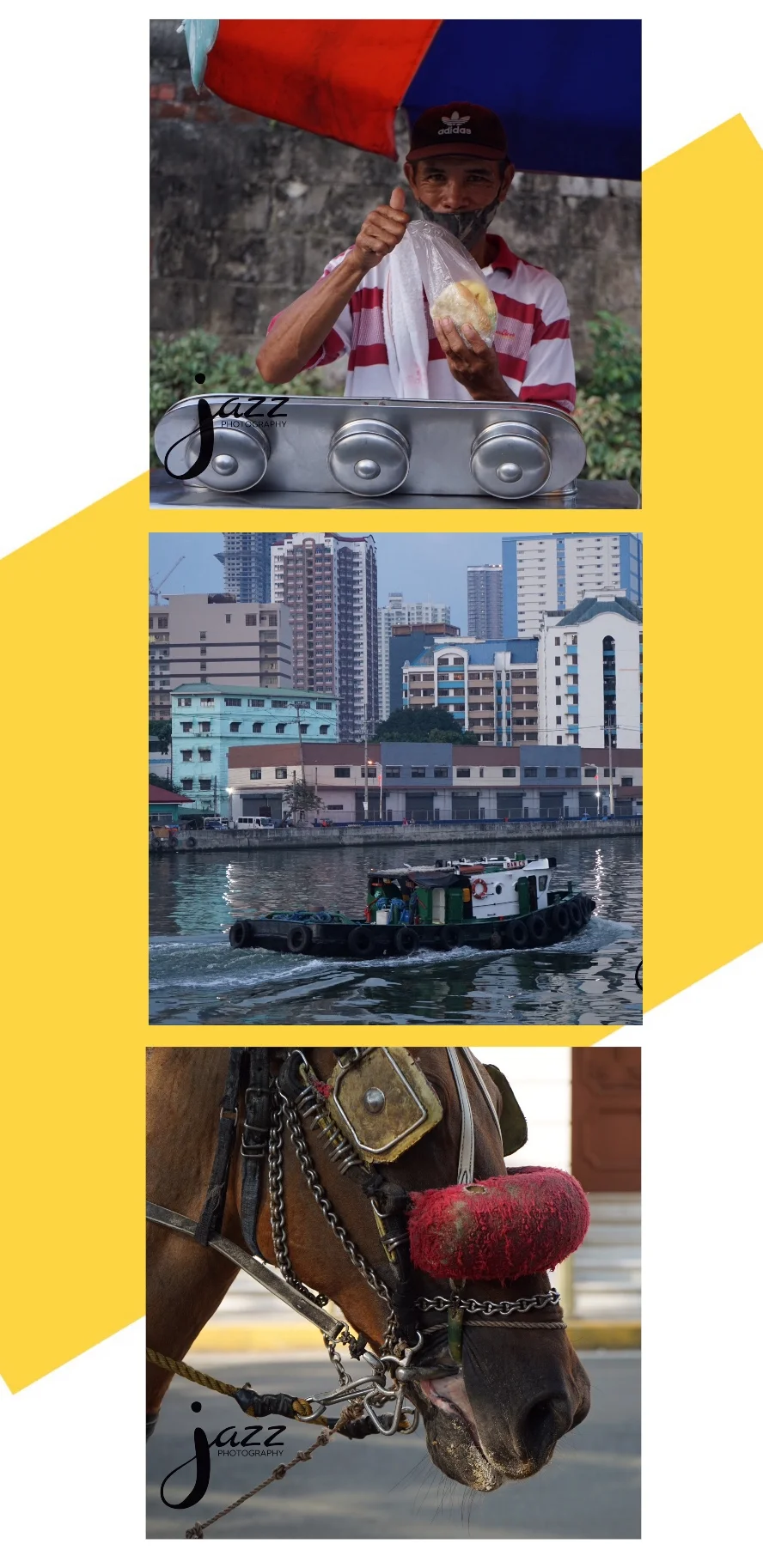 Yet the storied version could not be far from the truth. For Malate is derived from the Tagalog word 'maalat', assimilating the place to the adjacent sea nearby. Its geographical location is suggestive. Malate hangs in the margins of the former Spanish imperial district, hemmed between the old and the new world. On its southern flank and shaped like a scimitar, sits Manila Bay.
Within Malate's three-kilometer radius, unfurls the splendor of 'Old Maynila' – a haven of grand and forgotten buildings, Baroque-style churches and urban parks. One sees horse-drawn carriages cramped with tourists on tour, a hodgepodge of bars and restaurants with spare rooms for rent on the second floor, narrow streets with overgrown century-old trees, their roots exposed and protruding the pavements. Tenements stand beside villas, all dwarfed by newly-built high-rise condominiums. A quick look at the estate agent's brochure promises the hopeful buyer the 'Best Manila Sunset' view.
Just as the weather presented a momentary reprieve, and Malate's ossified notoriety seem far removed, whisked away by last night's typhoon, I took a stroll and walked across Roxas Boulevard to the coconut-lined, pedestrian Baywalk.
Sunken ships, some half-submerged were once a familiar sight, as well as American GI's swaggering along the promenade after being relieved from their duties. Manila was still rebuilding itself from the rubble of WWII. This moment of history however seems to appear invisible in the collective memory of the people that I encountered along the promenade.
I walked past joggers in their morning grind, loitering youths greasy with hopeful dreams, a vendor wheeling his kerosene-lit cart on his way home after his evening rounds, while another was about to set off. Hunched in a corner, a couple snugging in public – he enthusiastically grabs her, she playfully paws him away.
On a newly reclaimed beach, locals gathered and walked barefoot. A few meters away, passersby merrily joined in an impromptu Zumba class, dog walkers paused to take photos of the harbor as the heavy traffic whizzed along the boulevard where hundred of souls traverse every day.
If there's a part of Malate that offers a glimpse of its psyche, the streets of Adriatico and Nakpil hold some clues. One stumbles upon a medley of trendy cafes and restaurants from Mediterranean-inspired cuisine, Arabic, Asian, Western and down to hole-in-wall no-frills true Filipino home-style cooking. French tourists enjoying a barbecue, Koreans having a go with a chicken vindaloo and Indians getting a fill of vegetable-coconut stew. Conversations flow as well as shared and philosophical witticisms passed around the table.
A few blocks from Remedios Circle, where residents linger and lounge about on cooler nights, are KTV and go-go bars offering camaraderie and complicity. It's enough to annoy the banalities of Makati and Taguig. Within Malate's inner part, it invites a traveler to leave any inhibitions behind. As dawn falls, Malate changes guard. Revelers head home, just as the fanatics and the pious pour into the nearby Church of Remedy reciting their litanies.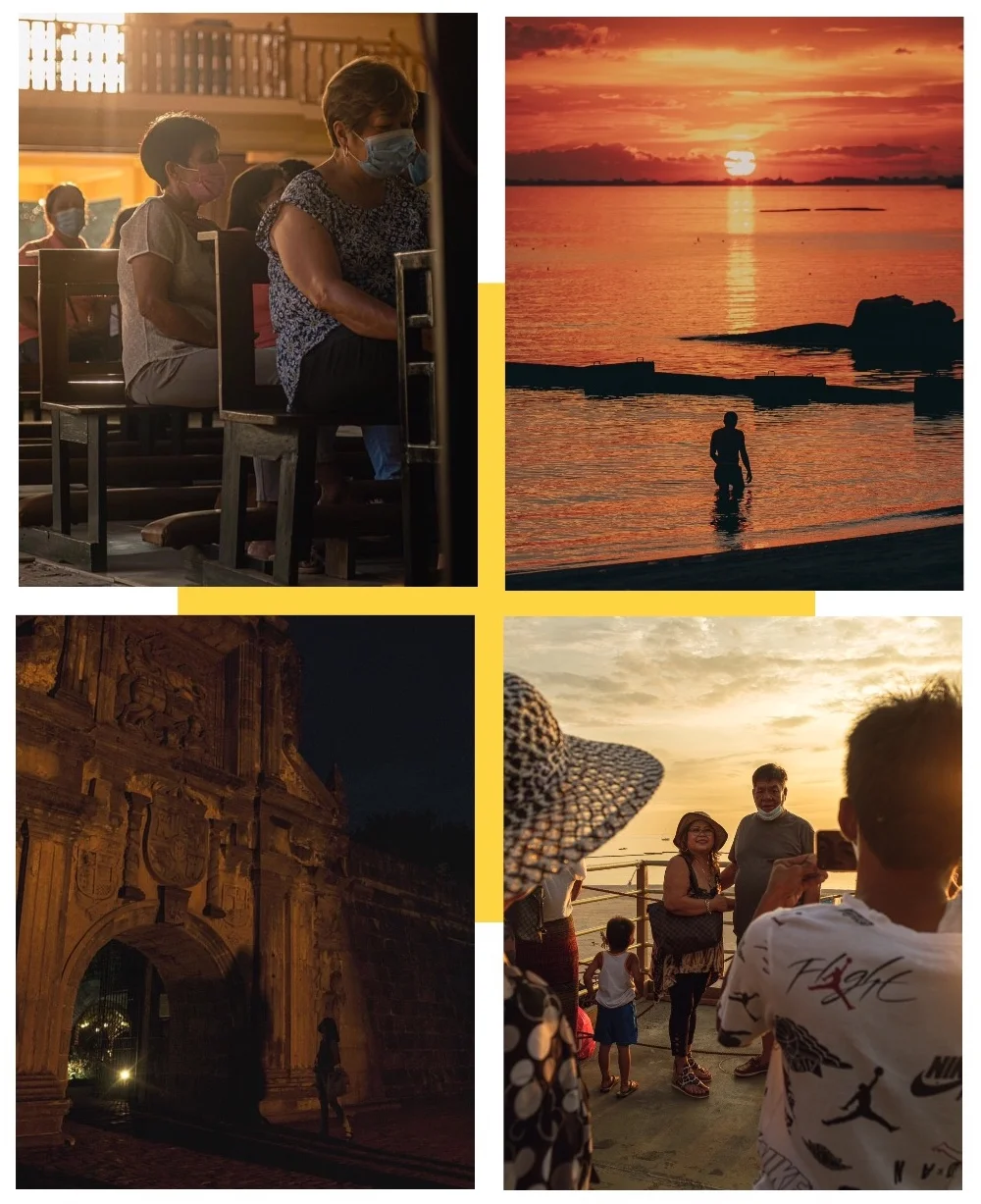 Veering away from the busy intersection, I made a turn to Alonzo street and was greeted by a breeze and a moment of calm. An alley cat stirring from its daytime nap as I was passing by. Dogs with their wet snouts poking the gates of faded villas, bedraggled yet still gorgeous. Some of these old houses might have belonged to American families. A little America thriving in this corner, back in the days with their cowboy films and 'I Love Lucy' shows as their Pinoy neighbors patronized the singing contest program 'Tawag Ng Tanghalan'.
The sight of a sorbetero with his brightly colored ice cream cart was a welcome relief against tangled electrical wires hanging loose, television aerials, buntings and posters of some politicians promising better social welfare and a more just society.
I was about to cross the other end of the street, when a 'trisikad', a pedal-powered rickshaw pulled over. The driver, probably around 21, lanky and sporting a sort of Korean-style haircut asked if I needed a ride. I took the chance and directed him to drive me back to the area close to my hotel.
Malate uniquely possessed a characteristic that is distinct, unapologetic and real. Sneered at and often ridiculed, this unbowed neighborhood has taken all sorts of infamy thrown on its doorsteps. It continues to the bear the brunt, without batting an eye.
During the ride, my driver, named Jason, hummed a familiar tune while pedaling. I asked what he was cheery about. "I'm happy that visitors are coming back again", he began. "Because of the pandemic, business was slow. And today things are starting to get back to normal." I felt jealous of his optimism. "Have you been to our Korean Town?" He asked. "Yes, but only for a short time", I told him as I pondered about his usage of 'our' and that sense of familiarity that comes along with it, like it belonged to us locals and residents of this neighborhood. "We also have a new hotel. The Admiral", stretching out one of his hands putting emphasis on what he was about to say next. "Beautiful. Very beautiful".
His descriptions, however simplistic they may be, were right. After all, this is where I had been cocooning for two nights. I didn't tell him that. His way of addressing things, 'the our and the we' have subliminally rubbed on me that inevitably, I started calling the Admiral Hotel – MY place – MY Fitzgeraldian idyll in MY newfound love neighborhood. Something I truly own. Even if it's just in MY imagination.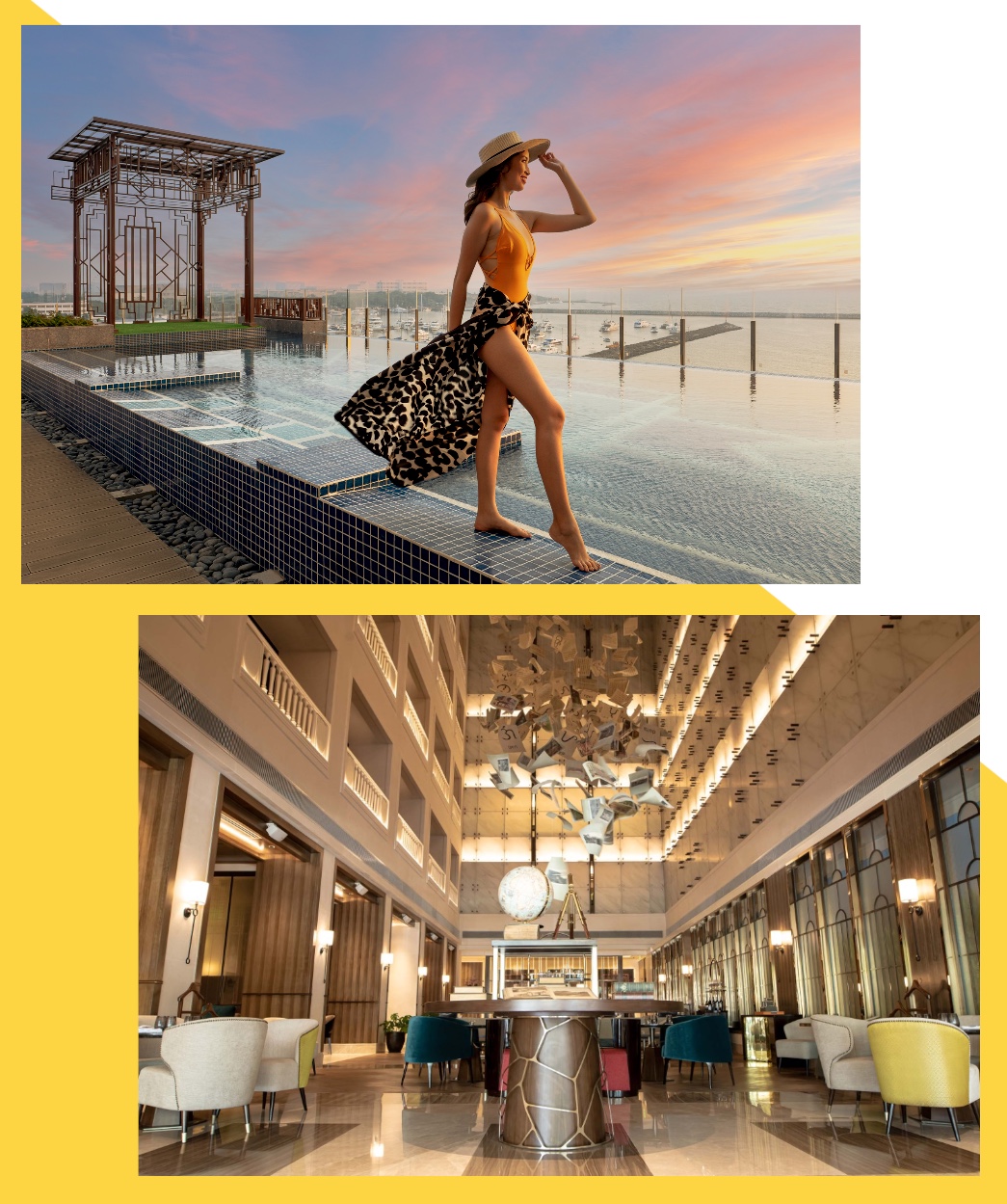 Truth is, the hotel is more than just an imagination. It exudes a kind of thespian allure that could make former patron General Douglas Macarthur, the liberator of Manila under Japanese occupation, to erupt once more in his famous "I shall return". A sort of grand spectacle that even the late Lord Mountbatten, who also stayed here would appreciate.
Physically, it's easy to see why. On the ceiling, like glowing frescoes, is an art installation – an evocation of the rich history and vibrant culture of the Philippines. Levitating in midair, a dizzy spiral formation of book pages. Each is scribbled by ancient Filipino texts. The accoutrements of Manila's golden age, art deco sophistication infused with a heady mix of Spanish-Filipino aesthetics radiate from the lobby all the way to every chambre. It's pièce de résistance, the rooftop – a treat to the senses both gustatory flavors and sights with its sweeping views of the harbor.
This hotel (MY hotel), believed to be the tallest building of its time was a beacon for seafarers lost at sea. Even at the present, it still carries that ethos of hope and reassurance. Perhaps this may be a very 'Malate-esque' quality. The neighborhood's pragmatic attitude and the enduring character it possesses. This very kind of idea has even caught on big names such as the French ACCOR Group to lend their expertise in running hotels like The Admiral – MGallery, the country's very first.
In my moments of stillness, I was tempted to imagine Malate's vision of its future self. This happy-on-its-own-skin neighborhood yet often misunderstood. To embrace its soul is to let go of any prejudice.
And even if you can't, Malate doesn't give the slightest what anyone thinks about it either. For Malate is tenacious, a survivor in its own right – of insults, invaders, Chinese pirates and their gunpowders, WWII bombs and Covid.
It's easy to place judgment by appearances. In travel, one quickly learns that the most interesting experiences happen in the least likely places. Malate teaches you that. To look into its cracks, only to find that whole scene shimmers – with promise, delight, and possibility.
When was the last time you've been to Manila and visited Malate? What's your favorite neighborhood in the city? Love to know your thoughts and feel free to share them below.