Bangkok has it all. But what makes every traveler keeps on coming back to Thailand's capital? The secret lies in its notorious street food.
Why do I find it hard not to be charmed or even excited by the shattering sound of ice when liquid is poured over it? Then there's the sizzle of meat landing on a searing grill, the ping from a hot oven, the rip of a warm crispy baguette and the blithesome pop of a cork after opening a wine. Perhaps behind the mental titillation-palate teasing wonder; conjures an image of a place where they might all exist, we call it simply – the kitchen.
Kitchens are like conversations. In the beginning, you hear the acoustic fracas of several people speaking to each other – and sometimes over the other. It's the continuous repartee against the quick pause and the chaffing response thereafter, only to lead, more often than not; to an endless confabulation. Between the concrete walls and countertops, the cupboards and sinks, the choreographed preparation and well thought out menu, dialogues float and swell. A curious soul listens in – drowning in the hum only to join in this ceaseless conversation about what this place is all about.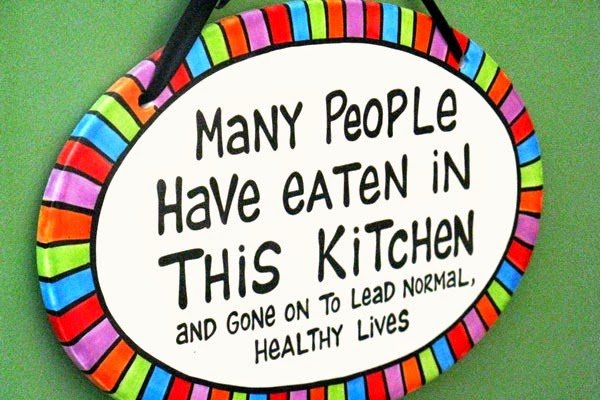 I am on a plane, crossing over the Gulf of Thailand. Mid-flight, drifting in my slumber, a voice from the cockpit comes on, a delightful Thai cadence. "Ladies and gentlemen, this is your captain speaking. It looks like we've hit some unexpected turbulence. I appreciate if you remain seated and please keep the seatbelt fastened until the fasten seatbelt sign is switched off…Kop khun krap!"
I have come to Bangkok on a "kitchen" pilgrimage. After several trips in the past exploring the country's supercharged gastronomy and exquisitely refined cuisine, I am back, but this time to find out more and perhaps take a closer glimpse at downtown Bangkok's most exciting kitchens. Because it's a city that embraces new trends, never losing its identity, Bangkok possesses the quality in my quest for my ideal version of a kitchen.
Its streets are intoxicatingly captivating. Culinary energy is evident in every intersection and neighborhood. A traveler in search of food need not to look far. One easily stumbles into a narrow 'soi' that offers a fast and comforting fix to a hungry outsider all the while bearing witness to the jarring mix of modern and ancient food preparation street techniques.
I knew right away that I had to go to Yaowarat in the old Chinatown (เยาวราช). The street cuts through the heart of Bangkok and filled with makeshift carts sporting beach umbrellas for shade and cover. Miniature convertible vans juxtaposed wooden rickshaws that transformed into working kitchens. At every corner, food was cheap, simple and delicious.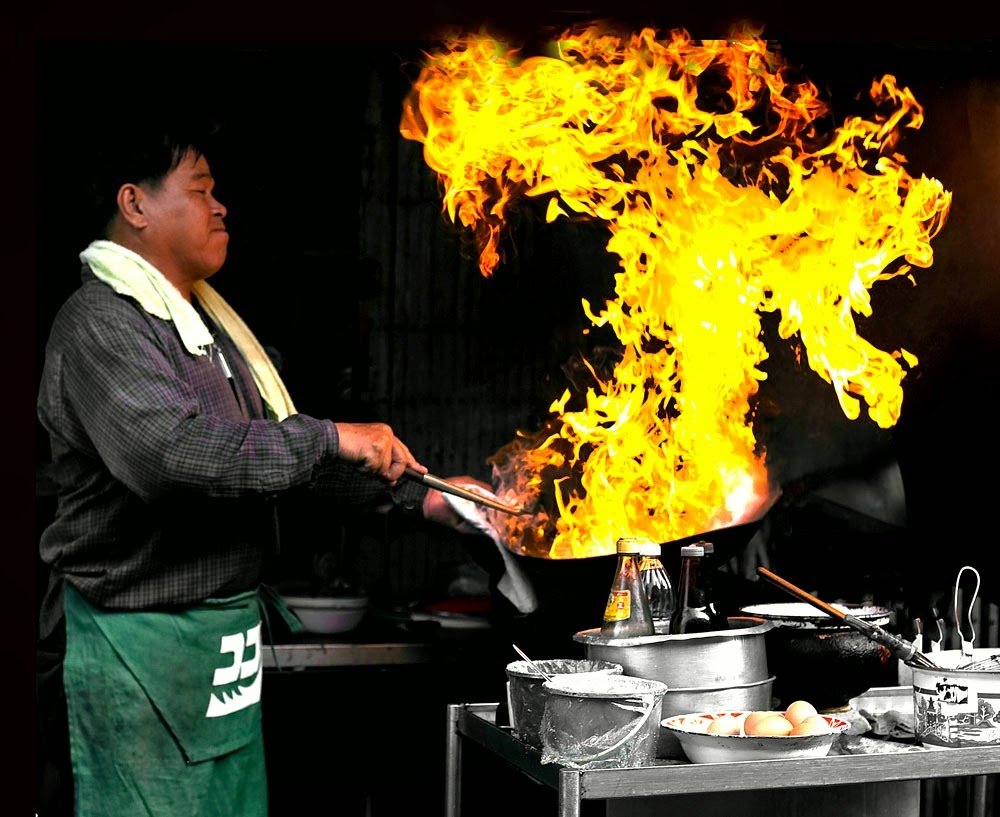 I have to admit, regardless of their appearances, they are all fitted to operate like a full-service kitchen run by Thai street food masters. From stoves either powered by coal or gas, barbeque grills, woks and casseroles of all sizes, chopping boards, aluminum pans and all sorts of things that I would imagine seeing in my kitchen. With humidity rising, smoke and steam, wafts of spice coupled with the cries from street hawkers, it can all be too bewildering, nonetheless transcendental in this neighborhood.
It's almost the same scene that unfolds in the soi's of Sukhumvit (สุขุมวิท) and Petchaburi (เพชรบุรี) where expats mostly dine sitting next to locals. Here is where the dexterity of a kitchen is put to test. There are free standing structures that can be pushed or pulled close to the road but not too far from the gutter. Most of them are equipped with small rotating blades that serve as an exhaust or to fan the flames. Sometimes they comes with foldable tables and movable chairs. Others appear out from a hole and some emerge as an extension of a tree. On closer inspection, they could somehow rival the latest IKEA kitchen ideas.
Getting away from the chaotic intersections and Bangkok's never ending traffic snarls, I headed next to a more laid back environment. Nakhon Chaisi is home to two of the oldest and most traditional markets – Ratchawat (ราชวัตร) and Sriya (ตลาดศรีย่าน).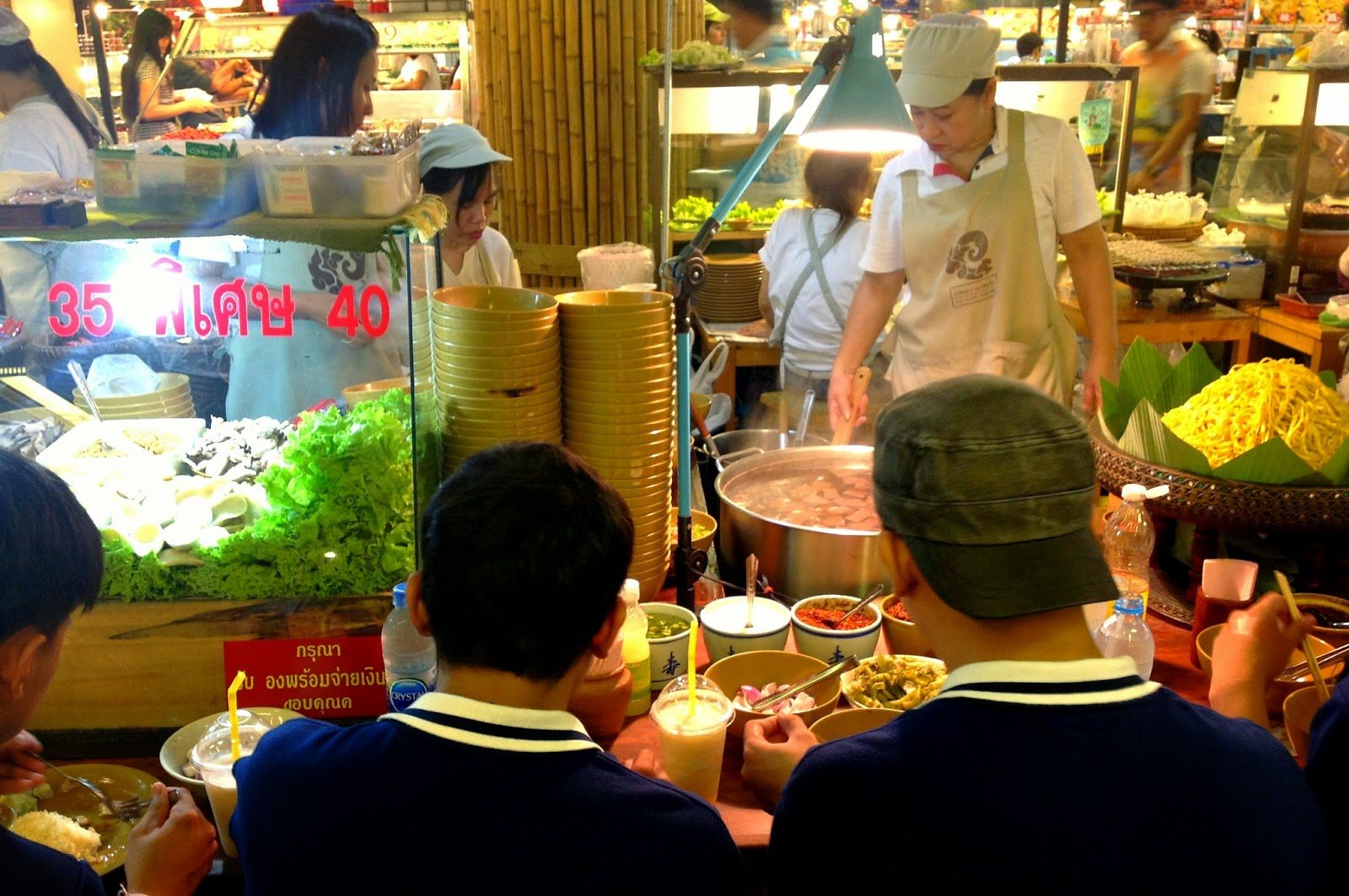 Drawing inspiration from all of these, I thought once again how my kitchen would look like – the size of my countertop and the placement of my condiments. How big or deep my wok should be or whether or not I should use a wide wooden chopping board? In search for more answers and antithesis to what I've stumbled upon, I decided to ascend to the 32nd floor of Sofitel Sukhumvit, the hotel is a short walk from Nana BTS station. I've heard for months that L'Appart, is not only an intimate French restaurant bar and lounge but features an open kitchen reliving the architectural style of 19th century Paris.
Here is a kitchen that comes with a library, a fireplace, a balcony, and on top of it all it's the highest kitchen location that I have visited. Glamour, style and functionality, they all make their mark here.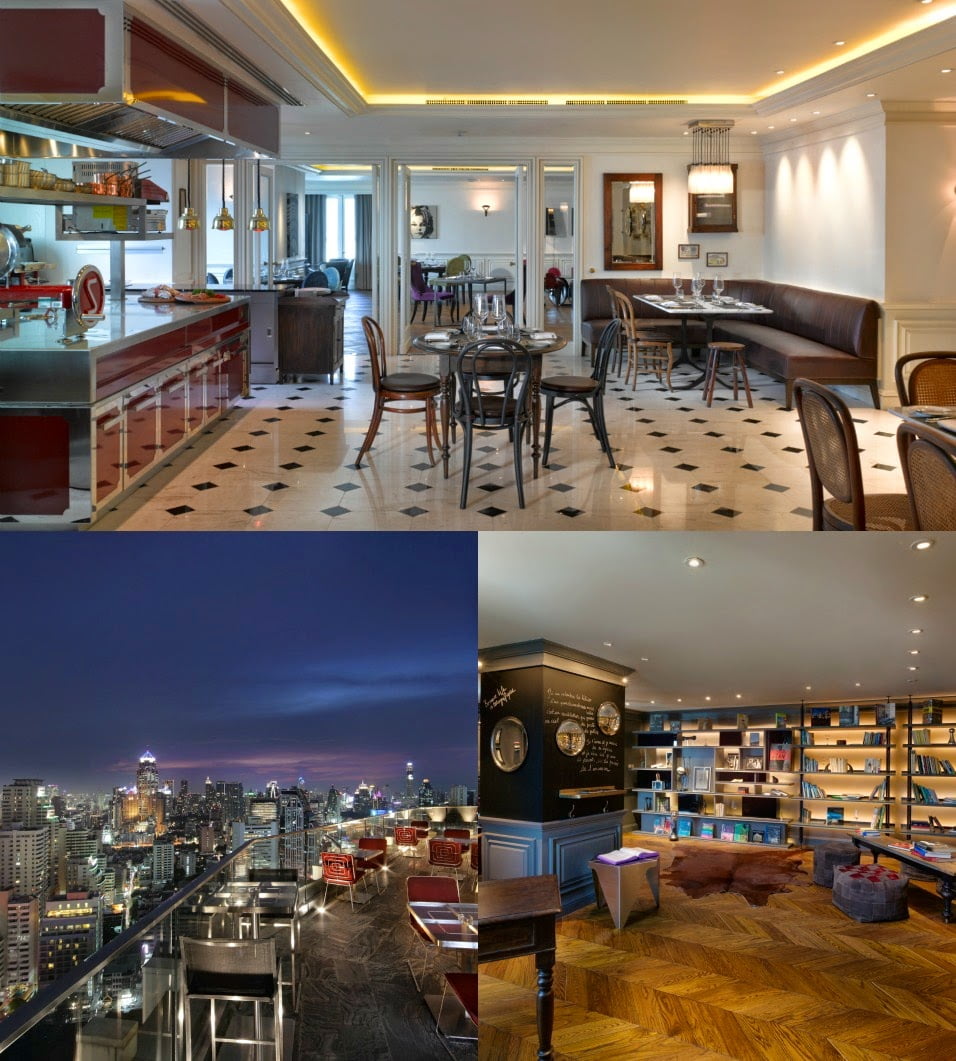 I spent hours idling on the terrace sipping wine, sampling cocktails and switching between drinks while gazing at the views of Lumpini Park. Downtown Silom shimmers from the distance. I grew to like the afternoon tropical breeze up here and even the waitresses' outfit akin to 1950's traditional French maid's uniforms.
Sitting on my chair, watching the lights of the business neighborhood come on, I began to have a clearerer vision of my kitchen. I saw a stove, a sink, an oven, and then there is the cutlery and the messy cupboards. Somehow I can hear the shaterring sound of ice when liquid is poured over it, the sizzling of meat hitting a searing grill, the ping from a hot oven, the rip of a warm crispy baguette and the blithsome pop of a cork after opening a wine. A faint yet familiar voice in the background calls out to say that dinner is ready.
A beep from my phone ebb my imagination away. I slowly read the text, "Jan…it's mom! Have you eaten?" Then I knew – above all, which kitchen I should go to next.