From the balmy Friday afternoon rush hour, the occasional tropical breeze whiffs in gently; a welcome relief as I walked, dripping in sweat, along the bustling Ann Siang street ­of Singapore's Chinatown.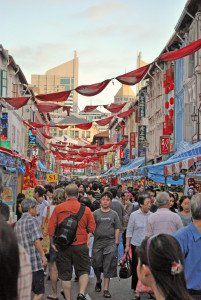 After an hour's shopping extravaganza, I felt reluctant to leave this part of town which seems to resist sterilization – where the olfactory sense is steadily agitated by a kind of sweet smelling chaos of human perspiration mixed with the earthy aroma of sandalwood, wafts of thick incense and a honking, heady durian smell.
Passing several blocks of gleaming high-rises and escaping from the frantic crowd, I turned into a quiet corner where an array of vibrantly-painted shophouses displaying feng-shui mirrors and dropping red Chinese lanterns stood. At a glance, the scene conjures up what it was like in earlier times. When some of these shophouses were opium dens, crammed with immigrants from mainland China, India and neighboring Malaysia.
Somehow, in my mind, this was a consoling sight that broke the monotonous line of skyscrapers. By simply staring at these dwellings, despite having undergone several facelifts and turned into colorful storefronts, I started to get used to the old elemental feel that still lingers; projecting a nostalgic episode in black and white tones.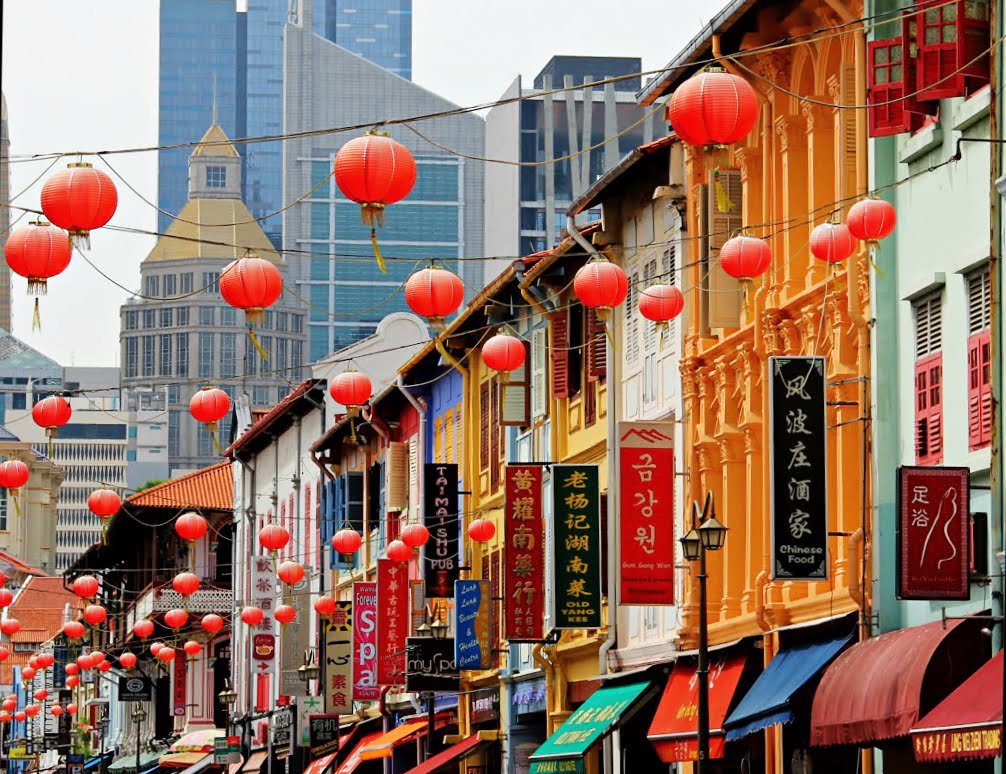 Anytime now at a dizzying rate, this alley will be filled with locals, expats and tourists alike; all competing for a seat on a constricting space in one of Singapore's many food stands. It seems, everyone here, when not shopping or at work, is conspicuously consuming on the local obsession, the love for hawker food. Further ahead, a street opens up to an effortless cosmopolitanism. Fusion-restaurants, hipster cafes and laneway pubs; all posed to quench any passersby's hunger and thirst with the city's famous chicken rice or the stir-fried noodle 'char kway teow' complemented by a Singapore sling or a swig of Tiger Beer.
Just as the afternoon heat began to fritter away, the punctual evening shower slowly took over; mantling the sky with ominous clouds. It was the beginning of the monsoon season and against the grey bucketing background, I have taken a trip to the city seen as a bastion of collar-buttoned efficiency; chewing-gum regulated society and an ultra modern metropolis which contrasts dramatically with its Southeast Asian neighbors. It cannot be dismissed that this 716 square kilometers or 276 square miles, less than the size of Greater London, is small, yet highly regarded as the barometer of global economic growth.
After having visited Singapore several times in the past, I felt the need of placing my finger on the beating pulse of the city once more. While it was hard not to be distracted by the underground air-conditioned walkways, vibrant shopping malls and the fast-paced atmosphere similar to New York, yet it's a breathing city with slanted eyes speaking in a lovely 'Singlish' lilt.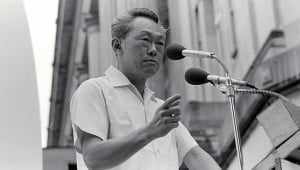 Of course, Singapore hasn't always been a multicultural nucleus of lofty efficiency. In the space of a generation, this sleepy backwater of grubby kampong villages afflicted by malaria, was once a struggling independent state after having been cast out of Malaysia in the sweltering political heat of 1965. It has morphed into a competitive society built on innovation, hard work and trade. Lee Kwan Yew, Singapore's founding father and the Prime Minister at that time once boldly proclaimed 'This country belongs to all of us. We made this country from nothing, from mud-flats… Ten years from now, this will be a metropolis. Never fear!' His resounding promise still reverberates in the present.
Today's Singapore is posturing to become the world's first Smart Nation. Almost overnight, a new building by famous 'starchitects' sprouts leaving a distinctive silhouette in the city's skyline. Blink for a second and you may miss the disruptive innovative projects that the city undertakes. In addition to the installation of light-emitting diodes (LEDs) in street lamps that can reduce energy usage, there are the autonomous shuttle-services that are currently being tested; more road intelligent sensors are mounted, while at the same time keeping the identity of a garden city or perhaps even greener.
Such reflection to this eco-conscious effort by the state has inspired several industries and construction of newer building that incorporate elements of nature. A good example of this is the impressive tropical façade of the ParkRoyal Hotel on Pickering, which vividly embodies the quest of limiting carbon footprints. More than the palm trees, blanket-like frangipanis and foliage that drape from its cascading limestone rock formation, similar to the ones you might see in the deep jungles of Borneo, I found the solar-powered systems intriguing, as well as the motion sensors and the rainwater harvesting technique that the hotel employs. Admittedly, none of it feels too gaudy or even decadent.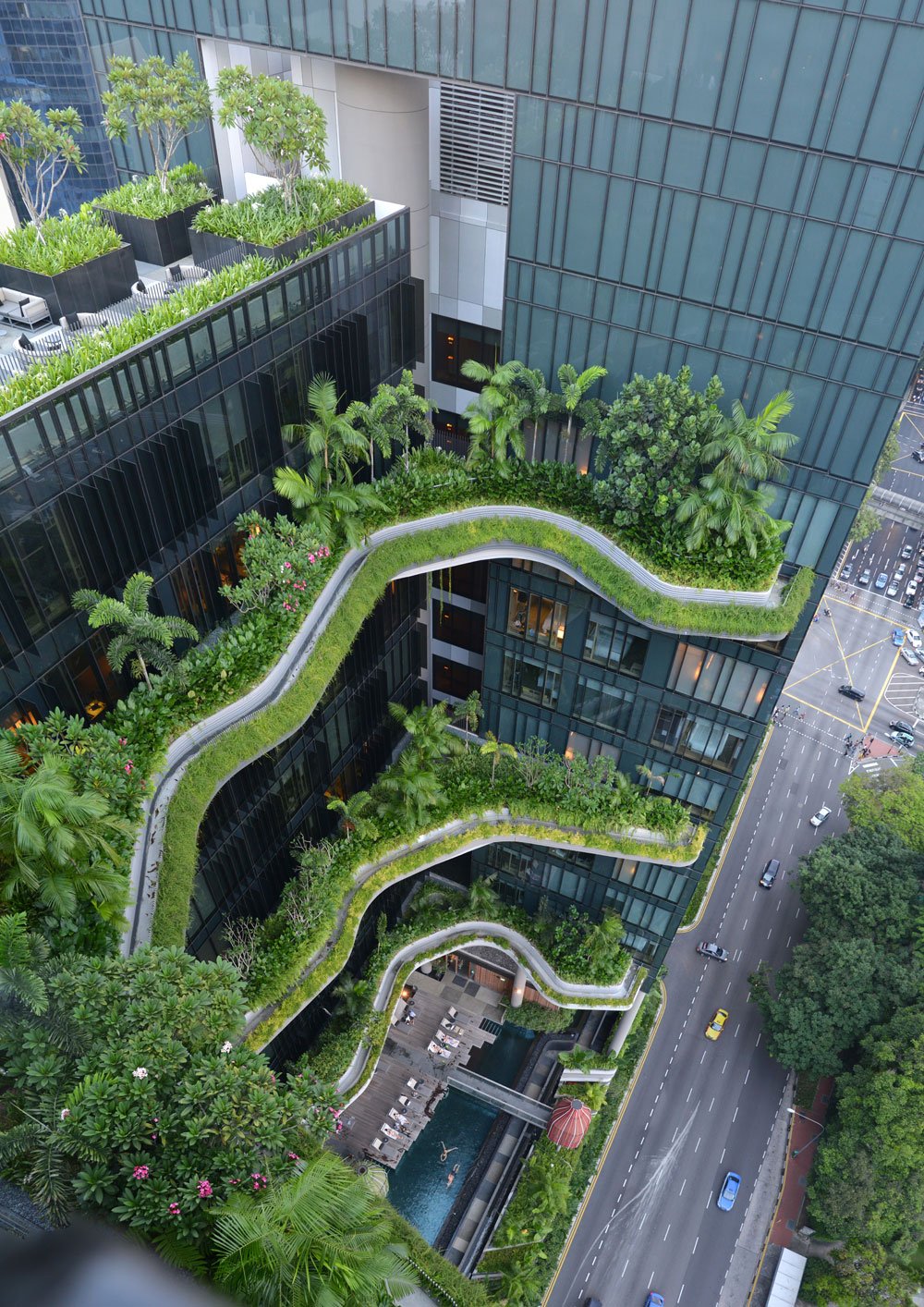 Ascend to the fifth floor and indulge in a quiet leisurely stroll around the hotel under a suspended rainforest; or even go up to the Orchid Club lounge on the 16th floor and marvel at the poignant 360 degree panorama of the old and the new Singapore and the quaint river that bisects them.
In an often crowded, starkly urban landscape of Singapore's Central Business District (CBD), it's rare to get an antidote of visual relief in the built-up city center. That day, I lingered around a corner close to Hong Lim Park that faces the hotel. It was hard not to be charmed by what the hotel aims to tell among its pampered guests and unsuspecting onlookers – a 'hotel-in-a-garden'.
When in the city, you also get the sense that Singaporeans, while happy to engage in efforts on climate change, the millennials are also setting their sights on a new cultural vision. As the appreciation of art scene sizzles, the island republic is pushing to enhance its image to become the global center for Southeast Asian art. Just very recently, the National Gallery opened in addition to the existing performance art galleries and museums. The $380 million complex straddles two colonial era architectural monuments: the old Supreme Court and City Hall which is joined by a vaulted glass foyer.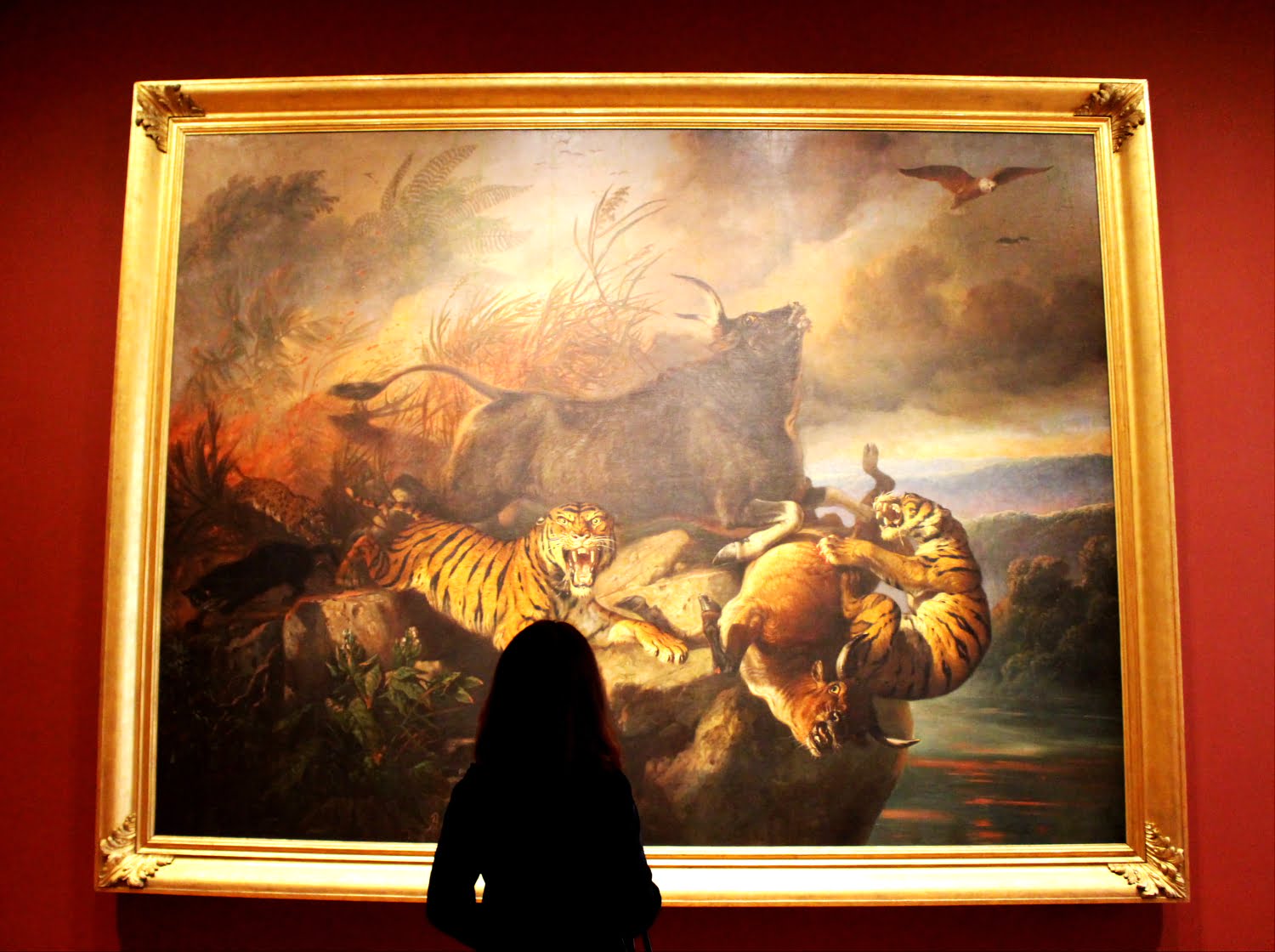 If there is one welcoming change that this cultural drive Singapore is trying to achieve, it's probably softening its paternalistic image and adding an extra layer of tolerance in its wide-ranging censorship laws. Singapore may still be a far cry from liberal Scandinavia and while the country remains a fairly conservative place overall, the free artistic movement and expression will surely test the boundaries of how far Singapore's traditional values can endure. That leaves me wondering, if the clichés about Singapore needed to be updated.
It's true that Singapore is a city where a traveler, like myself, can almost feel at home without straying too far from the familiar. Like every city in the world, Singapore is constantly reminded to come to terms with its domestic setbacks including aging population, increasing freedom of expression on social media, gay rights and activism, rising cost of living, widening income gap and the racial antagonism towards foreign labor that are seen to take jobs from the locals. Yet the Lion's city's spirit is steadfast and its heart never falters.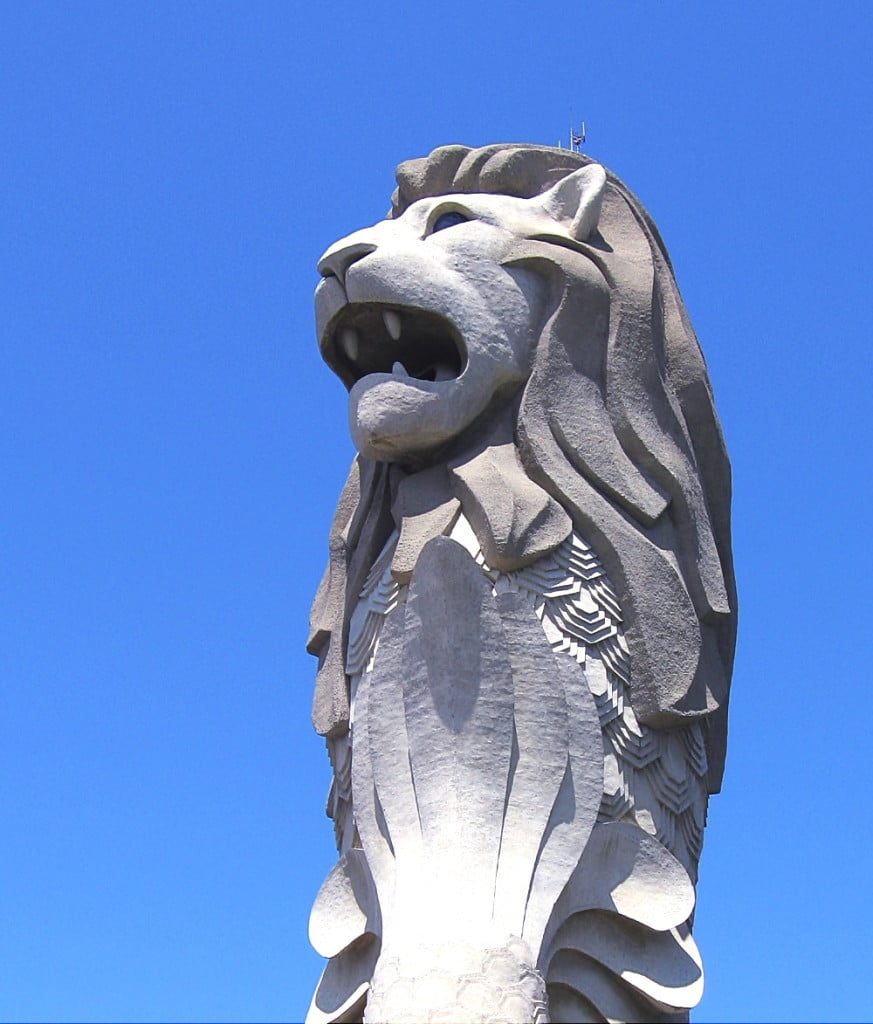 The tropical evening sky showed signs of a downpour. A sign to grab a cab and head back. Just as I was opening the door to get in, it pelted heavily and in a matter of seconds, the roads were drenched. Looking out of the window, the rain and mist veiled the soaring silvery buildings, the city lights all looking blurry and everything appeared smudged. The cold air from the cab's air-conditioning nabbed my drifting consciousness. It occurred to me that like the mighty 'Singa' or Lion that symbolizes the city, Singapore bites deep – then you glimpse something else under the attitude and your heart swells with affection.