Kuala Lumpur, Malaysia – The early morning call of the muezzin at the nearby Masjid Negara, the country's national mosque, echoed in the silence of the dawn. While many are still asleep, for the city's almost half Muslim population, another new day had just begun.
On a humid summer's day in late August, peeling myself out of bed, I gazed outside the window from my hotel room as the towering skyline of downtown Kuala Lumpur shimmered in bright lights. The rain-streaked pavements from last night's quick downpour were still visible.  Gossamers hung delicately outside the window panels while fallen leaves swirled in circles on the roadside as a car passed by.  The streets were now deserted and look foreign once more.
It was only six hours ago just a few blocks away not far from the hotel, I heard the thunderous chants from the crowd of the Bersih 4 movement. A rally held close to the open field of Independence square calling for Prime Minister Najib Razak's resignation and a push for institutional reforms. Such controversy on the alleged case in the Wall Street Journal that US$700 million in state funds was deposited into the Prime Minister's personal bank accounts and the mismanagement of debt-ridden state investor 1Malaysia Development Berhad (1MDB) gained massive popularity, appearing on almost every front page and headlines in the press.
That day of peaceful protest on the eve of Malaysia's Independence Day celebration, could have not have been better timed. After a weekend of demonstrations, the Bersih 4 rally ended just before the stroke of midnight. The government took back the streets of downtown Kuala Lumpur the next morning of August 31st.  A gala parade came to pass in the square with the country's Prime Minister leading the ceremony. The country's flags danced in midair, fluttered emphatically as fighter jets whizzed above the country's independence landmark.
As an outsider, I can only marvel at the paradox that unfolded at that time. What happened a few hours previously and the climatic events that followed added to the notion of a fundamental irony.
My recent trip to Malaysia's capital, Kuala Lumpur or KL, as it is endearingly called by the locals, spoke of two compelling things: the contrast that thrives in a diverse city; and its attempt at cosmopolitanism where history still profoundly dictates the present. Yet, the sense of possibility doesn't run low.  In the city spiced up of a jarring mix of ethnicities – of Chinese and Indians, Malays and Filipinos, Eurasian and Peranakan; it's easy to see that Kuala Lumpur is a city of opportunity.
Sitting in the Majestic Hotel's colonial café that afternoon for tiffin, I mused at the images of happiness projected in a glossy cover of a travel magazine. From time to time I would look around in curiosity observing other diners. A British family was seated close to where I was. A young couple was ushered to a corner. In the center, was a middle-aged man playing a piano. There were old chatty aunties taking selfies and just a few tables away, were trendy youths on casual dates. While waiters in white vests and bow ties served scones and poured tea, in the background, the room was filled with a musical fare varying from Elvis Presley's "Fools Rush In" to Debussy's "Claire de Lune", to the latest Adele's hits. In my quiet moments of contemplation, I wondered how the present scenario would all look to Graham Greene, who came here for a tea one afternoon.
Contrasts seemed to be ubiquitous. I got the sense of feeling that incoherence is a fundamental aspect of life in KL. Is the past catching up with the present? Or is it that the present wanting to hearken back to times past?
Take the Majestic Hotel for example. After successfully integrating a modern wing with its grand art deco lobby reminiscent of Fitzgerald's 'jazz age' period; and as it looks up to the future of using technology to make every check-in seamless, yet the hotel manages to keep a door wide open for anyone who yearns to revisit the old colonial charm that lives among its walls and its many historical rooms.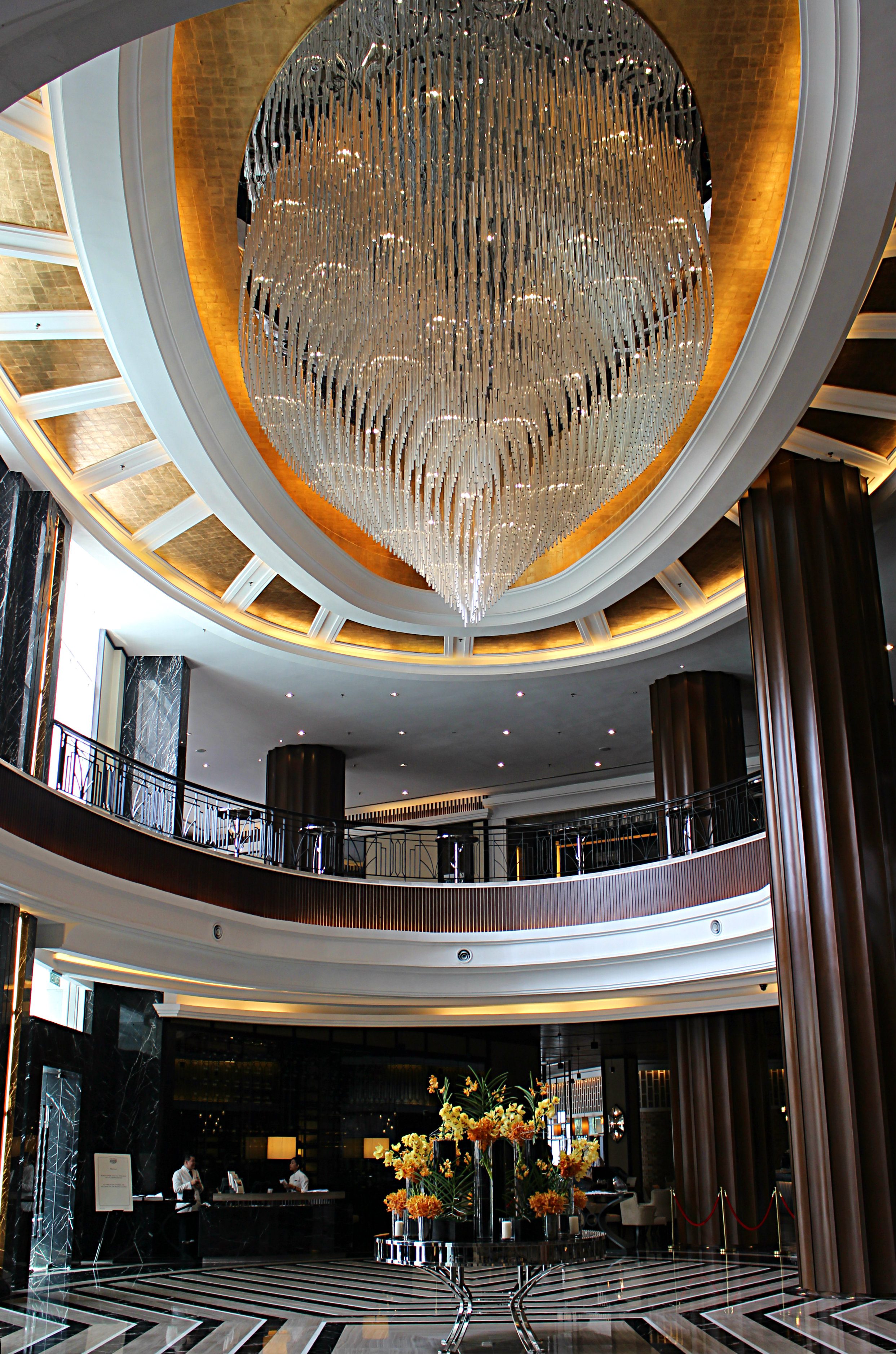 The next day that followed, after the afternoon rush hour; I hailed a cab and decided to poke around Chinatown in Petaling Street. Ditto, haggling is always the way of life in this notably hunter's bargain paradise. I marveled at the effortless intermingling and constant diverse interactions: a Chinese store owner quibbling with an Indian mechanic, Punjab jewelers beckoning tourist buyers, Filipino women in skinny jeans walk passed Malay aunties in their flowing kebayas, Nepalese teens wrangled for a price on a latest pair of 'Chucks' while a gray-haired Bangladeshi worker fitted a pair of trousers. '#Instafun' and '#instachaos' could make good hashtags describing the playful scene.
I found it poignant walking along the old streets where whiffs of joss sticks coalesces with of hawker's food. The scaly shutters against the withered windows that withstood several monsoons and dry spells were thirsty for some fresh paint. Pulley lights drooped from the ceilings of small shop houses, potholes like ugly pockmarks filled the uneven pavement and with it are the many woebegone lives of its Hokkien, Cantonese and Hakka pioneers as well as those from Southern China that was once lived here. A vista offering a glimpse of historical landscape on the settler's earliest attempt of building a community.
KL's Chinatown over the decades have evolved from its tapioca-producing origins, to organized crimes by the notorious Chinese triads, incensed-scented temples and rickety rickshaws to a crowded mélange of stalls hawking fake Rolexes, branded jeans, DVD's and medicinal herbs as well as dirt-cheap Louis Vuitton imitation handbags. The quaint narrow alleyways have been disappearing to make more room for parking lots. Roads are widened and crumbling cornucopia of old shop houses adorned with fengshui mirrors are torn apart to build new mega malls that speak less of the identity of their original structures. But out of the modern concrete of glass and steel, the Petronas Twin Towers, perhaps are a soaring exception. Their minaret-like shape is a representation of a modern multi-cultural society; and its sheer height, needless to say, is an eloquent expression of Malaysia's aspiration into becoming a great nation.
It cannot be dismissed that in Kuala Lumpur, there seemed to be a commercial building sprouting almost every month. Constructions are taking place in bustling neighborhoods where the constant noise of drilling machines is unavoidable. Metro lines are being extended too. I'm a fan of rapid transit and having to constantly take the public metro, it made traveling easier around the city that is often choked by heavy congestion. I must also say that the train provides an attractive glimpse of the city as one sets gaze at the views out of the windows while most train commuters are transfixed with their mobile phones with music blasting from the headsets. For the Malaysian-borne and Singapore based writer Shamini Flint, 'Kuala Lumpur had a certain something…There was a sense of freedom perhaps, of anarchy even, that Singapore so sorely lacked. Perhaps it was the lack of deference to authority, the physical space, the ability to take a step back and enjoy a moment of quiet that lent Kuala Lumpur its atmosphere'. Scratching beneath the surface, Kuala Lumpur's pleasures, it seems, lie behind its nonchalant-modest attitude.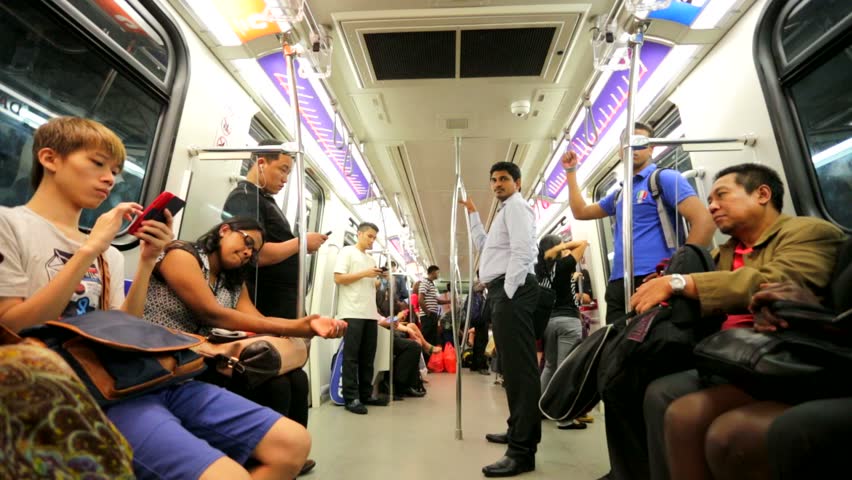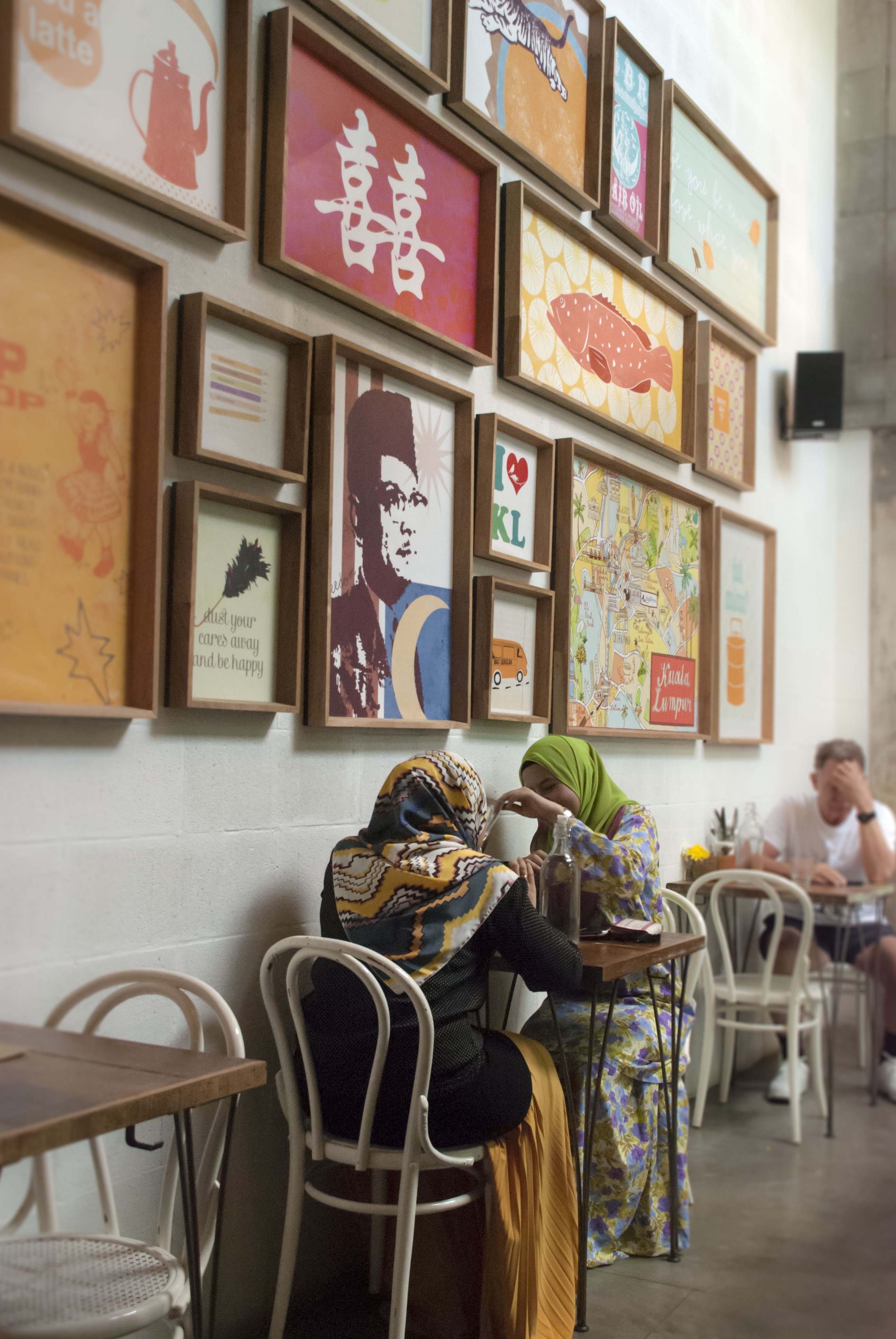 Like most Asian countries, Malaysia is no different from its neighbors where going to the mall is a daily habit and eating is a constant pastime. Wanting to get away from fancy malls like the Suria-KLCC and glitzy Bukit Bintang, I sauntered one late afternoon in KL's Merdeka Square where Malaysian Independence was declared in 1957 and where the recent independence celebration took place. Once a colonial quarter, the square houses the Royal Selangor Club which features a strong Tudor-style timber façade. Seeing the gothic inspired St. Mary's Cathedral, my first impression was of the Anglican churches I have seen in old British movies and its interior reminded me of some episodes of the famous TV soap Downton Abbey.
On my way back to the hotel on foot, I stopped in front and admired the array of Indo-Moorish structures; there was the Sultan Abdul Samad architecture, the Railway Administrative Building and its heritage-site sister, KL's old train station. The onion domes, cupolas and the balletic arches were made to stir one's fantastical imagination. Local and regional trains still run along the old lines. Once a week, the Eastern and Oriental (E&O) Express train makes a stopover from Singapore before continuing on to Thailand and Laos.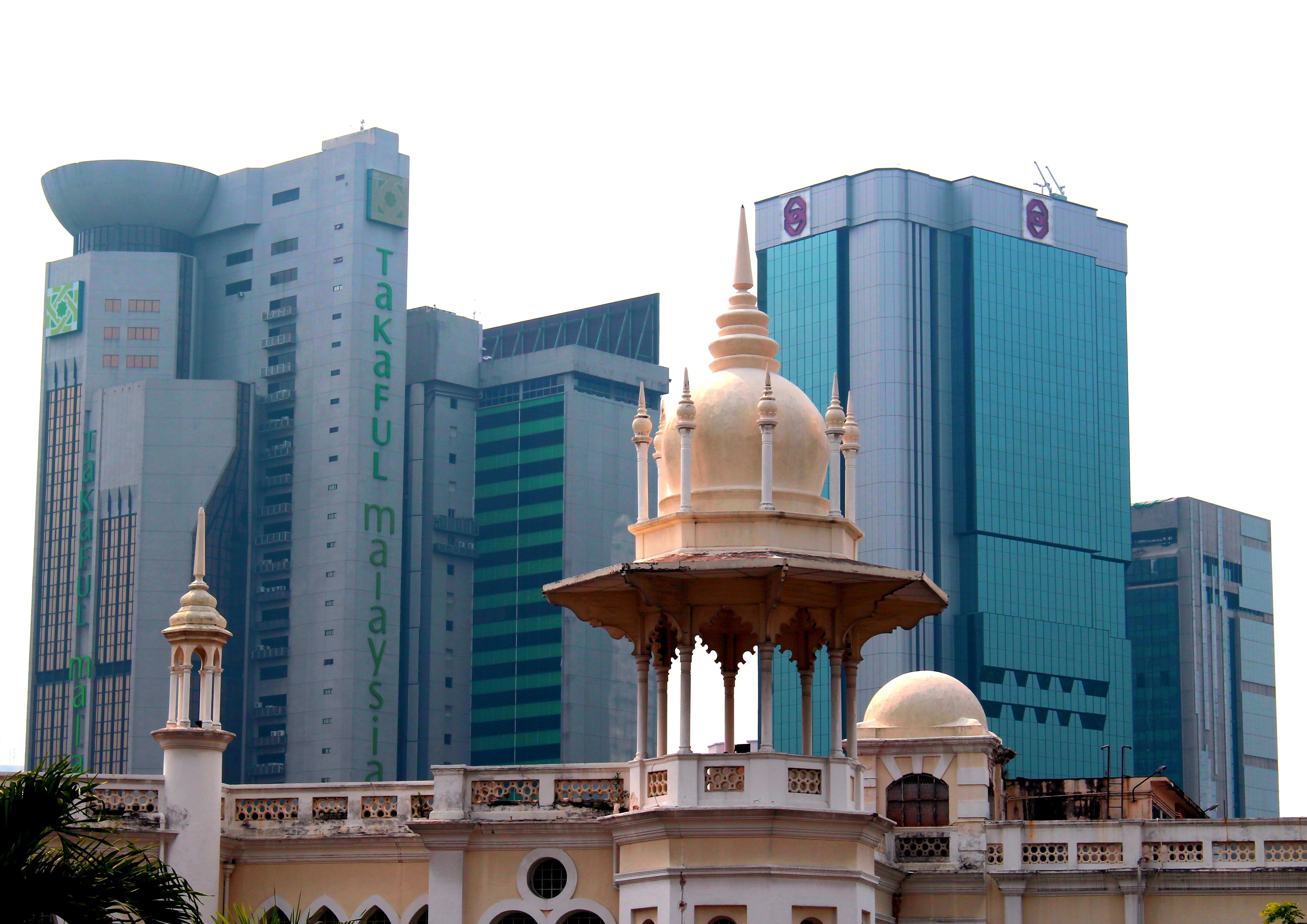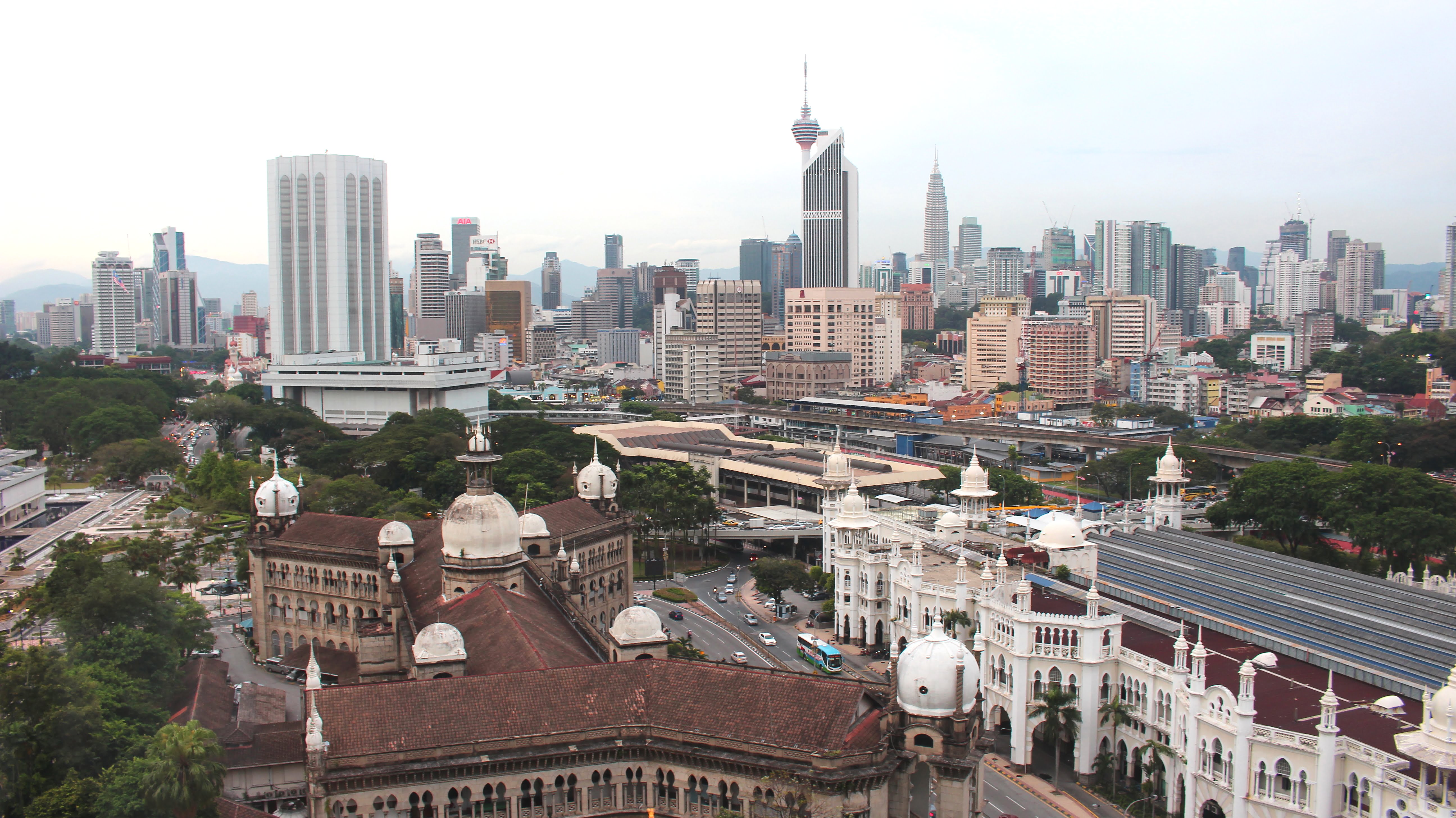 Continuing my way back, a prayer broke from the nearby mosque. The traffic started to build up as I passed along the same streets that the Bersih 4 rally once occupied. It felt that I was being torn   between two contrasting forces and I was standing in the middle. Between those who happily celebrated the Independence Day and to the hopeful crowd in their bright yellow shirts, who cheered 'Merdeka' (independence) and whose angry shouts dissipated into a heartfelt chorus of the national anthem, 'Negaraku' (My country). Between the gleaming futuristic buildings juxtaposed ancient temples and mosques. Between the flashy malls, fast food and western coffee shops and the cajoling shouts of hawker stands selling 'I love KL' shirts and sugary teh-tariks. It can all be too bewildering yet what's clear is that it signifies a changing landscape of a young country that belongs to an old part of the world. Echoing Tariq Ramadan's words, Swiss philosopher and writer, 'Malaysia is a country unlike any other: Full of promise and fragility. Its history, cultural and religious diversity make it a rich, compelling and surprising land'.
In today's Malaysia, there exists a contrast between the embattled tradition and exultant modernity of another generation. Of two opposing forces, the Yin and the Yang, pulling, tugging or even ending up splitting into different directions but the goal is to stay cohesive. Perhaps, it's the kind of difference that somehow keeps Malaysia, heart of the new Asia, together.