The train heading to the city center whizzes by after halting for a few seconds at the Kuala Lumpur Central Station. Echoing from a distance, one can still hear the rumbling of the engines like an ominous thunder in the monsoon season. With every inch forward comes a screeching sound as the train snakes along a metallic track with speed and sheer friction.
It is 12 noon and I am hemmed in between hordes of crowds cramming the city's train terminal as if I was taking part in a yearly pilgrimage to Mecca. The absence of flowing white robes tells you otherwise. Women clad in flamboyant kebayas and luminous saris move past youths in tattered jeans posing like Korean pop stars with hair dyed to a platinum blonde.  Kids in school uniforms stride side by side with polo-shirted hipsters. Office workers dolled up looking smart, pudgy security personnel on the lookout, sweaty tourists in relaxing flip-flops and baffled taxi drivers holding confusing signs while a band plays quasi rock-folk Malay tune in one corner. Above are large bright colored monitors flashing ads of beauty products and 4G services.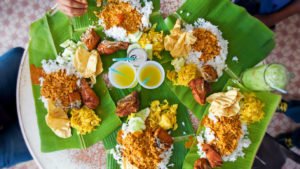 It is lunch hour and to anyone coming to Malaysia – from the moment you set foot in the hot, humid and traffic frenzied capital, one immediately leaves the timid self behind. Allowing for a brief moment of disorientation and ultimately getting lost in the scents, colors and incalescence of this makan-obssessed society. It becomes most apparent when Malaysians greet you with the phrase "Sudah makan?" (have you eaten?) rather than "Hello!".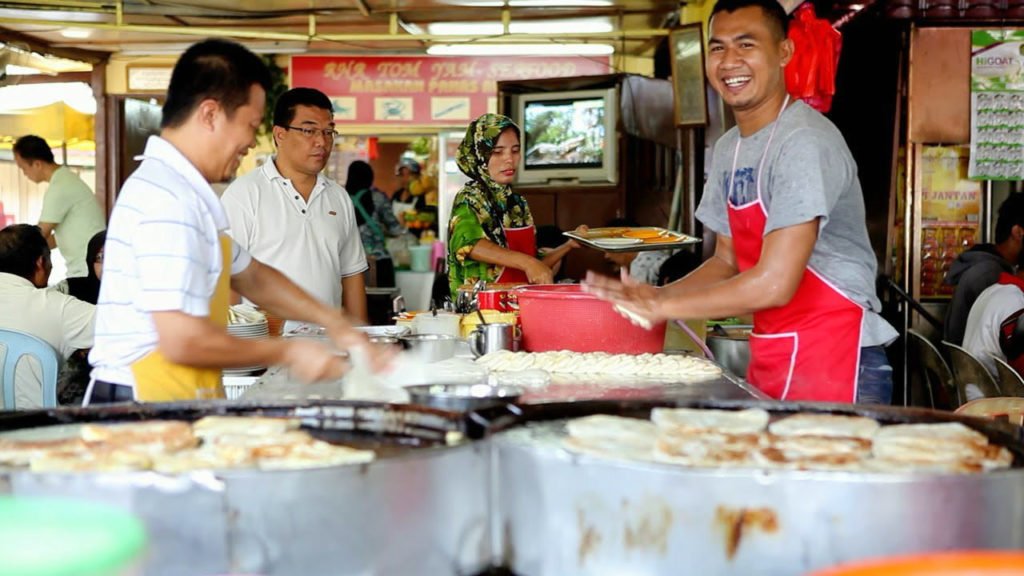 The locals speak of "makan" evocatively and to many of them, it is synonymous with food and food is love and love is life. It is a term that conjures another – "mamak" which refers to food stalls or modest corner food shops. In my quest in catching a glimpse of the nation's soul, I reasoned that this trip was to be a search for the "makan" – the comforting and the real. A journey that will take me to some of the city's beloved culinary hideaways – where I am to eat myself silly and digest quickly; as well as meet pseudo foodie philosophers, self-confessed gluttonous liberals and makan conservatives, who would show me the vicissitudes beyond the complex world of food, appreciate the modest pleasures of honest conversations at the table and eat happily – Malaysian style.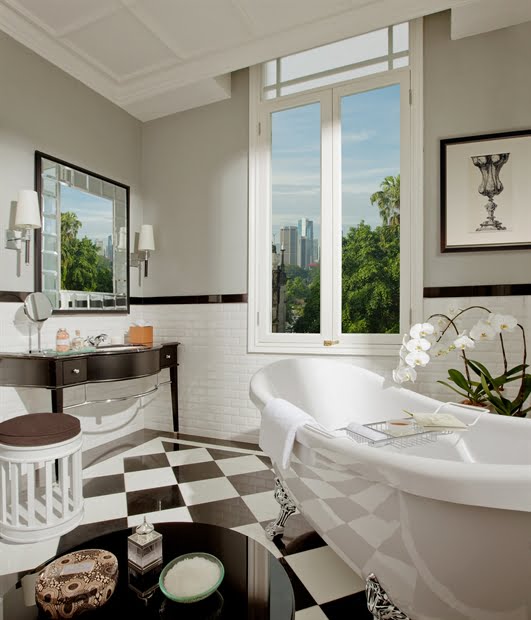 My first encounter took the form of a chatty taxi driver, whom I have only known by his first name, Faresh. After dropping my bags at The Majestic Hotel, a charming colonial hotel oozing with history, and has a lobby reminiscent of the Noel Coward era. Which was to become my urban cocoon while in the city. Faresh asked me where I was headed. I told him that I am off to Bangsar, urging him to put his foot on the accelerator as I was starving and could eat an entire chicken. "I like ayam (chicken in Malay) too!" he said with a hearty giggle, "and I will get you there-lah, before your chicken goes back to becoming an egg!" The car glided, bounced several times and miraculously skirted a notorious jam. My tummy grumbled as Faresh honked the car's horn. A mere 10 minute ride and we reached our destination in Jalan Telawi. "Devi's Corner – mamak" he points out, "and chicken – yummy chicken". My initial thought was to dine quickly somewhere inside the mall, but I gave Faresh a look of approval and handed him his taxi fare.
Malaysia's mamak scene is a complicated paradise and the deeper you dive under its surface the more interesting and beautiful it becomes.
Devi's Corner was packed and noisy – and felt like my sort of place. An Indian waiter came out carrying a tray overflowing with all what the restaurant could possibly offer. A whiff of curry and garlic instantly filled the air. Steam oscillated from a warm, perfectly-cooked rice. I snagged the last chair and joined two elderly women partaking chicken satay dripping from its thick peanut sauce while pinching the cheesy naans they had ordered for a side. A quick look at the menu and I considered ayam varuval (chicken roasted in a masala mixture and then fried) with rice and a portion of Devi's crab curry. It didn't take me long to finish my meal. A quick happy escape. Sticky sweat dripped from my forehead.  "Come and eat here at night time, its cooler and let's all watch football" one of the women said between her bites. I looked around and briefly concluded that locals don't just simply dine here, they are also out in search of a merry old time.
A call to prayer broke from the nearby mosque. The traffic that once chocked the streets a few hours ago had started to ease. Even the grating caws of the hovering crows seemed to have stopped as if some divine force has anesthetized the vocal chords of the scavenging creatures. Under a tree, pigeons feasted on scraps of food. I sauntered along the back streets and passed several food shops. Bollywood music blared out from a loud speaker at the Sri Nirvana Maju restaurant, as group of waiters artistically spread large banana leaves on the tables. In the middle, a family sat and had called on the staff to bring in more teh tariks (a sweetened milky tea), quite the perfect antidote to cool off from the afternoon heat. A few blocks away, I stumbled on more food places, Chinese, French, Japanese, Thai, Italian and fusion restaurants juxtaposed with Spanish bars and clothing bazaars.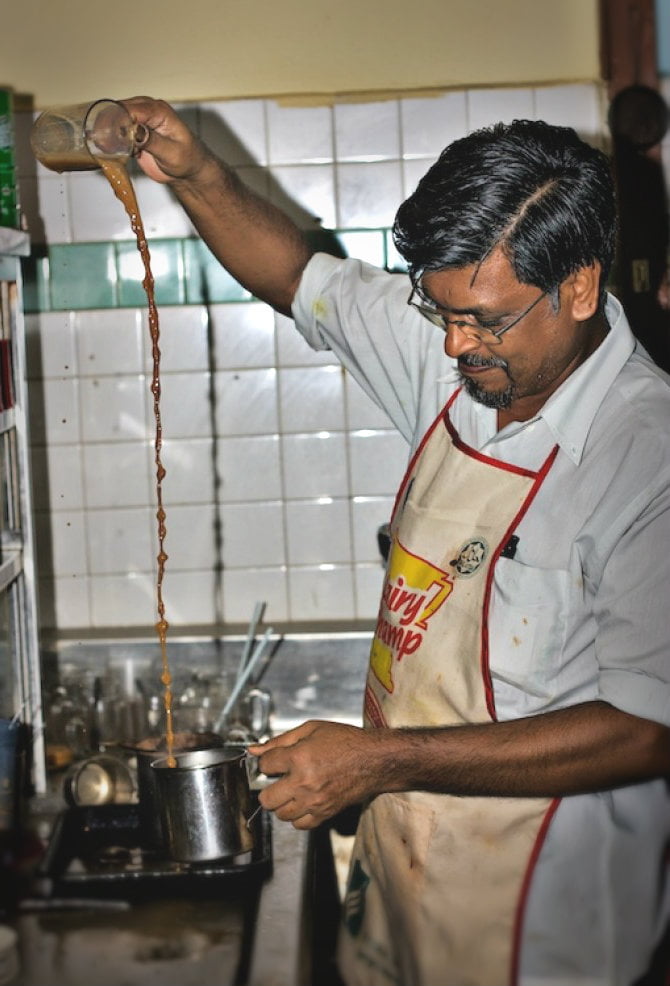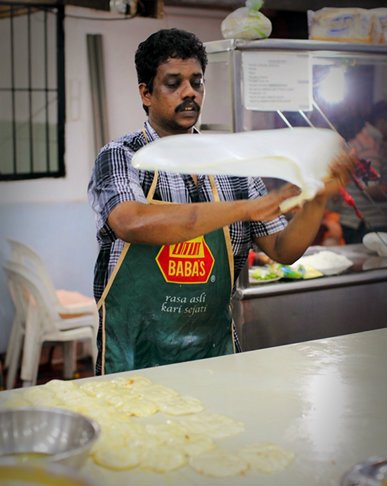 By the late afternoon, hot and exhausted, I retreated back to my hotel where the promise of a reviving tiffin awaited. I lounged on the sofa, nibbling on a scone, a cup of earl grey in hand, and started planning my next day's jaunt. I had heard from a friend that Kuala Lumpur food stalls sell some of the best street food in the region: grilled fish, satays, curries, fried pancakes and the coveted national obsession, nasi lemak. While the city offers endless culinary options, some food blogs I had come across online also suggested to venture to the island of Penang, some 230 miles north out of Kuala Lumpur where a more extensive cooking style and flavors are served.
Contemplating these thoughts, I reasoned that Malaysia's mamak scene is a complicated paradise and the deeper you dive under its surface the more interesting and beautiful it becomes. A few historical notes explain that "mamaks" are actually people of Indian Muslim race that arrived in Malaysia during the 19th century. As Islam is a shared belief between Malays and the Mamaks, intermarriages brought the two cultures together establishing a race that had blended in quite harmoniously and blooms in present day Malaysia. Along with the strong cultural Madras background, the Mamaks brought their culinary expertise and have successfully influenced the way Malaysians eat and indulged in "mamaks" 24/7 menu.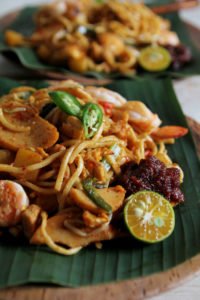 That night at the Contango, a festive spirit exuded throughout the hotel's restaurant. The incandescent lamps, majestically golden, gave off a romantic glow as the heavy tropical monsoon pelted outside. A vertical wine cellar by Baron Philippe de Rothschild and Robert Mondavi displayed 2000 wine bottles on one side, like a token of human desires. Conversations swelled yet muffled and hushed laughter were easily drowned by a sizzling sound as chefs threw in onions and spices unto a searing wok, where an open kitchen stands in the middle of the room. Office workers gathered at one end while families were led to reserved tables close to the high paneled glass windows. A retired Chinese gentleman drinks a steaming cup of jasmine tea, a woman anxiously waits for her date and then there were the enameled smiles of the waiters. While lofty emblems of modernity make up the restaurant's set up, it has however managed to keep the age-old culinary traditions. I went to try some of the meals that locals have grown to love: murtabak (stuffed pancake), roti canai (flat bread), mee goreng (fried noodles) and mee rebus (noodle soup).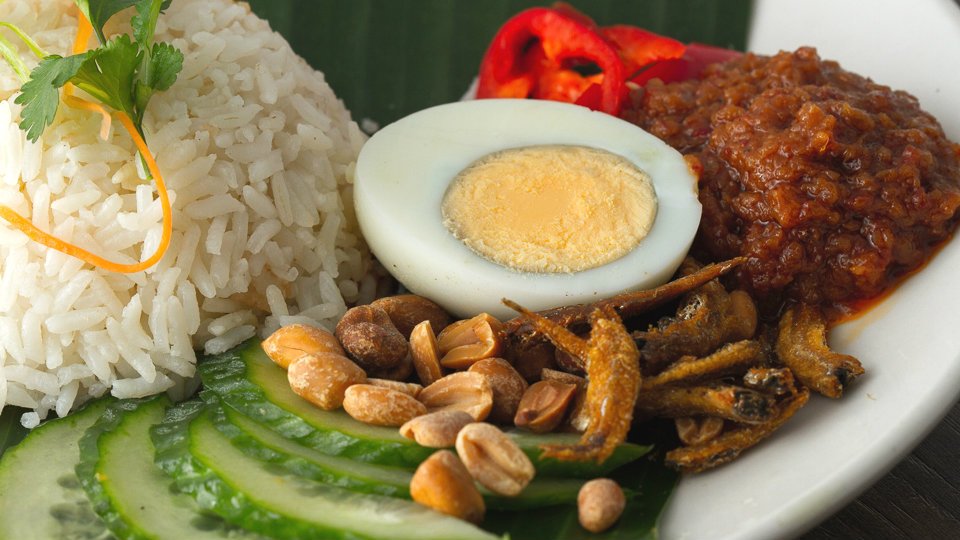 If there is one dish that is considered the most authentic and quintessentially Malaysian, it is nasi lemak. The Malay fragrant rice dish is affectionately imbued with coconut milk and delicately wrapped inside a pandan or banana leaf and served with crispy ikan bilis (anchovies), peanuts, boiled egg, slices of cucumber and a touch of sambal (chili paste). Flavor wise, it is revelatory. A reminder of the comingling of race and culture. Everyone seems to agree. No better way to eat nasi lemak but to have it in al fresco the mamak way. I began to think that there aren't many places in the world where contrasting opinions are set aside and mamak stalls hold a special place to every Malaysian along with food.
Perhaps it was indiscreet, but I was curious to ask Ashraf who runs Ali's Bistro in Setiawangsa, a suburb area east of the city, how mamaks play a role in the Malaysian society. "I sometimes think mamak shops are the only space in this country where people from different social class, political backgrounds and racial differences can share without making anyone uncomfortable."
He paused for a bit, savored the remaining mee goreng and then went on to say with arresting pride and relish, "A  construction worker after a long day at work knows he can have a roti canai and teh tarik for less than RM5 ($1.25) and no one's going to care how he is dressed in a mamak shop. A wealthy Tan Sri can also be in the same shop in his batik shirt and expensive watch having the same teh tarik and no one will look down on him either for patronizing a mamak shop."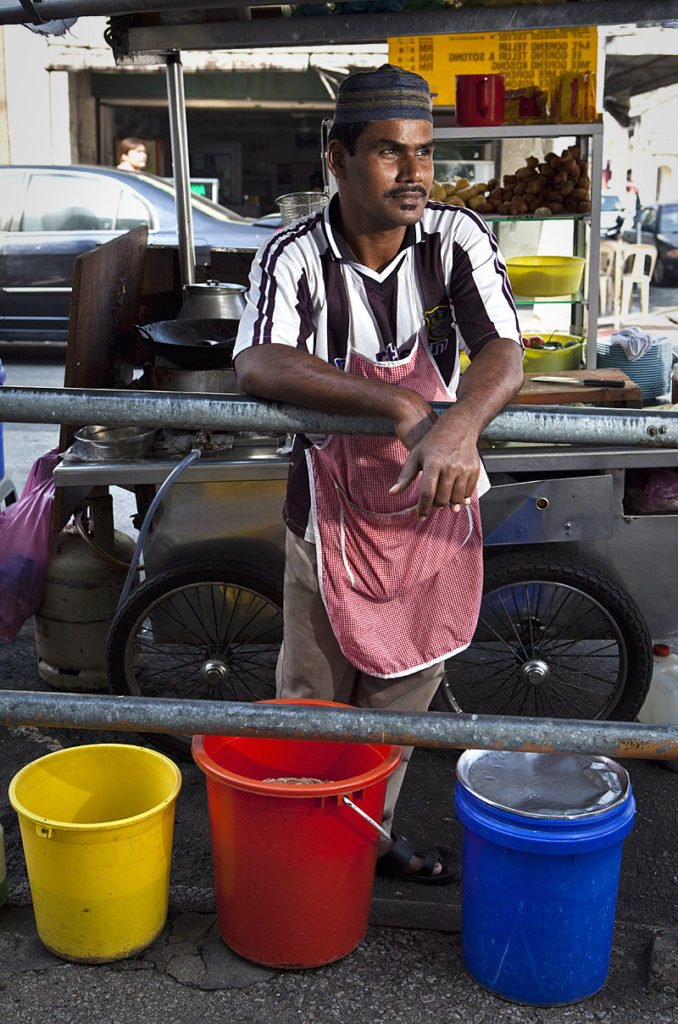 In so many ways, it was a consoling thought in contrast to the news one hears about the country's creeping Islamization and the wearisome political dichotomy, of corruption scandals and public wealth, of women's rights and the anxieties felt among the LGBTQ community. Though it didn't stop Jojie Kamarudin who became an internet sensation, to set up her own food stall and bold enough to name it 'Nasi Lemak Pondan' (Pondan meaning transgender in Malay). As an outsider looking in, one cannot help but hope that whatever the intentions of the current government, may it hold the reassuring Malaysian 'can-lah' (can do) spirit.
On my last day in the city, I caught up with Ken. A long time friend and a graphic designer by profession with a reputation of hunting down mamak places in the neighborhood. Over a spread of banana leaf, we dug our hands on a pile of steamed rice smothered by a rusty colored mutton curry at the Annapurnam Chetinad in Jalan Maarof, a quiet district in Bangsar. Naturally, I always ask him childlike questions every time we meet and I caught myself this time querying about Malaysia without its mamak? "Can you imagine Malaysia without the letter M? or perhaps a person without a name?" He grabbed his beer and took a gulp.
Bubbles fizzled inside the sweaty glass. The greasy table was dotted of dried rings from teh tahreks and beer mugs left behind by long departed diners. Ken gazed an intent look on his drink and let out a chuckle while unconsciously scratching his head. "A mamak stall is every Malaysian's identity. It's the place where friends meet time and again, nurture a family, exchange ideas or gossip and it is the silent witness that has held one's hand in every teenage break-up." We held our drinks up and made a loud clanking toast. To echo on the words of Malaysia's TV host and radio presenter Terrence Dass, "The mamak is like your mamas away from home. It's Malaysias gift to the world."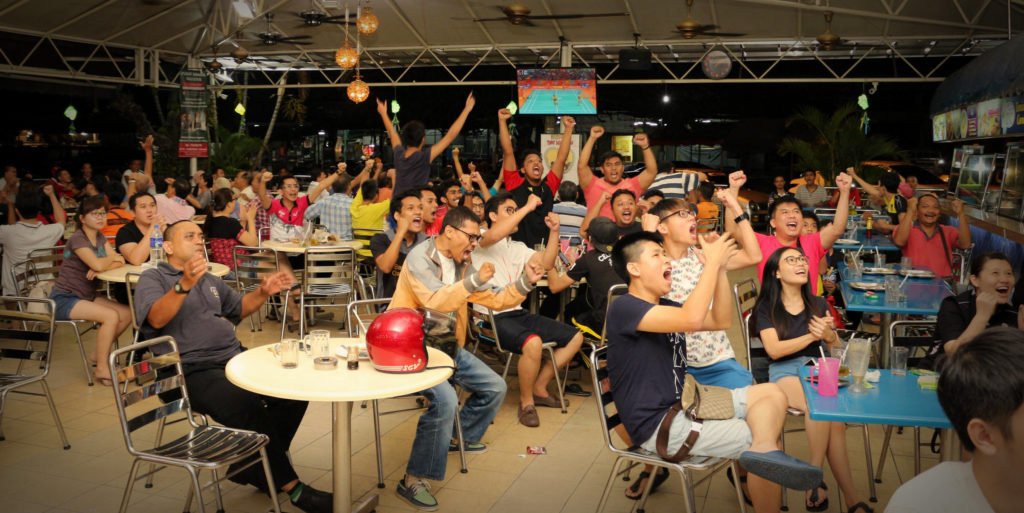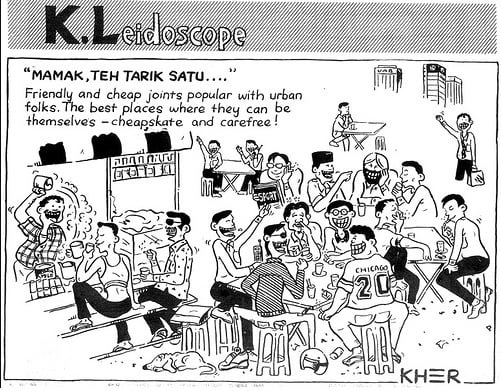 In my quest for the real and the comforting – my recent trip revealed that food is a unifying element in Malaysia and the mamak stall is as close as one gets to total emancipation or honest to goodness realm. Even a fleeting visitor cannot help but fall for the humbling experience that brings the country's diverse community of Indian, Malay & Chinese, the rich and the unprivileged, the elite and the uneducated – together in partaking the joyous ritual of eating and setting racial divisions aside.
Makan has become a symbolic form of enlightenment to many Malaysians and to which this kind of enlightenment takes different shapes and comes in many flavors. Somehow the mamak had defined the idea of how the ever changing country is perceived in every bite, the punch of spice, the sweetness of full fathomed pride that transcends into genuine conversations and to where love and respect are no secret ingredients to a more promising future.