Why this sunny port city of Andalusia is the new capital of cool.
At the time when the favored Andalusian sisters Granada, Sevilla and Cordoba were far too busy beguiling audiences across the globe while absorbed in their own spirited rhythmical trance, Malaga is the sister on the coastal south that arrived late to the tablao.
For one thing, Malaga isn't exactly on every cultural pilgrim's itinerary when traveling to southern Spain. Many would simply associate it as transit point to the real Andalusia. A sun seeker would also argue, as well as a retiree, that this sunny port city on the Mediterranean is their gateway to a string of feted beach holiday resorts on the Costa del Sol.
"There is only one way to see things, until someone shows us how to look at them", Pablo Picasso, the celebrated and one of the most influential 20th century artists eloquently said. He was talking about his art and describing its truth, but he might as well have been speaking of his birthplace, Malaga. If I need to have that someone show me the real thing, a city with its pants down – perhaps no one does it better than Malaga itself.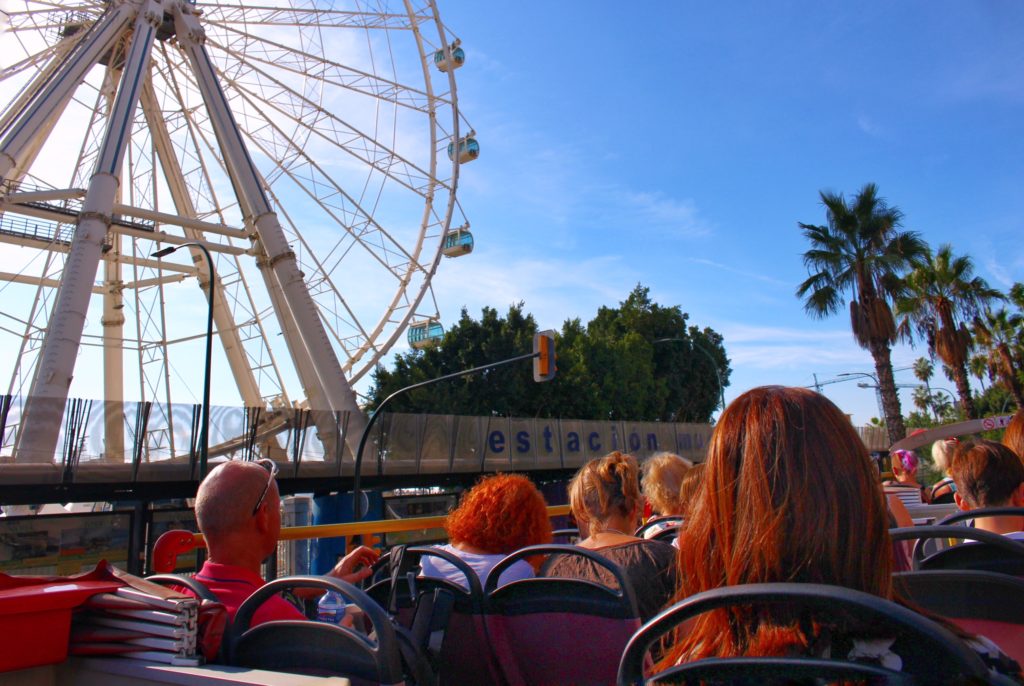 At Plaza de la Merced, romance drifts around like old Spanish cologne. Strolling along the square, I see locals on their early morning walk. Pensioners chatting over coffee as patrons, both residents and tourists' alike fill the café's that line this pedestrian square. A group of gibbering teenagers trickle out from an alleyway. A faint guitar sound hums in the distance.  Gap-toothed niñas tug behind their mothers while young couples hold hands and twirl through the open space. Conversations flow only to be interrupted by hugs and chuckles, when kisses land on cheeks. To Malagueños, everyday is a love affair with life.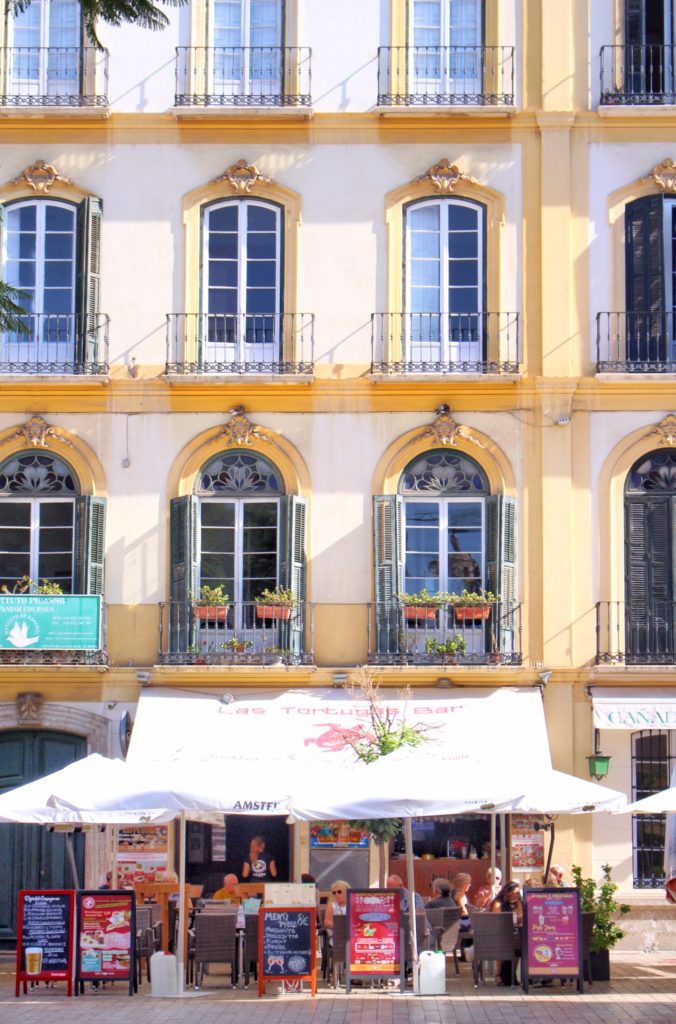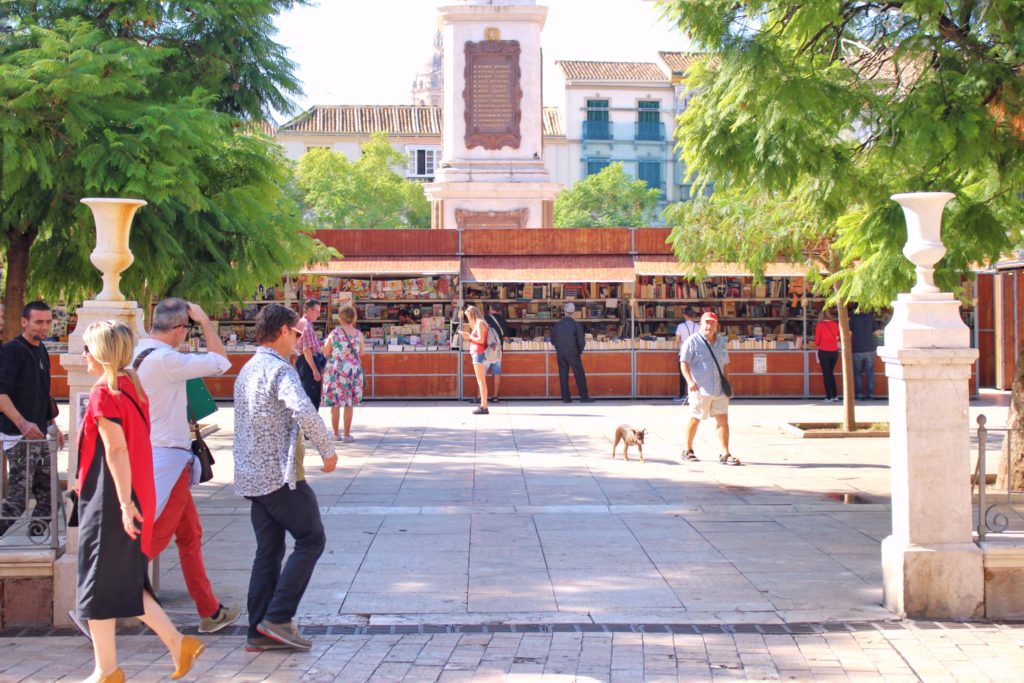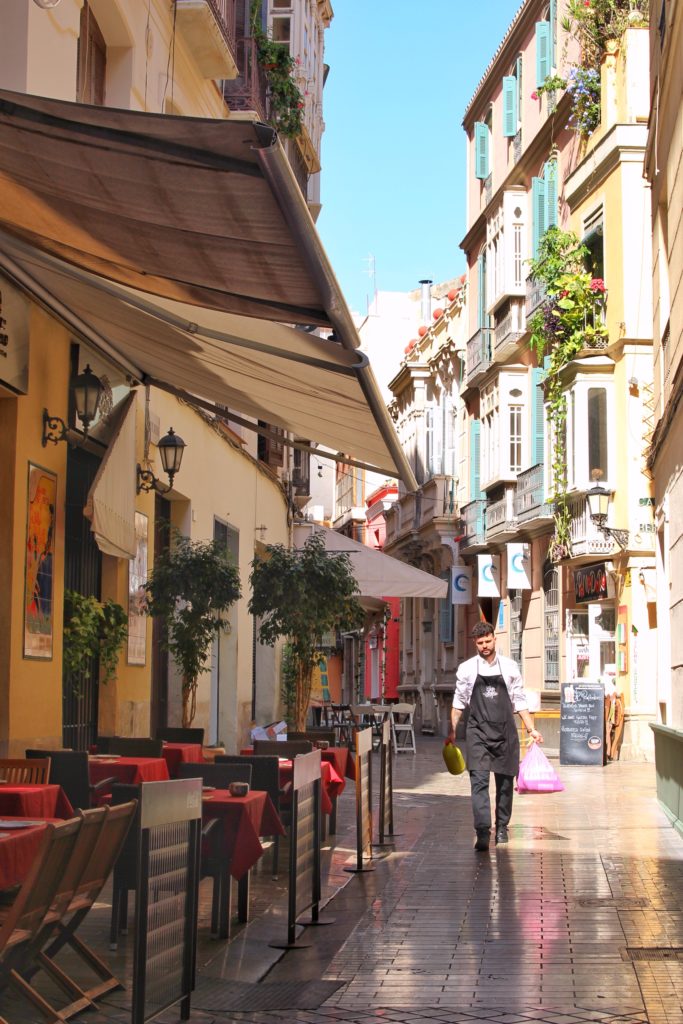 A traveler gets the feeling that there is a kind of cool – that easy going warm and welcoming attitude that you don't often experience firsthand when arriving in Seville or Cordoba and in Granada for that matter. There is none of the stuffiness and little hints of snobbery except for a few local dogs chasing pigeons that patrol the square for some leftover churros.
An obelisk stands in the middle of Plaza de la Merced resembling a compass. Its shadow, depending on the time of day, points the observant to either head east or west, north or south to parts of the city waiting to be discovered. In a corner, my gaze catches a bronze life-sized figure of Picasso lounging on a bench. A homage to the artist whose old house is a few meters away. Picture if you will, a young Pablo roaming around Plaza de la Merced holding something peculiar in this hand. For all we know, it could have been his first attempt to portray art. At Casa Natal, now as museum, there are glimpses of his early years. The family later moved on to Barcelona then to France where the artist spent his most prolific years.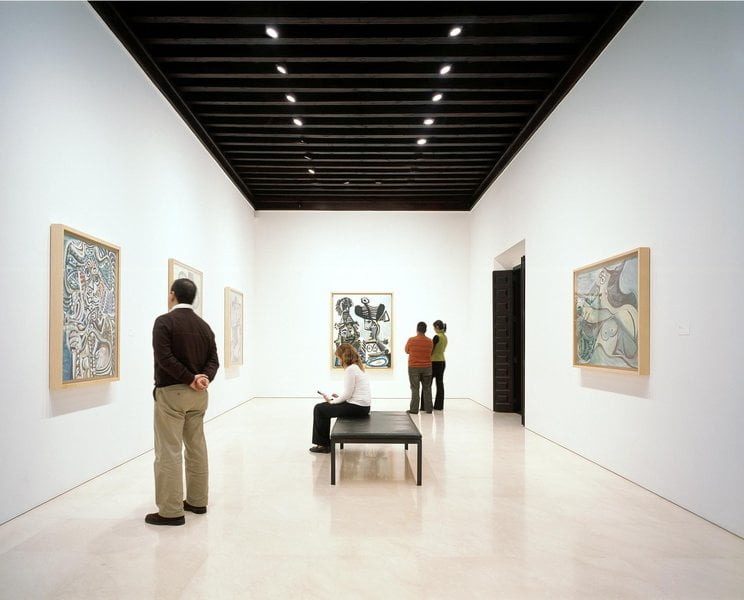 It seems that the more I venture along these cobbled streets and edgy neighborhoods; I am beginning to see a vibrant community of emerging artists and intellectuals who are rebuilding the face of the city in their own image
Whether you are a Picasso fan or not, there is something about this beloved Malagueñan native and his work, that make you feel he understands the depths of your curiosity and even the paranoia as well as the vibrancy of one's imagination. I wandered from his birthplace to Museo Picasso which houses 285 remarkable artworks – his early paintings, ceramics, sketches and sculptures donated by members of the artist's family. While most of his masterpieces are displayed in galleries all over the world, this museum, the former Nasrid Palace offered me impressions of Picasso's artistic evolution as well as a background to his genius.
It wasn't long ago when culture-seekers started to form long queues in the historic center of Malaga. Arguably, the museum has become the city's springboard for cultural revival. After Museo Picasso opened its doors to the public in 2003, tourists wanting to immerse themselves in Picasso's history have been a common sight. Moreover, with Antonio Banderas' (also a native and living in the city) portrayal of the life of Picasso on National Geographic's TV mini-series, it fuelled rising interest and brought much attention to Malaga.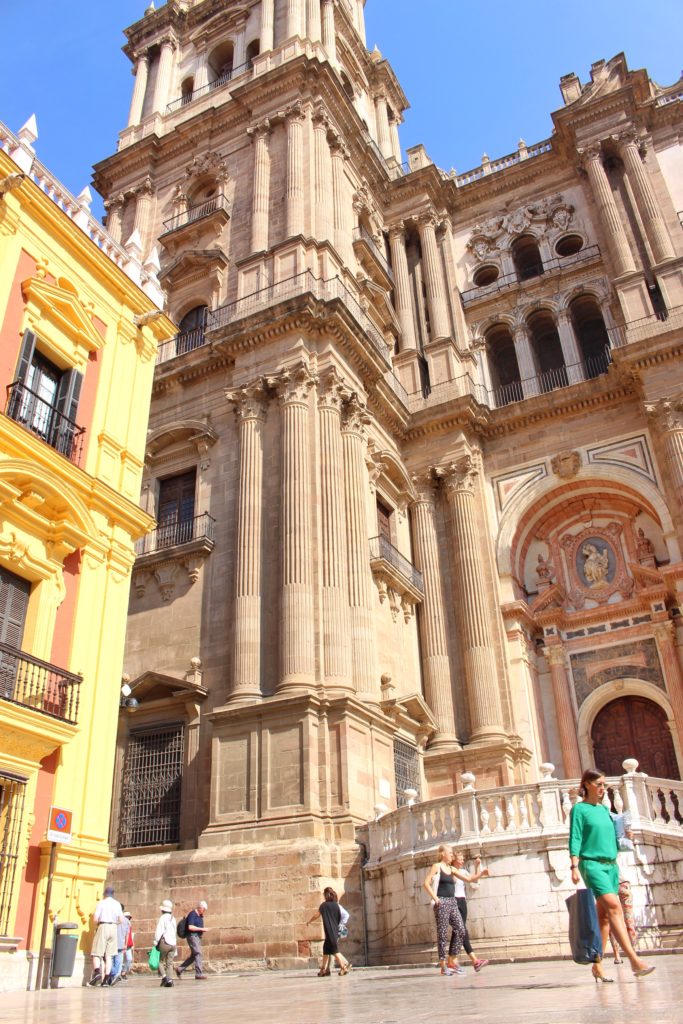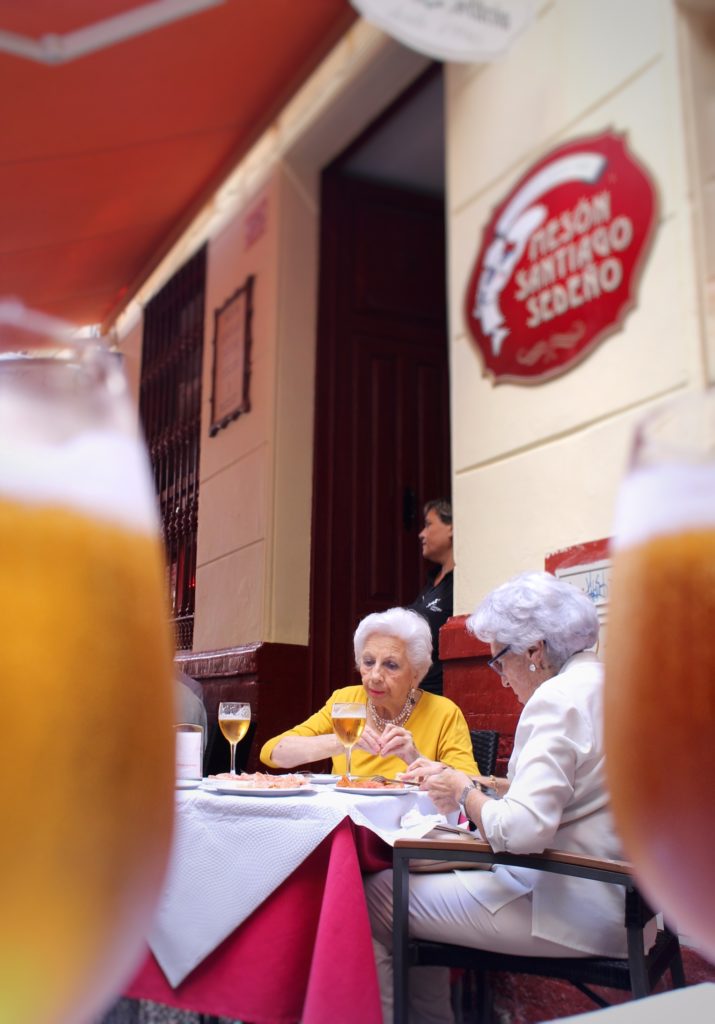 Yet Picasso's legacy didn't stand alone in luring creative souls to Malaga. And while the city has a surplus of museums – far more than any other city in Andalusia, Malaga's old town is compact and adorned with a number of historical and contemporary sights for the wayfarer to marvel and throw oneself into. I have grown to like the feeling of not drifting far from the old town. I have also become accustomed to seeing Picasso's name plastered everywhere. From café's to tapas to pizzas to chiringuitos; a menu del dia named after him and a even cocktail. If it's not under the artist's name, then it could be something that possesses a striking association to the great man himself.
Take the Hotel del Pintor for example. What could be more obvious than the word 'pintor' which literally translates as 'painter'. This small boutique hotel along Calle Alamos, a stone's throw away from Picasso's birthplace, bears an imprint of an artist. The hotel's plain façade hides an interior that is urbane and part bohemian, combining the informal lines of a city structure with the charms of practicality.
Anyone who came across Pepe Bornoy, a local painter and poet, is familiar with his intriguing eccentricity when it comes to his art. The hotel has become an extension of his canvas. The walls are painted white with the intention to take your gaze toward a series of frames that cascade from the ceiling down to the ground floor. Each frame presents a playful red and black accent of which Pepe Bornoy can effortlessly pull off. The 17 rooms exude modesty and a functionality a holidaymaker or a business traveler can both appreciate. Beds and brushstrokes, who knew the two could go together so well.
I guess it's no secret that in this town, art and creativity come aplenty and take shape in many forms. What was once a rundown neighborhood, the so-called SoHo district known to many as Barrio de las Artes, lying south of the historic center is rife with eclectic street art. The culinary scene too has become more cosmopolitan. Foodies all over the world have set their eyes on the city's newfangled menus. Tapas are given an extra oomph. Trendy restaurant and bars are opening up armed with nouvelle cuisine and innovation, yet there are still traditional family run tabernas where Malaga's old favorites can be enjoyed.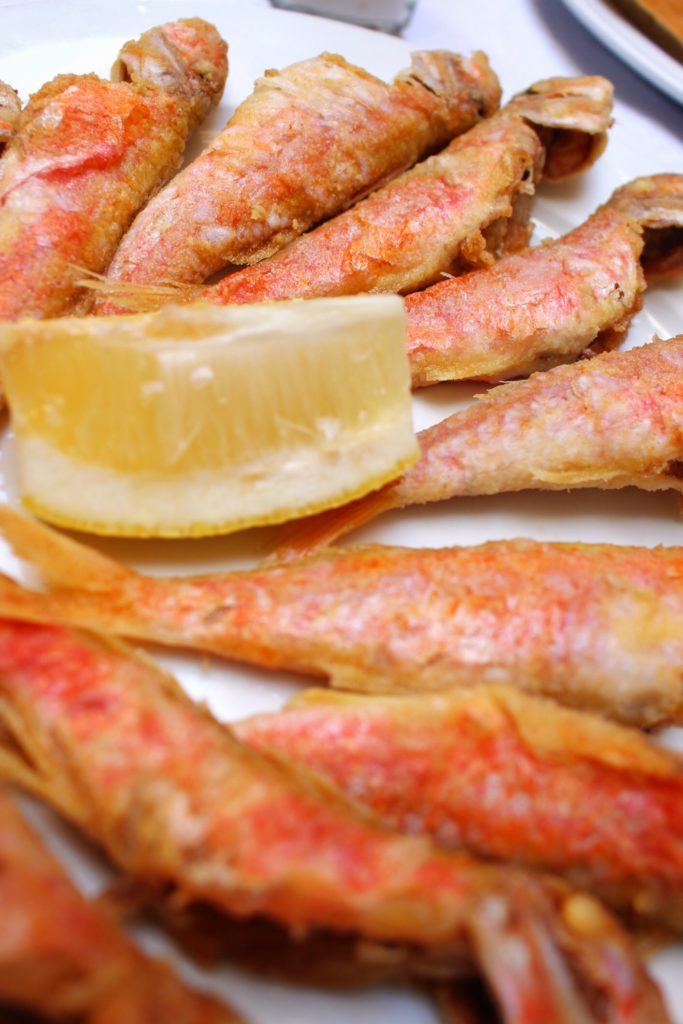 It seems that the more I venture along these cobbled streets and edgy neighborhoods; I am beginning to see a vibrant community of emerging artists and intellectuals who are rebuilding the face of the city in their own image. Depending on how you look at it; Malaga, once a gritty port city is morphing into a sophisticated metropolis.
Half of the newcomers look far ahead into Malaga's future and excited to engage in a cultural nirvana, the other half look into the past finding the ancient gilt of a reimagined city. An amalgamation of conquests and triumph. Here is the Alcazaba, a Moorish fortress and Malaga's own version of the Alhambra. At its base, a restored Roman amphitheatre. Perched on a hilltop is Castillo de Gibralfaro built by the Caliph of Cordoba in 929AD. What remains most are its solid ramparts of buff-colored stones rising above the pines.  High up from the castle, you see the compelling feature of Malaga's baroque cathedral pricking the skyline, a bullring and the sprawling city glinting in the late autumn sun before melting into the Mediterranean.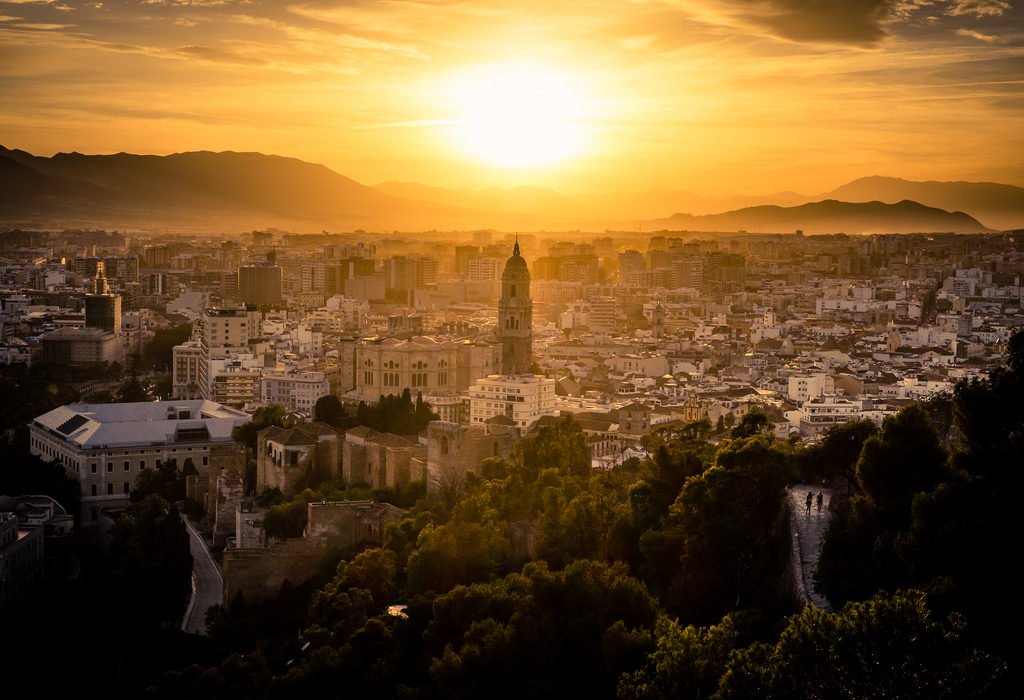 It seems an idyllic spot for me to pause. It also seems like the thing to do. Like the only thing to do. I thought about my reason of coming to Malaga. In some ways, I have managed to find a wordly-wise sense of what Picasso spoke about. One can only ask, how long does it take for a city to become a lead character in one's own personal drama?
Malaga, the Andalusian city in southern Spain may have arrived late to the tablao but was never too late to emerge from the shadows of its clichéd narrative – reclaiming its rightful title role that speaks of the city's inner essence and true soul. Being here over a brief period of time, I feel as if I am witnessing a city stretching its limbs, its slender figure taking shape, nose becoming more prominent, vocal cords flutter before settling on its soothing adult pitch. Malaga is in the cusp of change.