W
hat does a wayfarer see when she climbs the 183 step-bell tower of Saint Domnius Cathedral in the old town of Split?
In this thriving city in Central Dalmatia, amidst its well preserved medieval walls and Roman temples, between its dramatic coastal mountains and turquoise waters of the Adriatic – she sees two entirely different worlds.
The first is of a fantastical realm, love-lust and blood entanglement where dragons and dungeons make for a gripping tale on HBO's Game of Thrones. The other is the everyday-magical-universe that offers a kind of time-capsuled charm to those who set foot on Croatia's second largest metropolis.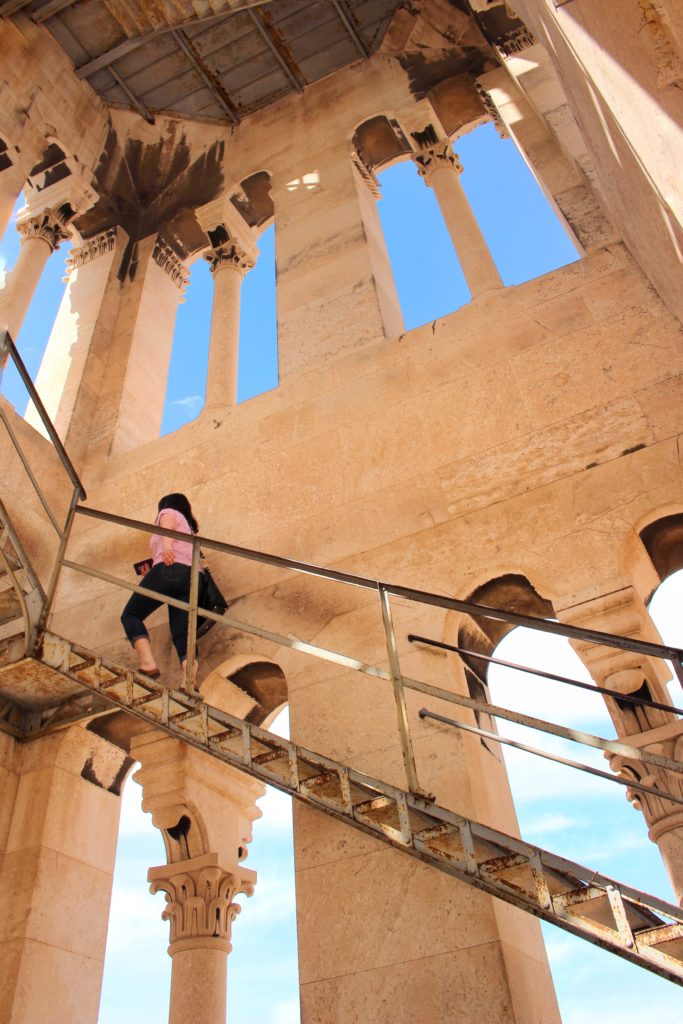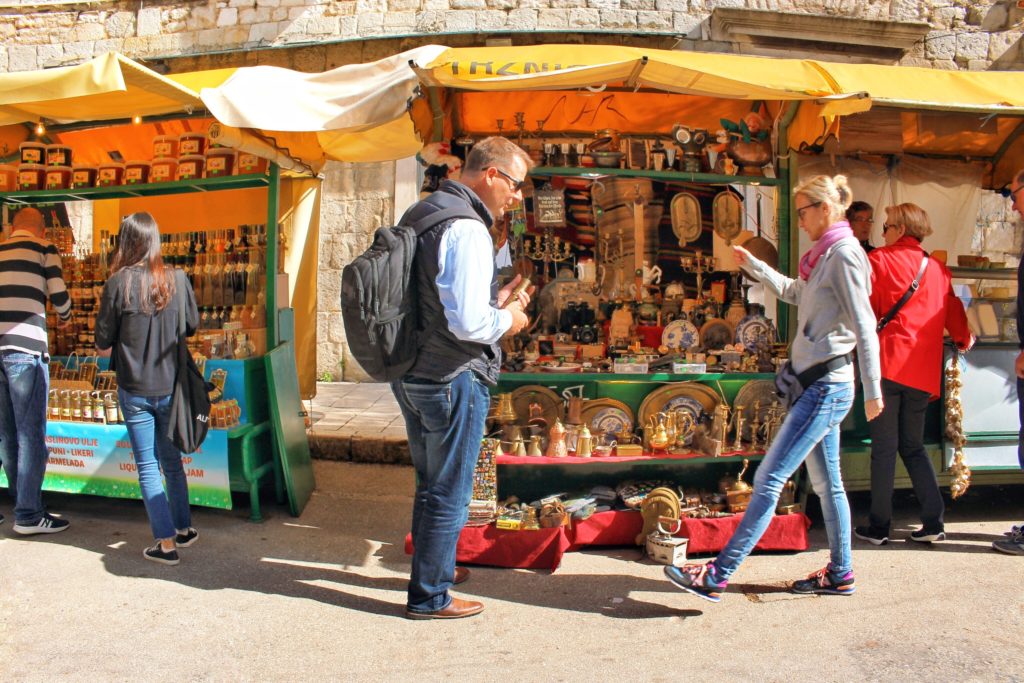 On a cool sunny April morning, I found myself in the green market, in Split's old town haggling for items from a woman selling antiques. She was short and somewhat plump in her 50's with Popeye-like arms which seem to suggest that her erstwhile ancestors could have been part of the Diocletian's Roman Royal Guards. She bagged my items delicately as if they were some precious gift from the gods. Hardly containing my excitement and without looking silly, I thanked her for the loot I had just inherited from a bygone kingdom.
For every modern onlooker in pursuit of what makes Split tick, I reasoned that this is the place to begin. It is in the market one gets the feeling of being thrown into a feast. Locals converge here not just to buy commodities like fruits and vegetables ripened by the Mediterranean sun, but also to take pride in the bounty of their landscape. There were olives displayed in immaculate bottles as well as jars of honey that glistened like gold bars, while a lingering scent of lavander hung heavily in the air. Like every feast, surprises come cheap as I came across World War II gas masks, trinkets made of bullets and other memorabilia reminiscent of the old Yugoslavia.
The market buzzes with life in the morning and like clock-work precision melts into a quiet tree-lined pedestrian square after midday – in some way, exudes a peculiar characteristic that most Splicanis knew too well. It's that attitude that distinguished them from their other Dalmatian counterparts. It is not that the Splicanis are lazy; they just happened to be blessed and posses more 'fjaka'. Loosely translated, it means a sublime state of mind and body when there is an aspiration for nothing and to do nothing.  For first timers, it is something that can still surprise and bring anxiety to the spirit but for the people of Split, it offers felicity and content to which all humanity aspires.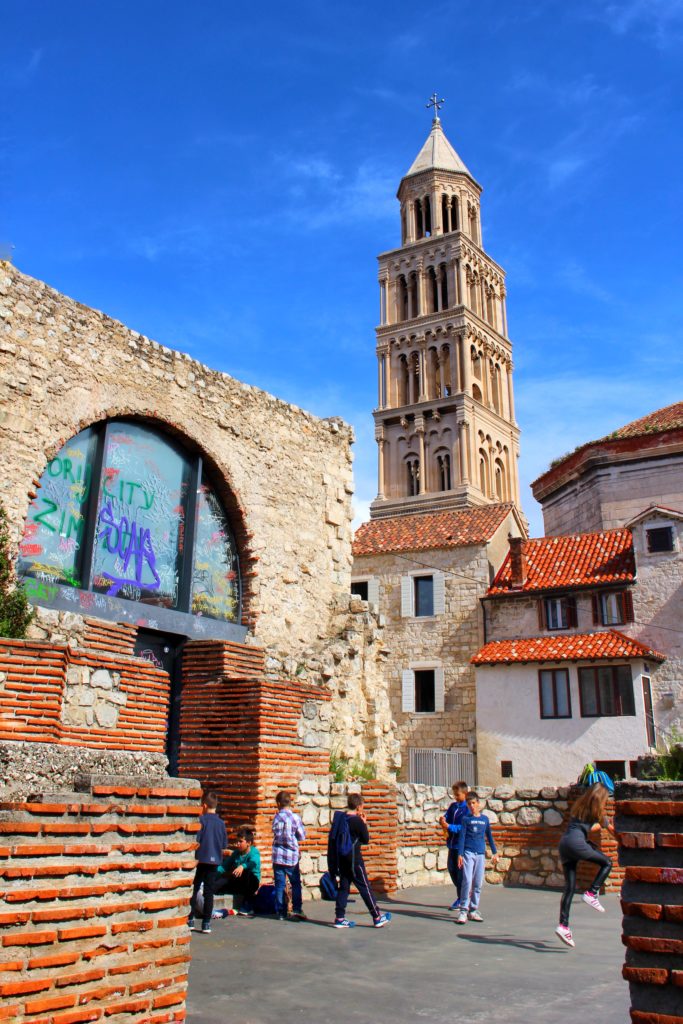 Leaving the market behind, just a few steps across the road, my gaze caught the entrance to the ferry port. I watched as arriving passengers disembarked from the neighboring islands of Hvar, Korcula and the city of Dubrovnik while others had sailed across the Adriatic from Ancona in Italy. What's striking is that Split, once a jumping-off point for travelers in pursuit of the glitzy allure of Hvar or Dubrovnik, more and more tourists are now choosing to linger a little here for the authentic, lived-in feel.
I made a beeline to the waterfront known as Riva. Split's version of the Promenade des Anglais in Nice of the French Riviera. It is only 10 A.M. and one gets a feeling that this is a town where people have the tendency to eat around the clock. It is hardly fjaka but locals find delight in having marenda (brunch) and linger over long conversations with friends. While trendy cafes' and restaurants continue to fill in, I sat on a bench that faces the wall façade of Diocletian's Palace for a short respite. Not far from where I was sitting, sun-wisened men gathered in one corner, laughing, humming tunes and staring sentimentally at the sea. Fjaka.
Marveling at the atmospheric promenade, it is easy to forget the seriousness of the events that had overtaken the country during the time of communist Yugoslavia and the dark events that followed. The Bosnian War that lasted for three years was, one of the bloodiest episodes in Europe since World War II. Nearly 100,000 lives had been lost from horrific war crimes. It was only in 1995, after NATO intervened and a peace treaty was signed that the war officially ended.
By midday, my belly started to grumble. In a hushed street not too far away from Riva, I found Trattoria Tinel. After having ordered a miješana riba, a seafood plate from the night before, I opted for a succulent steak and washed it all down with a glass of local wine: a white from Hvar.
Feeling satiated and discovering my own psychological fjaka, I retreated back to my hotel. Tucked on a hushed cobblestoned alleyway and a few blocks from the waterfront, Heritage Hotel 19 can instantly be a conduit to achieving that sublime mindfulness that Splicanis talk about. Here I am alas, lying lazily in bed. Allowing time to past. For once, I have accomplished something that required nothing.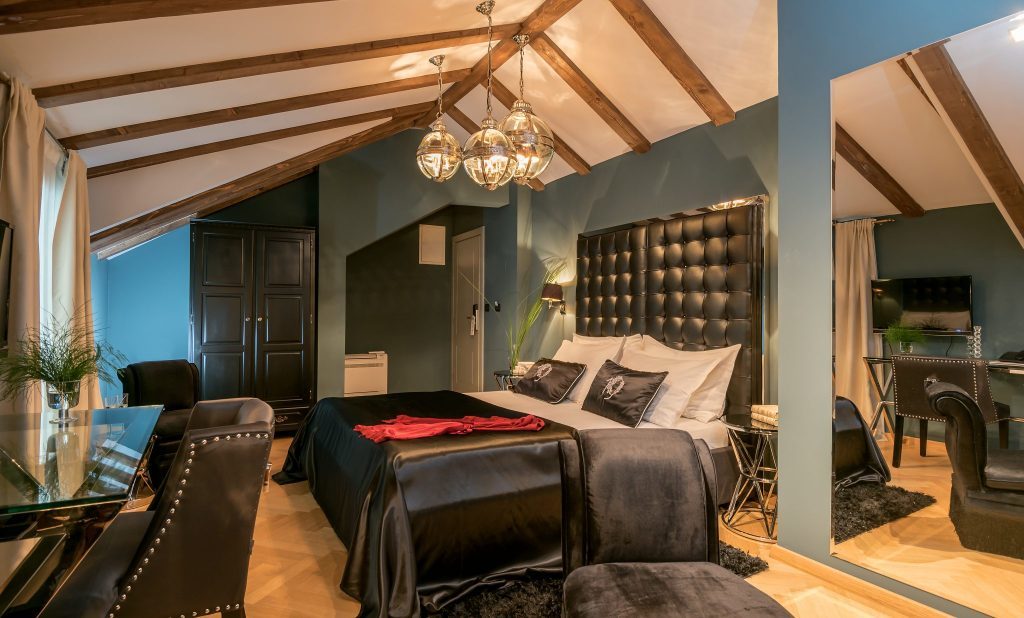 As I stared at the ceiling, it's only now that I began to see the intimacy that the hotel possesses. How ironic that it had escaped my eyes the night before. Above are the exposed wooden beams offering that homely feel. Once a 19th century townhouse and an atelier for a local artist, one certainly feels that this is a place that speaks to you in a language that needed not to be understood.
Against the dark-accented walls, retro-looking lamps punctuate each corner as kitschy lanterns droop graciously from the ceilings. Wooden parquet floors layered with oriental carpets projected a playful juxtaposition alongside antique-style wardrobes and chairs upholstered in velvety fabric. Double-glazed windows that overlook a leafy courtyard where a towering olive tree presides over give out that kind of warmth every temporary retreat should have. The seven-room Heritage Hotel 19, somewhat rustic and somewhat contemporary, infuses a flavor that appeals to the discerning traveler in search of a more personal experience.
I emerged from the hotel's cocoon and headed to the old Roman Emperor's retirement palace. Emperor Diocletian who ruled from 284 and retired early in 305 AD had seemingly avoided the violent fate of his other Roman compatriots. A UNESCO heritage site, his well-preserved palace with its ancient narrow lanes became a cinematic backdrop in the "Game of Thrones". Descending a few inches into the subterranean, the palace's substructure and beneath the crowds, the empty vaults and spacious cellars remind the onlooker of what was it like in the old empire (or an encounter of a scaly creature that lurks in the dark – Daenerys dragon perhaps?).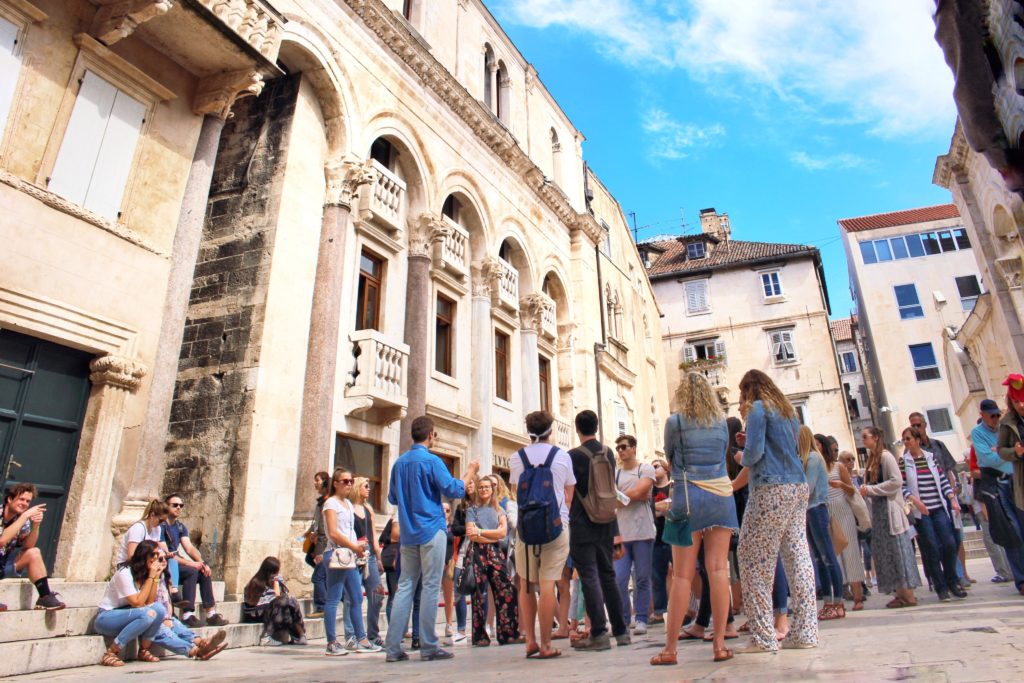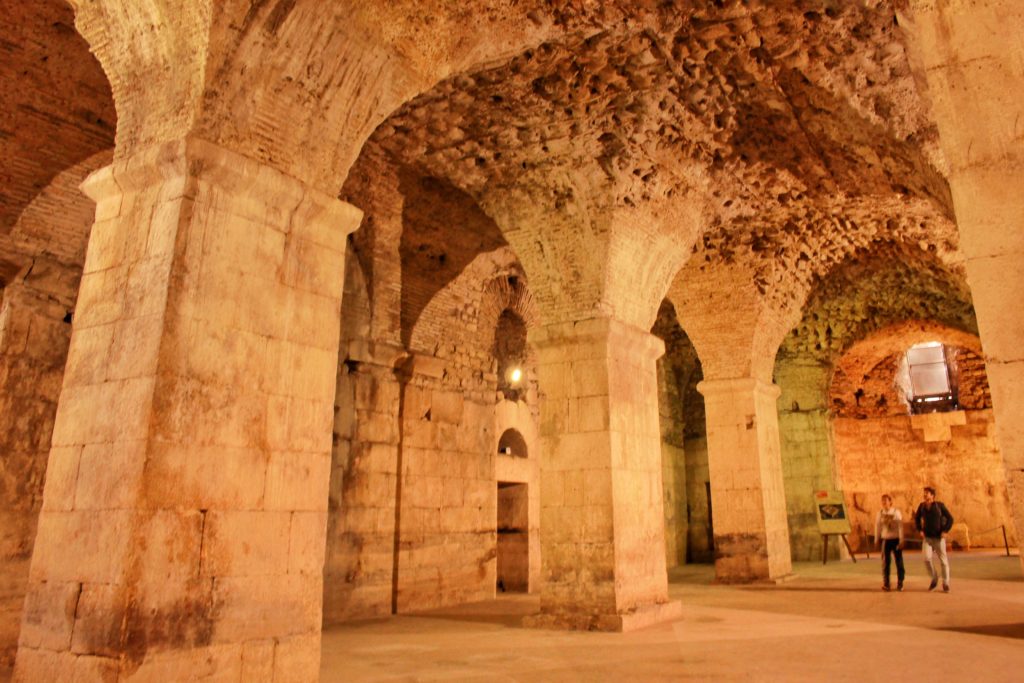 To think of it, there are few cities in world that have been able to stand the test of time having built inside a Roman palace. The old town of Split with its Roman "palace" is a mini-city of its own, having a flourishing local color, restaurants, bars crammed with arts, quirky little shops, a 16th century synagogue, a church, a giant bronze statue offering luck, and a courtyard filled with music and kids at play.
After an hour of wandering, I mustered enough courage to finally climb the belfry tower. Overcoming my fear of heights, with trepidation I began my ascent. My hands and knees wobbled as I climbed. Each careful step, a new vantage point to view the city. Up here, the past waves at you. Every gaze an invitation to see Split's personality.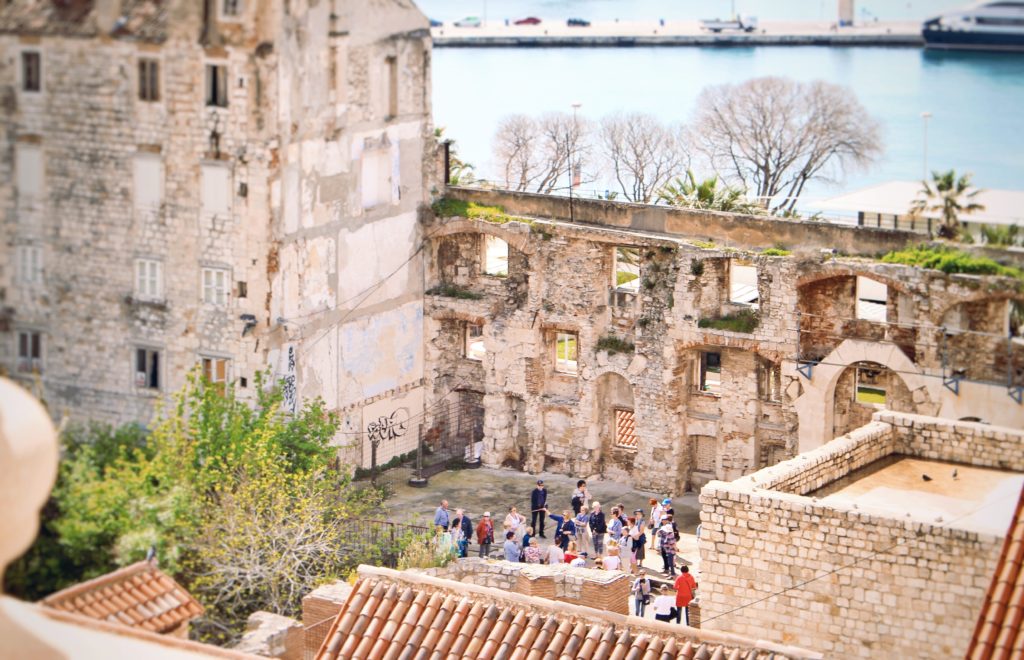 Surveying the horizon, I saw ordinary houses stacked up on top of each other with laundry strewn from balconies draping like flags as if welcoming an arrival of a visiting high Roman emissary. Keeping a steady gaze, I soon noticed limbering arches that extended from a thoroughfare to a private bedroom. The imposing pillars and columns erected on nearly every corner have made their way into modern living and yet still evoke of murmuring ghosts. Here, from above, one confronts with very little fantasy (forget about HBO's Game of Thrones) that behind the images and scenes that this city bestows on you, is a future where all is possible. As one climbs the 183 step-bell tower of Saint Domnius Cathedral in the old town of Split, what does really one see?