In Madeira, Quintas are becoming the new cultural touchstones and enduring icons that define Portuguese hospitality.
It was the best of times. I am traveling to Madeira. It was the worst of times. The plane that would take me to Portugal's ethereal island in the Atlantic, was nowhere in sight.
It was the spring of hope. The long winter days of hunkering indoors and socially-distanced from the world were ebbing away. So too was my paranoia – quietly dissipating by the sight of a rumbling flying metal canister taxiing on the runway.
I was told that if one arrives in Madeira, it should be viewed from the sea. Not because this was how it was first discovered in 1419, around the time when Portugal began its 'Age of Discovery', leading on to several expeditions across the globe; but simply because, it's the way it should be.
Imagine sailing across the North Atlantic for months at the mercy of a tempestuous sea and then happening on a lush, geogically-dramatic island. It would have struck anyone with awe, even the most jaded of travelers.
In the advent of new-age travel, one experiences it from a bird's eye view. Such in a way that my generation is expected to. You hop on a plane and land on one of the planet's shortest strip of runways often plagued by wind gusts and lingering fog. It's enough to convert a nonbeliever.
Yet regardless of how one arrives, the feeling would have been the same for me and of my predecessors – the wide-eyed explorers, opportunist merchants, conniving pirates and their band of throat-slitters and even castaways lost at sea.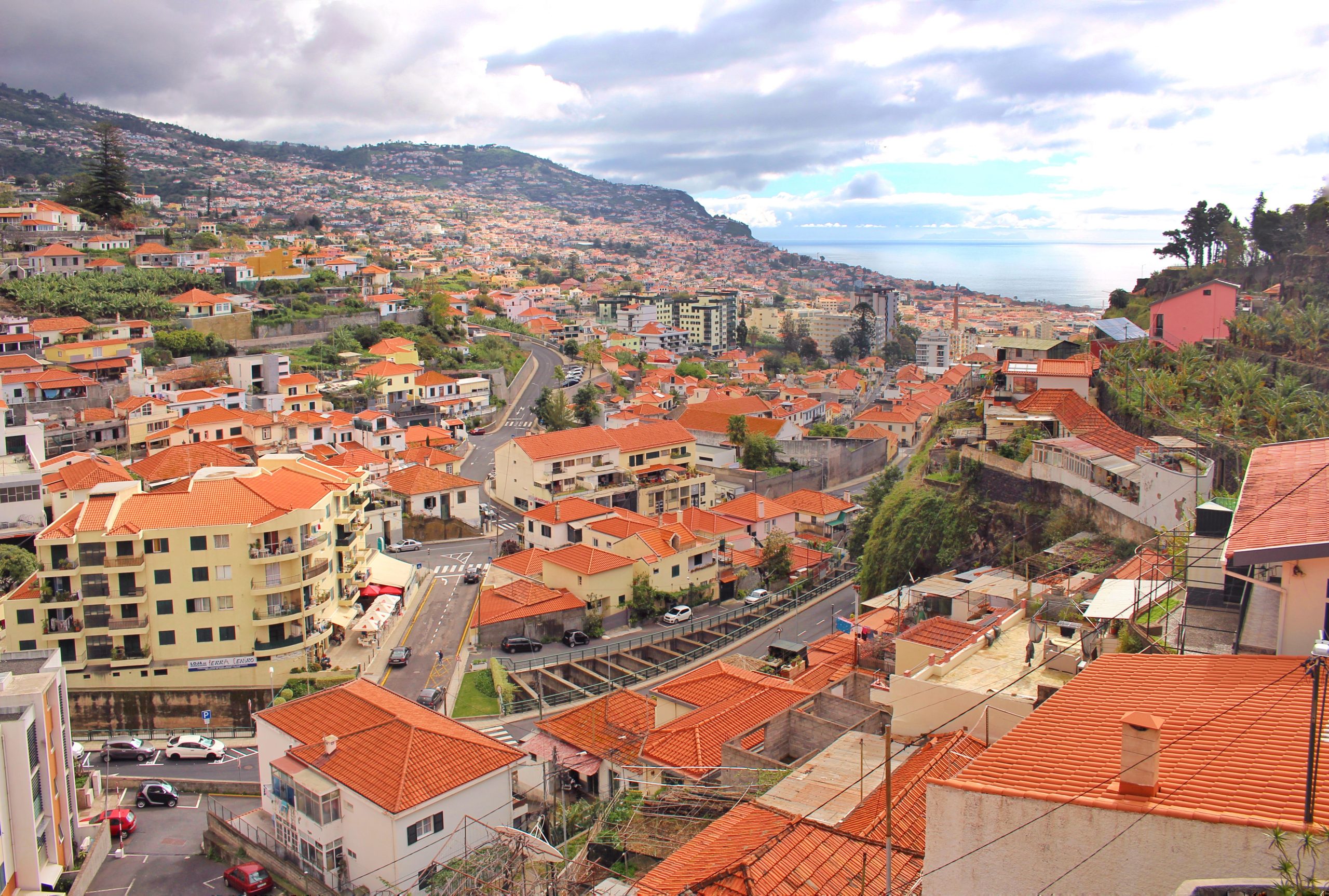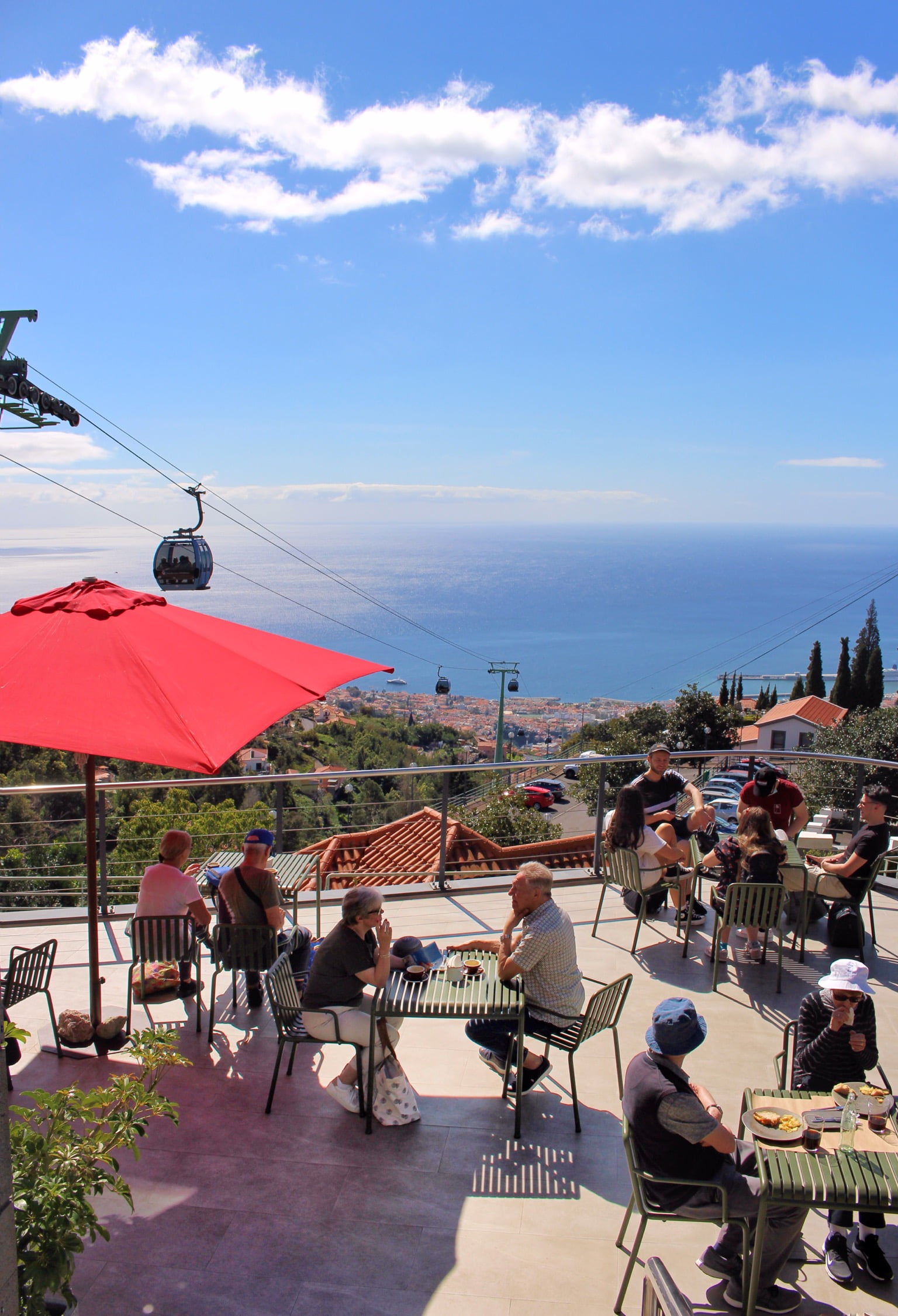 In Funchal, Madeira's capital, it is simply a place of gentler pleasures with a subtropical climate; the city's attributes that have long lured travelers, pilgrims and sybarites.
Winston Churchill used to come here. Captain Cook made a stop-over before sailing on to Rio, then to Tierra del Fuego before reaching Australia. If I were to chase the prospect  of my own version of 'eternal spring' while enveloped in a fecundity of flora, it may just be a good idea to rely on the wisdom of a 60-year old giant tortoise.
It's not every day one gets a recommendation from a prehistoric vertebrate that spends its entire youth wandering leisurely around a lawn surrounded by vegetation and warm sunshine. For six decades, 'Colombo' the tortoise is perhaps the longest staying guest at Quinta Jardins Do Lago. This might just be the ideal place to start.
QUINTA JARDINS DO LAGO
Nestling on one of the hills surrounding Funchal, Quinta Jardins Do Lago oozes in 18th century charm and boasts more than 600 species of plants that could easily turn into a field lesson to any budding botanist.
Here is the exotic Bleeding Glory Bower and over there is the Black-eyed Susan sloshed over walkways. That's the Golden Trumpet beside the Corkscrew flower, and just behind is the Mysore Clock Vine. I have never heard of such plant names before. To me, a 'corkscrew' is something you order in a bar as the 'clock' strikes 6pm, then only to be awaken by woeful 'trumpet' the morning after.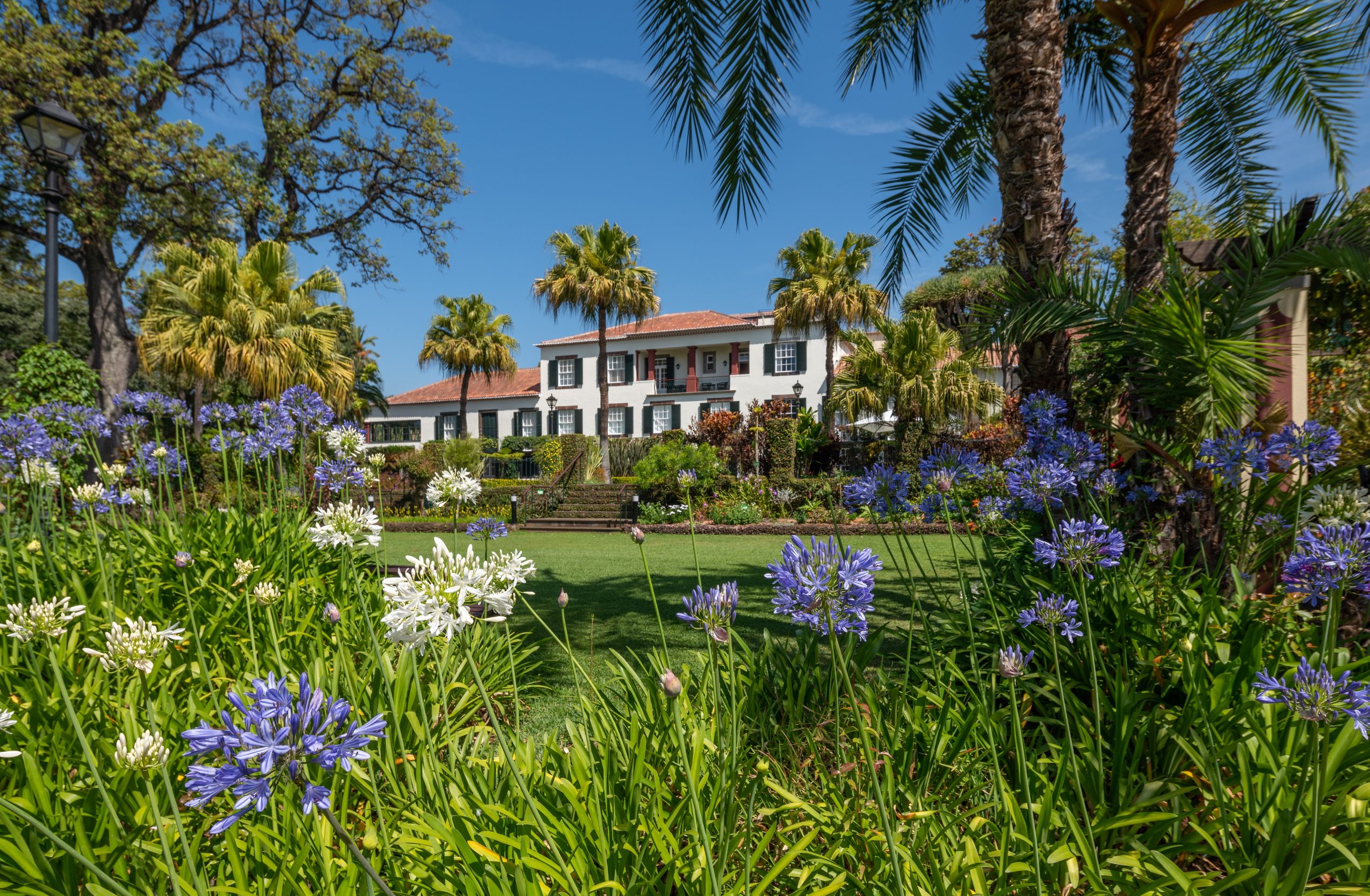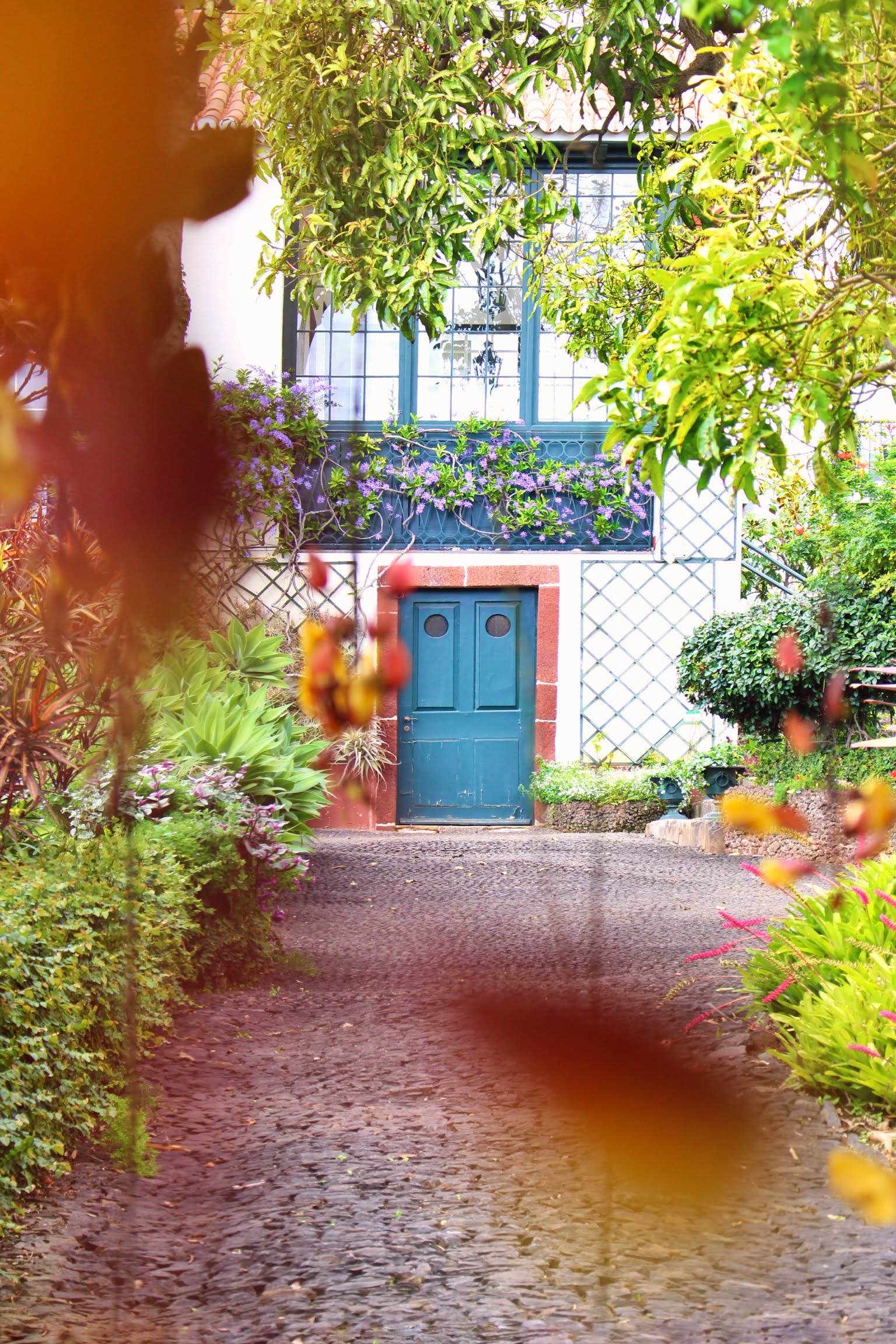 Being far from the city and tucked away in a quiet residential neighborhood, the property has a countryside vibe and an old-world charm – colonial themed interiors, gleaming marble floors and antique collections sumptuously scattered all over this 41-room Madieran Quinta.
Back in the days, it was home to both British and French families and a mainstay for General William Beresford, Commander of the British forces during the Napoleonic Wars. The estate was then converted into an intimate 5-star luxury property in 2000. Perhaps the enduring legacy that the old General left was his sideboard, that adorns the restaurant's dining area of the same name.
One is encouraged to get up late here. After all, this isn't a kind of hotel where you would need to rush to get a good table for breakfast or compete with other sun worshippers for that perfect warm spot next to the heated pool. Whilst it is relaxing to linger on, in one of the Romeo and Juliet balconies (every room has one) that reveal views of the garden, the sea and the surrounding hills, it's also not a bad idea to head to the sauna for a Turkish bath.
I wondered if my pursuit of eternal spring is turning out to be a rising dream of hedonism. A quick look at the pampered tortoise somehow made me feel a little inferior.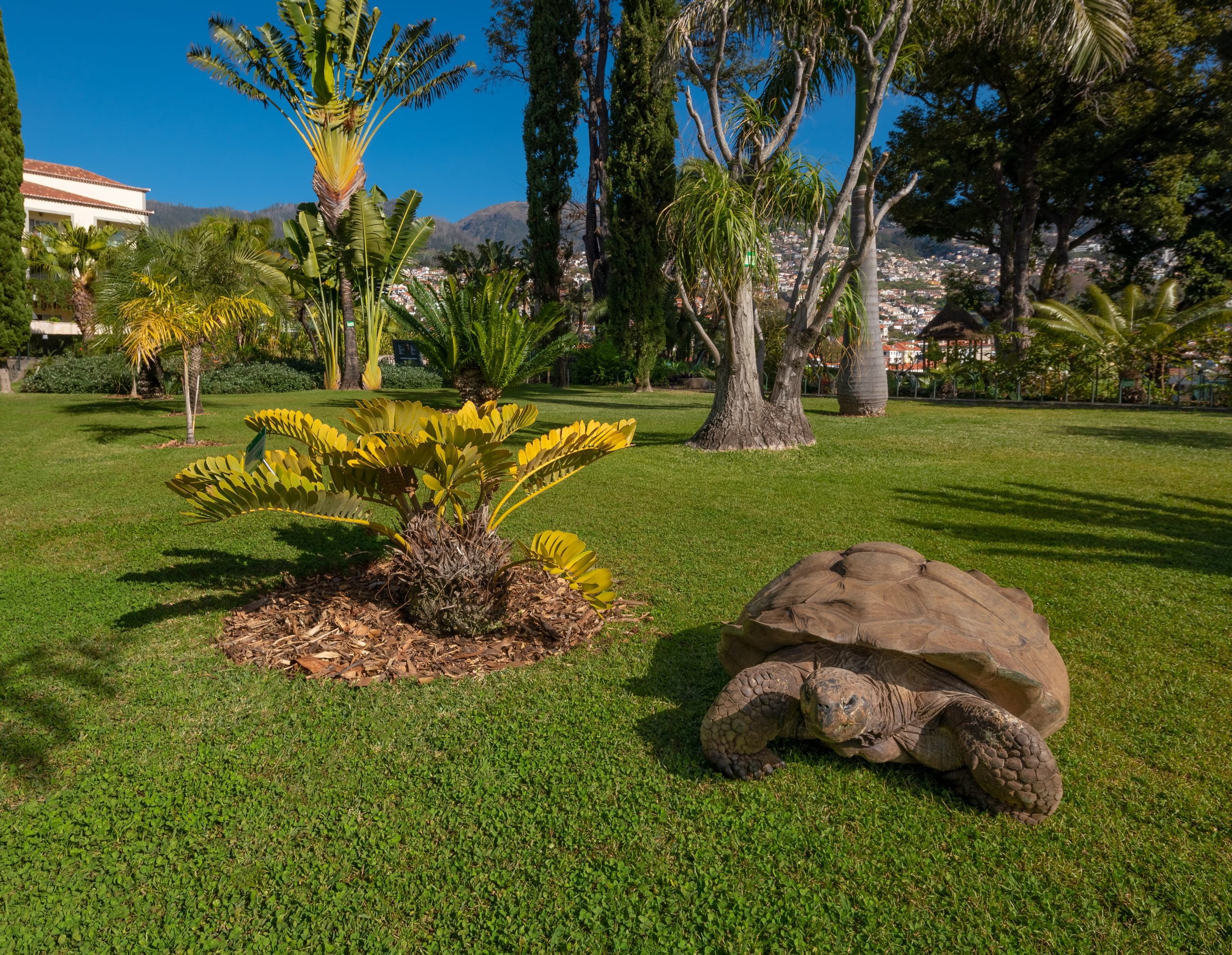 It was at this time, after petting Colombo, I caught up with Alberto Reynolds; smartly dressed, salt-pepper coif and with eyes that glint with curiosity. He is the kind that could speak volumes about good hospitality and a genuine welcome. After all, Alberto has been looking after and continues to inject transformative ideas to two sought-after properties on the island – Quinta Jardins do Lago and Quinta da Casa Branca.
"Quintas are like staples in Madiera", he told me. "Many British and Portuguese nobles owned grand manors and bought estates back when the Madeiran wine industry was at its peak. These manors have been passed down from several generations and many of them are being reborn to become hotels. As custodians of hospitality, we breathe life into them."
Hinting about my personal pursuit, he couldn't resist opening his doors for me to his other beloved Quinta. "You would love it there too", he went on to say before heading to check on his longest staying guest. By the next morning, I have checked in to my new room in the astonishingly preserved 20th century manor.
QUINTA DA CASA BRANCA
Quinta da Casa Branca needs no introduction. Let the birds that bathe amongst the dew-soaked grass and chirp all day do the talking. Let the bougainvilleas, the African and flame trees that nick one another in the soft, offshore breeze do the welcoming. Let the homemade scones and afternoon teas do the pampering. Let a plate of octopus glazed with caviar and a crispy Sauvignon from the Douro Valley do the indulging.
What was once a banana plantation in the mid-19th century and owned by the former wine trade pioneer, John Leacock, Quinta da Casa Branca's earthly beginnings seem to have a sedating effect on people who chose to leave a frenzied city somewhere across the globe in favor of an agricultural sanctuary.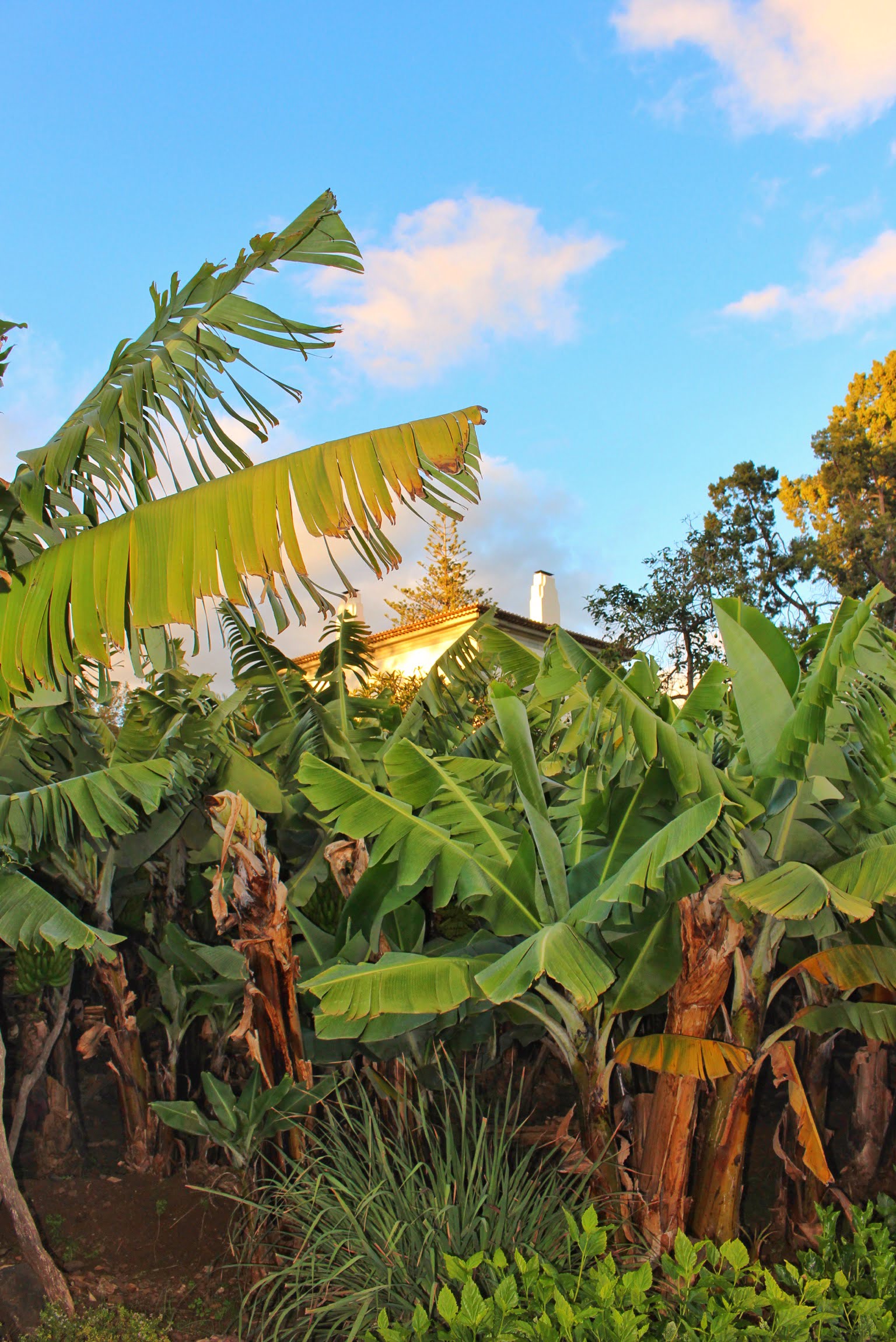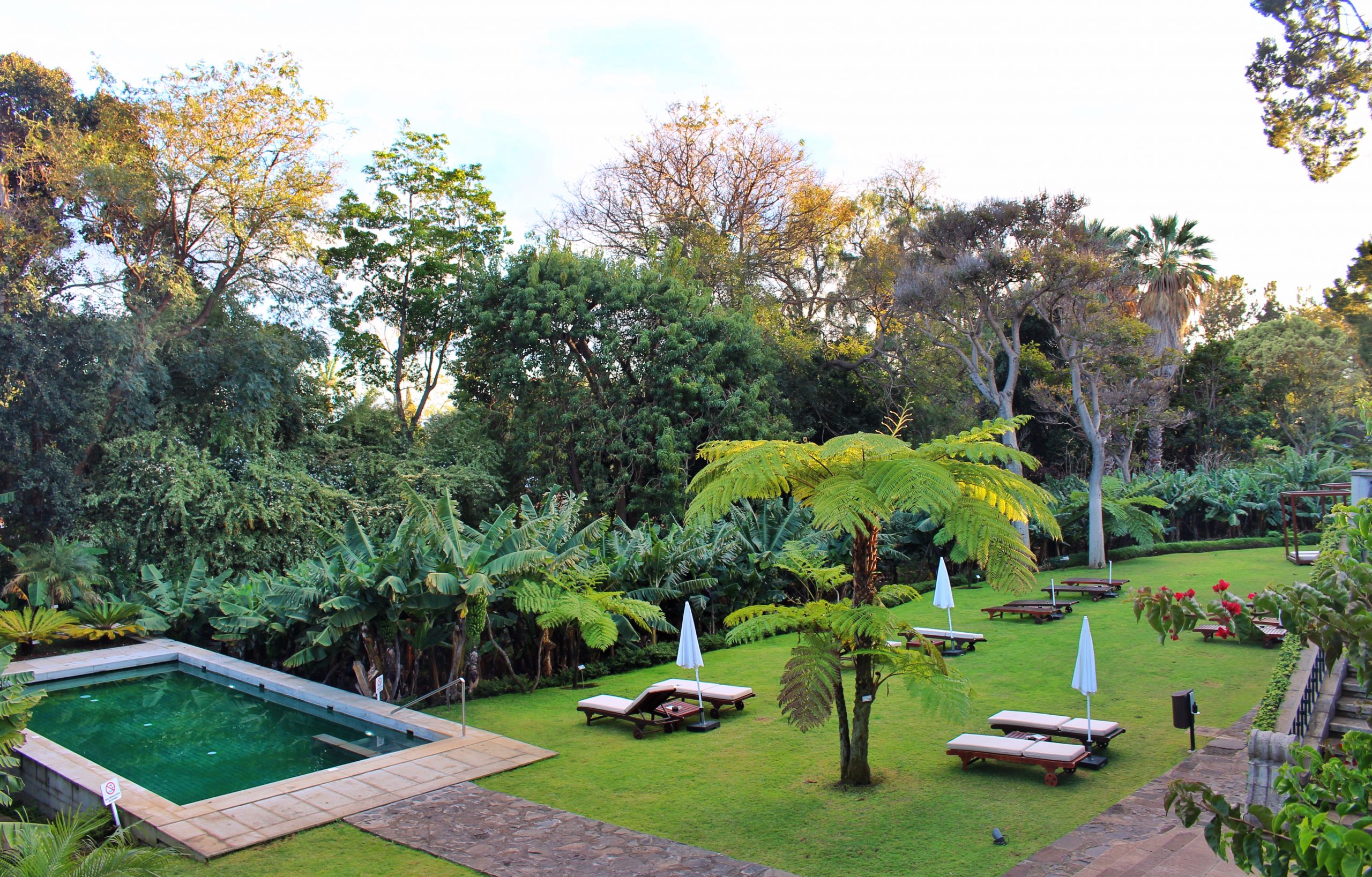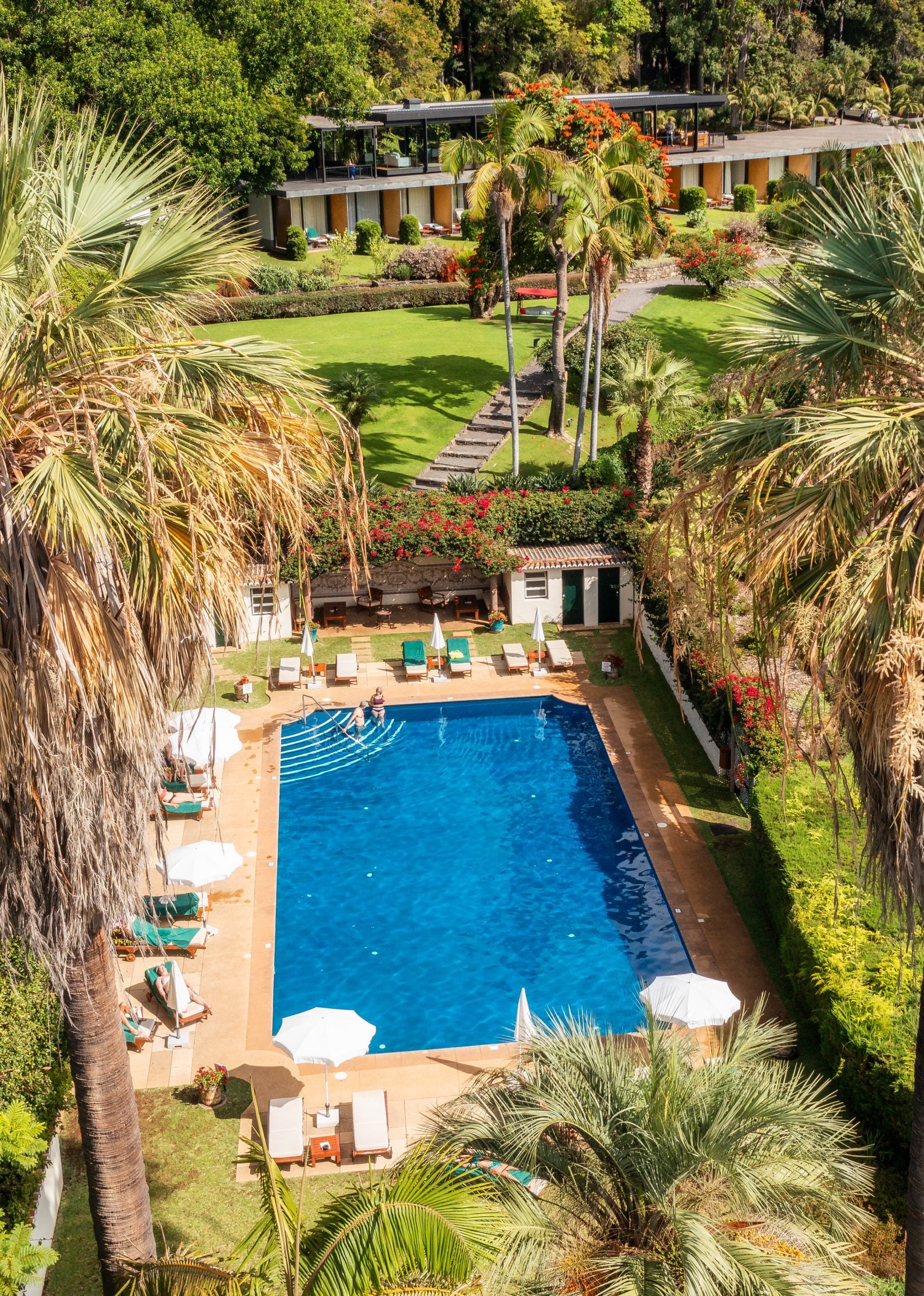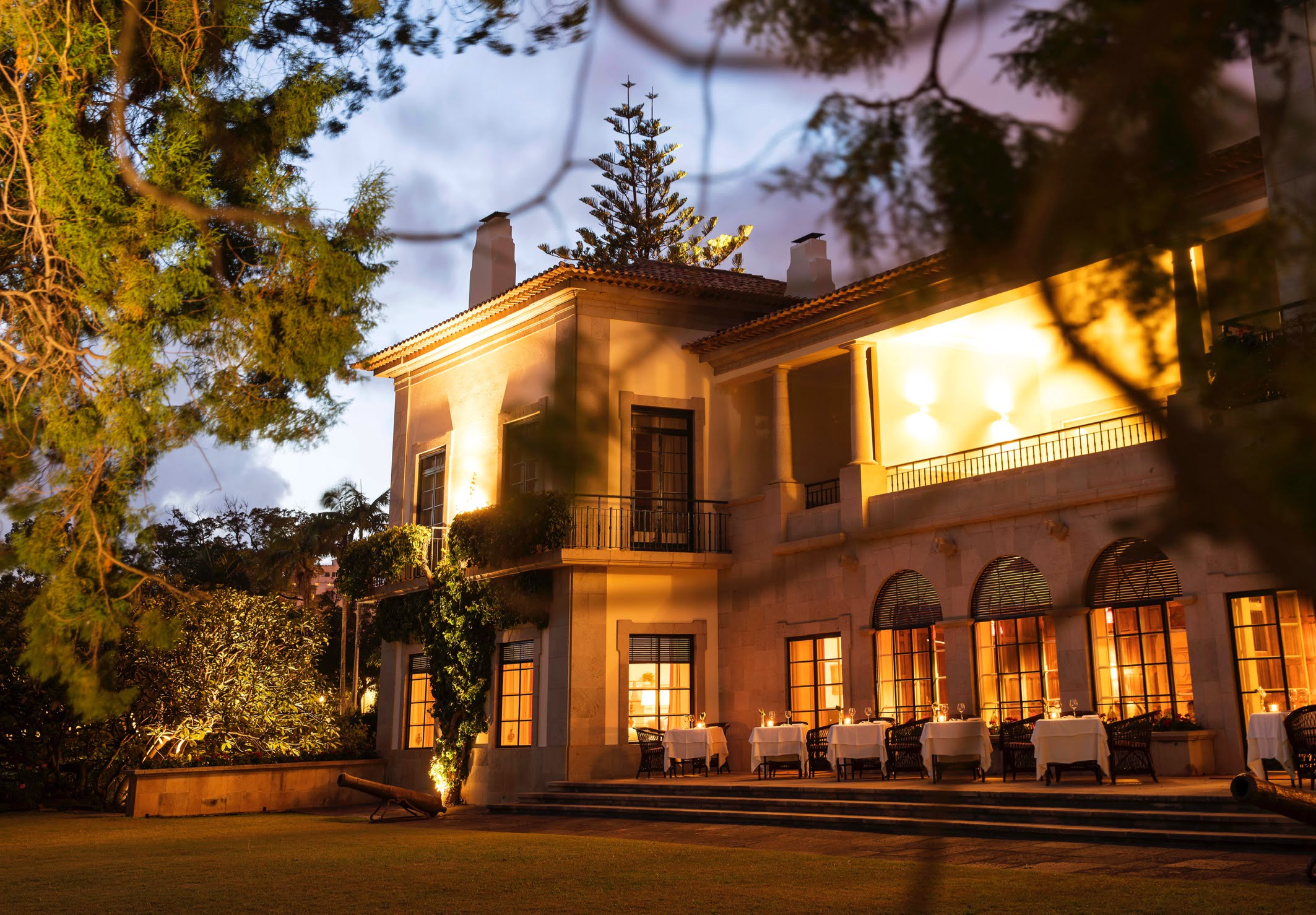 In case you are wondering, there are still banana trees around, tokens of the retreating world and ensconced in between them, is a refreshing pool exclusively for adults, sunbeds sprawled across a tranquil ground.
It is easy to understand why many have called it an oasis, while others describe it as a secret hideaway. This is no exaggeration. A quick peek at Tripadvisor reveals the fitting nature of this acclaimed hotel, a member of the Small Luxury Hotels of the World group.
The main part of the hotel is strikingly modern comprising 49 rooms. A swanky low rise architecture made of glass, steel and slate, a homage to the volcanic quality of Madeira. A few steps across the manicured lawn, stands the opulent Manor House Suites. Inside you stumble some of the Leacock's private collection of worldly accoutrements on display, fit-for-a-king private residences, a salon and a library, as well as a formal Dining Room Restaurant offering inventive cuisine in the evening.
I could see that a Zen garden master had also been busy attending to all sorts of tropical trees, botanical plants, vines and bushes that make this 5-star hotel as inviting as anyone's imagined Shangri-la.
Perhaps the ultimate hidden pleasure of this hotel is that one doesn't feel the unraveling of time. It's as if, everything had momentarily froze, including the season that smelled of eternal spring. It may have been a short trip, staying two nights in each Quinta of different persona. That's surely nothing to pout about. One feels better and kinder and to see a rainbow at the end of my visit, it seems Madeira, had fulfilled its promise.