The capital city of Spain invites you to play a part. Take a stroll. Linger in the park. Kiss under a lamp post. Have a smoke. Head over to a bodega. Lock eyes with a stranger. Flash a coquettish smile. Order a caña. Reflect. Summon the inner soliloquy. Repeat.
Madrid in the middle of May has a stubborn melodramatic feel about it. Setting foot in this bustling metropolis at any given time, one's ordinary trip can instantly turn almost cinematic, plucked right out of a movie screen. Venture along its elegant avenidas and quiet side-streets, one becomes a supporting cast member as if stepping into a Pedro Almodovar movie set. Walk too slow and you might miss the gasp-inducing plot twist. Walk too fast and you experience that the axis of the world has just suddenly shifted out of whack.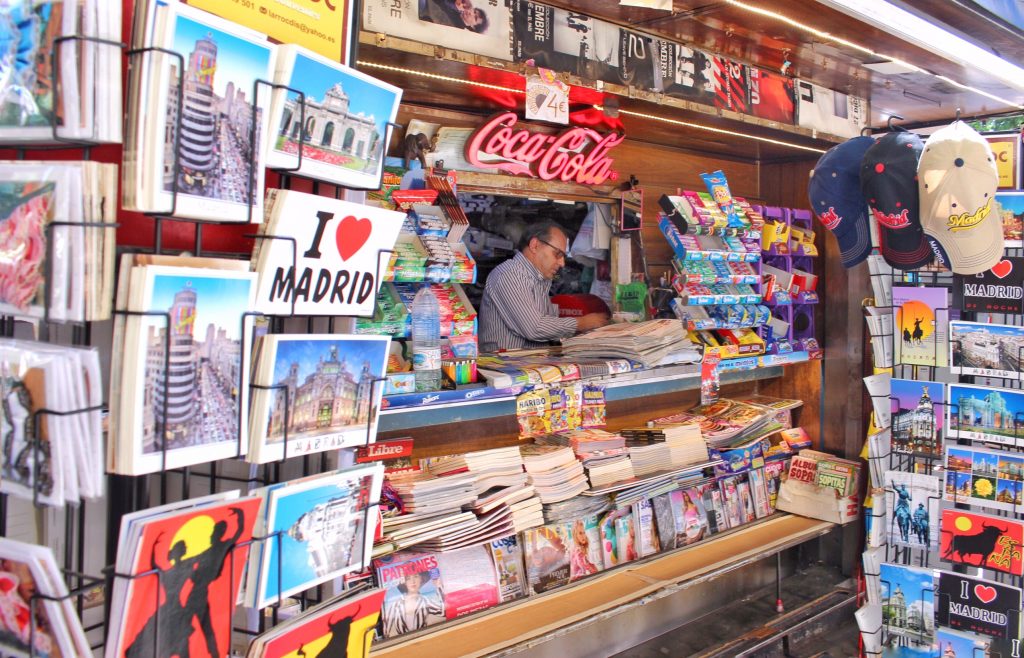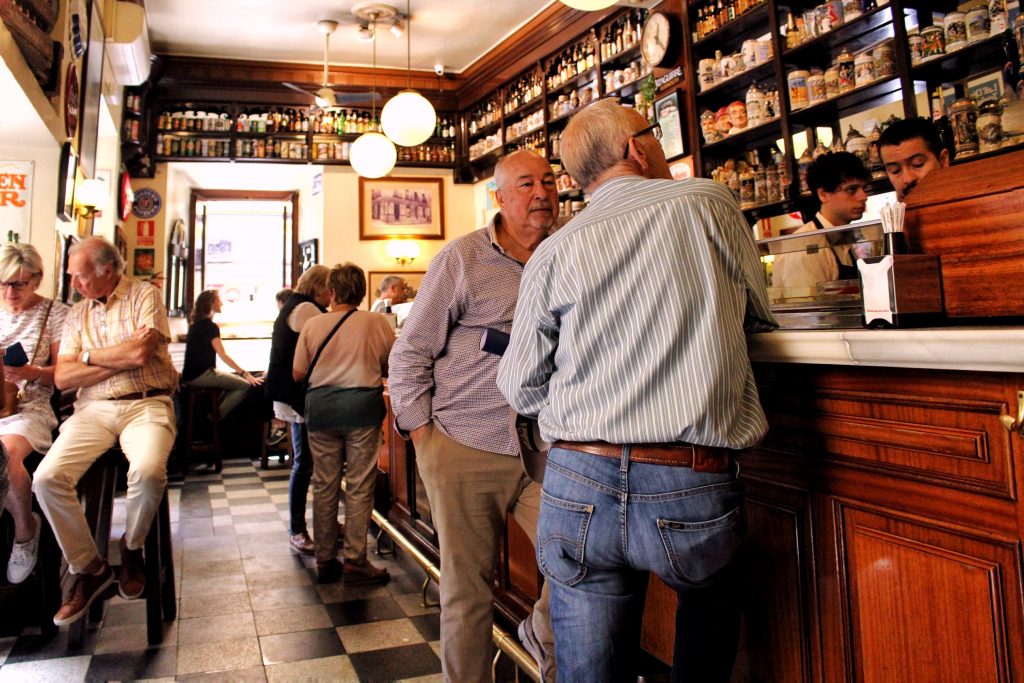 Anyone who is familiar with Almodovar, the internationally acclaimed filmmaker whose works are largely populated by women thrown into a collage of marginal caricatures like the drug addicts, transvestites, punks and prostitutes – know only too well that the city is like a stage for all. To Almodovar, "the characters in my films are assassins, rapists and so on, but I don't treat them as criminals, I talk about their humanity". It might as well be true that even as in the most bizarre role, Madrid will always have something for everyone.
In my fascination for the 'Almodovarian universe', I came to Madrid hoping to find my role and fulfill my part. At the same time not only see a city that has shaped the filmmaker's art but also witness if Madrid, this fabled cinematic city can lend sumptuousness and inspiration to my gallivanting spirit.
Scene 1. Take 1. Ready. Action!
The early morning chill dispels swiftly as the golden sphere of sunshine rises over Plaza Mayor. I am about to fly into the open arms of history. Or least I think I am.
Plaza Mayor is the literal embodiment of Castillan pomp and controversy. It feels about right that my peregrination should start here. At first glance, the wide open square might appear as one of Madrid's major tourist meccas. Street performers of all kind tempt visitors into taking silly pictures or buying bijous. As I wander through the shadow of arcades where shops and cafés abound, I can hardly move an inch without being peddled by the 'the most delicious' and 'best in town' overpriced comida. 'Sangria' they whisper. 'Paella' they cajole. I hear my wallet cry.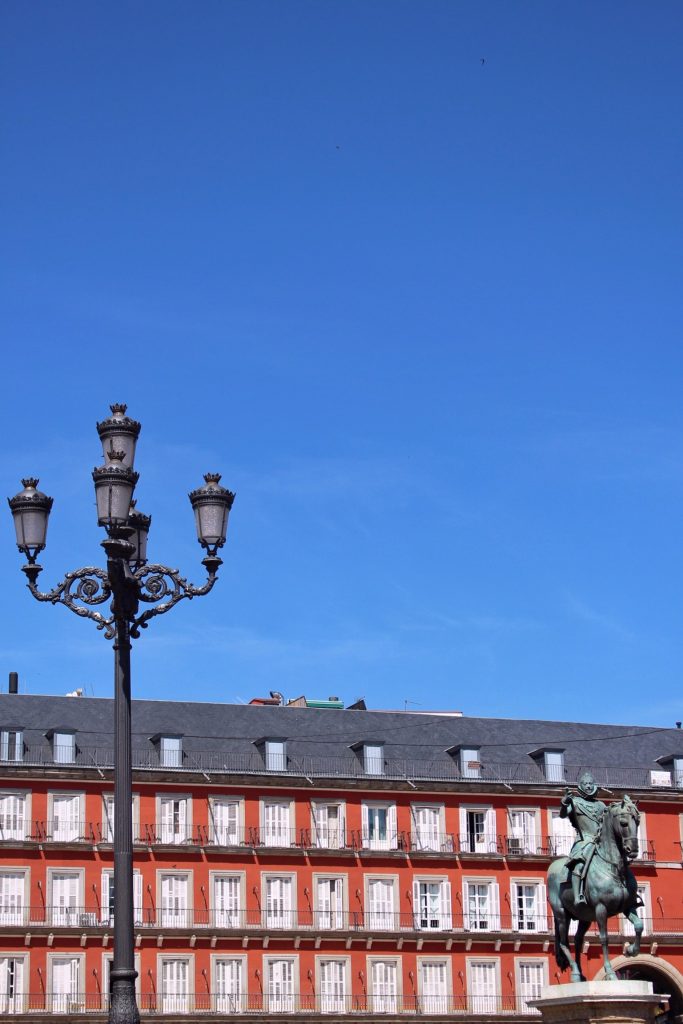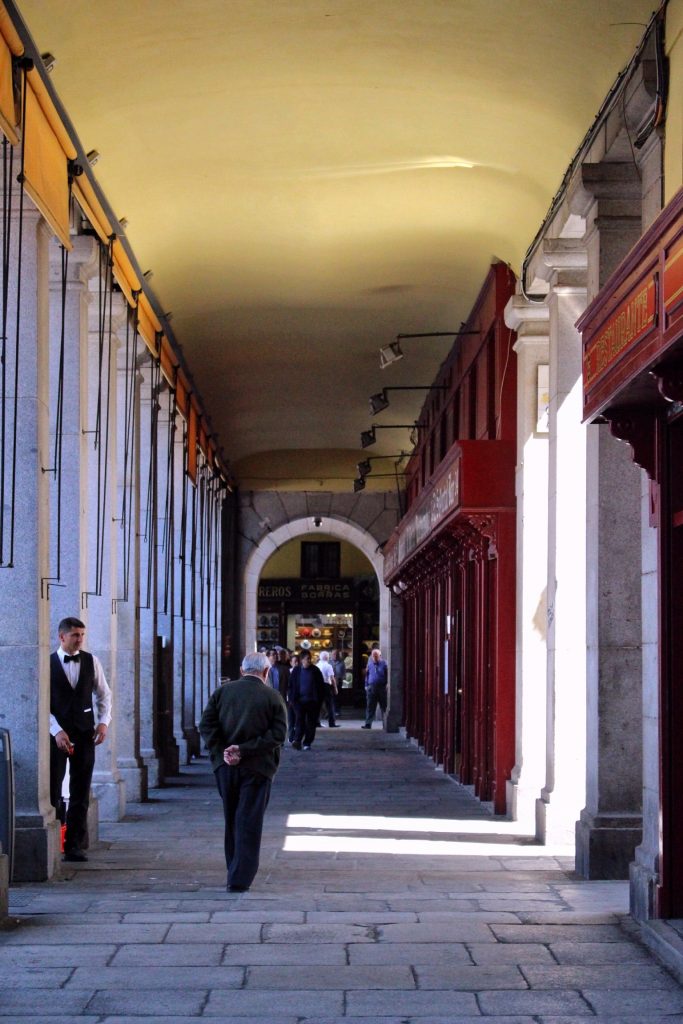 Past the crowd of visitors equipped with nothing but cameras, selfie-sticks and frivolous grins; looking beyond the grandiose atmosphere, there is more to Plaza Mayor than meets the eye. Beneath me is where Isidro Labrador got beatified becoming Madrid's patron saint. It is where bullfights took place during royal weddings and births. However, it's not all revelry. Here is where many heretics met their untimely demise, burned either at the stake or faced a gory garrote or dangled in midair as one drew the very last breath during the grim Spanish Inquisition. Then there was the fire that smoldered the plaza. A finishing blow, yet at the same time almost cleansing everything that happened prior. Again, what is history without it?
Scene 2. Take 2. Street. Sights and Sips.
Gran Via needs no introduction. It beckons. Inescapable. It pulls you in no matter how much you are trying to get away from it. As I got off the bus, the rush and frenzy of things, the noise, the sights and the mixed swagger of humanity and machine greeted me.
Amongst the merry mix of art deco and old Spanish Renaissance buildings which juxtapose the modern spruced up edifices, perhaps the most recognizable structure is the Telefonica building. It was Madrid's first skyscraper, American inspired yet with Spanish-Baroque flair. When Franco had his grip on power during and after the Spanish Civil War, the building housed the Office of Foreign Press and had been the target of several bomb attacks.  I can only imagine Ernest Hemingway and Antoine de Saint-Exupery as they crawled along the building's foot dodging shells and taking cover just to send in their reports inside as foreign correspondents.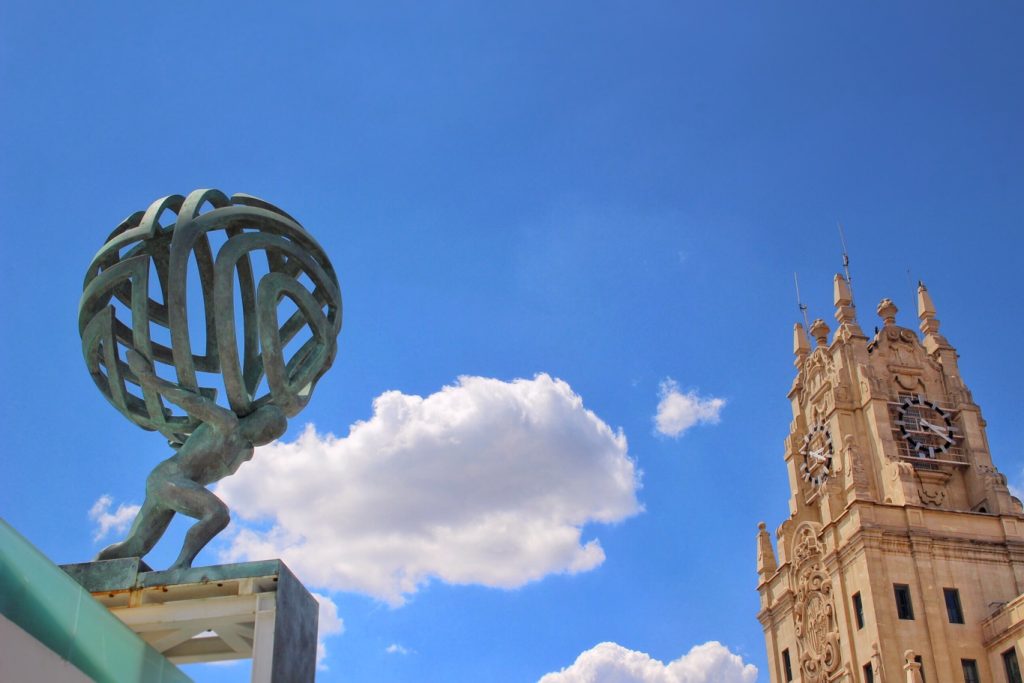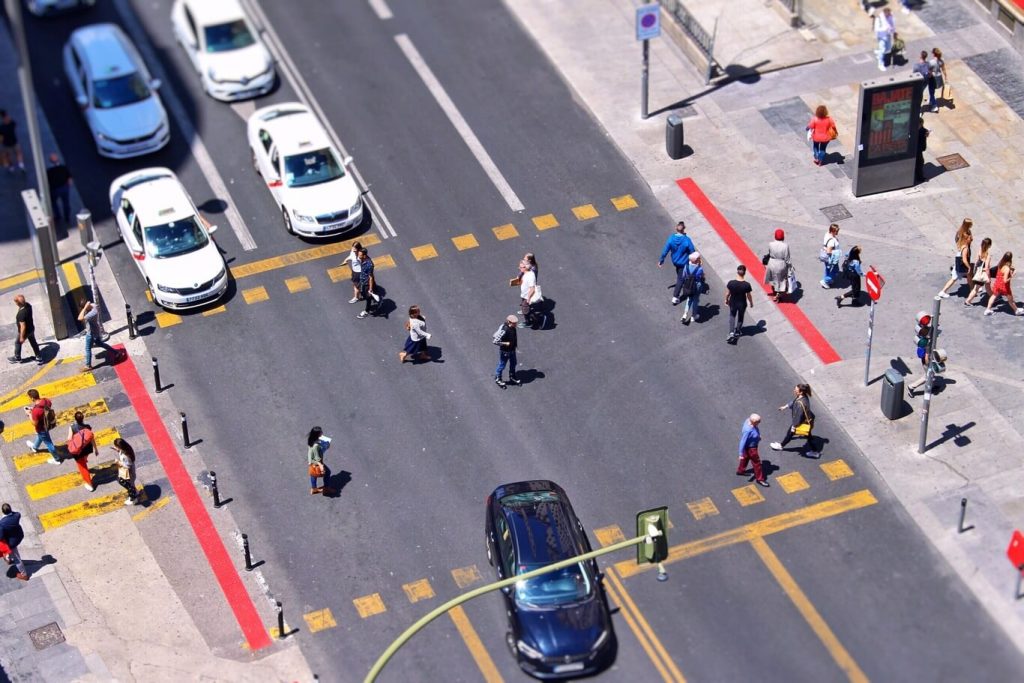 To see Telefonica's sheer scale and magnitude, is not by going inside but rather gazing at it from the outside, yet up close. Having booked a table at Picalagartos, a rooftop restaurant and bar on the opposite side of the street, I was treated with a majestic view of Telefonica and the sprawling city below me. Lunch ensues cooked by a learned hand. Flavors are fine and classic as the technique. From tapas to starters, to the succulent catch of the day and hands down dessert. I sipped my wine visualizing the glorious sunset. It's time to move.
What is it with travel that offers the spirit the kind of familiarity to a place, at the same time a sense of fulfillment to every traveler's curious nature.
Scene 3. Act 1. Life in the Barrio.
Satiated from lunch and visual assault, descending a few floors down, I retreated to a pedestrian street where the rhythm is slower. Further down, I emerged into the Barrio Chueca where the city gets a little more personal. It is Madrid's most flamboyant neighborhood. It is easy to see why. Chueca does not pander to tourists or give a damn to what anyone thinks about it. It simply thrives and exudes a peculiar restless characteristic of the city. A few blocks away to the west is hippy Malasaña.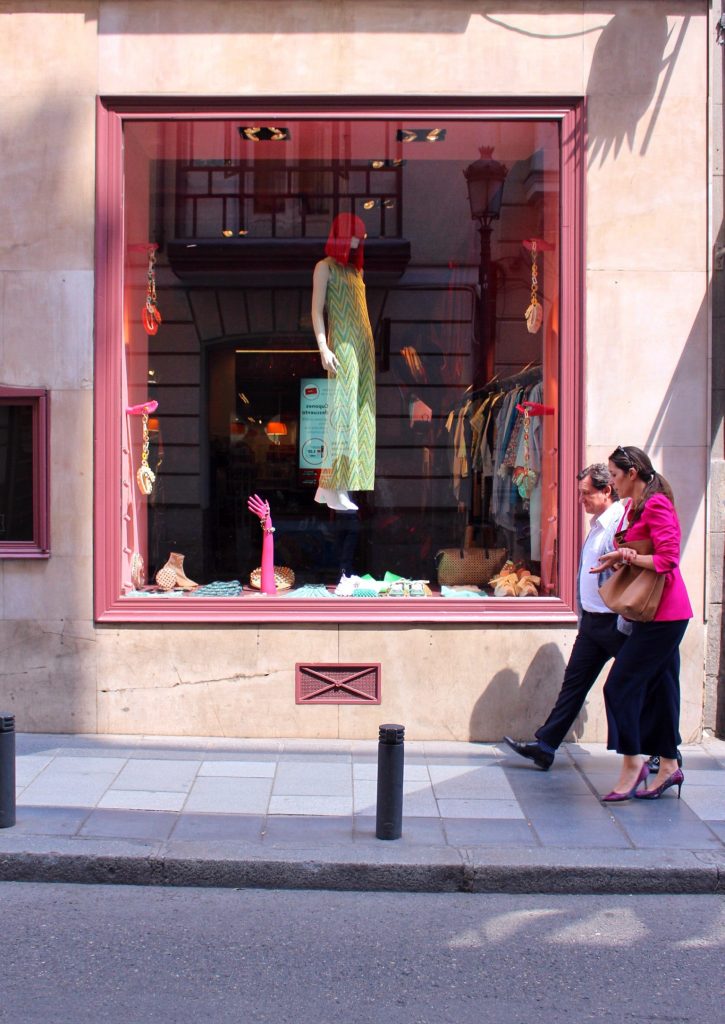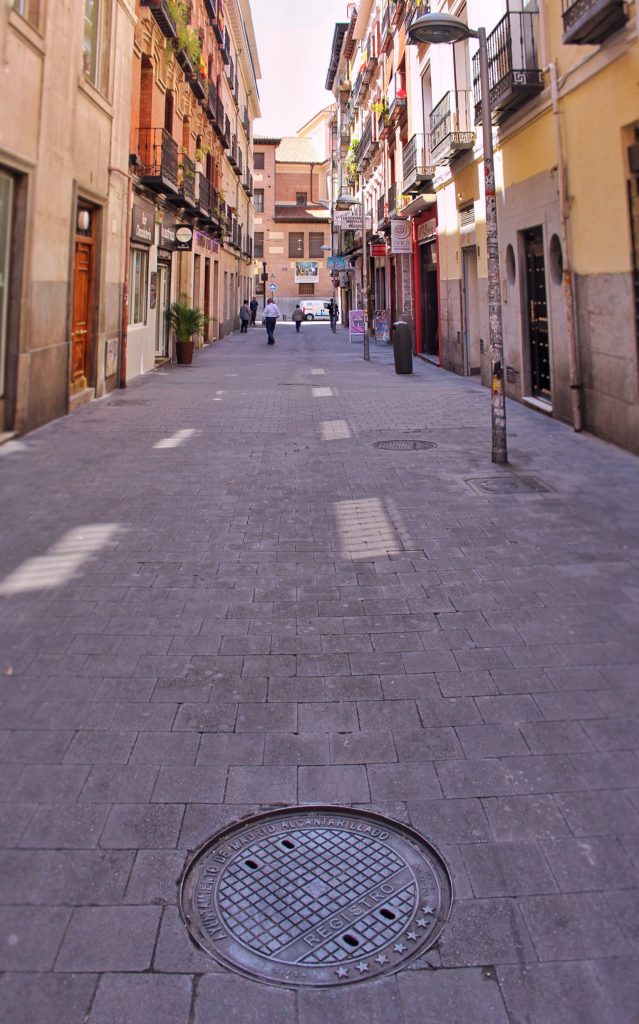 My compass of curiosity points me directly to the barrio's beating heart – its plaza. While Chueca affords to offer almost anything from trendy boutiques to fine restaurants, boisterous bars,  sanctimonious churches, museums and ateliers suiting all taste, I fell for the barrios late 19th century style buildings and laid back atmosphere. Music breaks out from time to time and runs like electricity. Bodies sway, couples twirl blissfully, others erupt into song, beards co-mingle and love – physical love, self-love, selfless love, requited and unrequited floats like the music.
Scene 4. Take 1. Pintor, pintor on the wall, who is the fairest of them all.
As the city takes a break during an afternoon siesta, I hurriedly made a beeline to two of the city's repositories of the grand masters' art.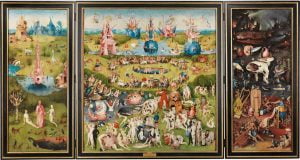 At the Prado, I gaze into a window of historical oddities of the Spanish psyche. In one corner, I see the royal paintings of Velázquez and further down, I stumble onto Goya's disturbingly black paintings. I am however in search for one particular artwork that would show me the vicissitudes of sensuality and modesty. There is indeed Goya's two "majas" –  the clothed and the naked. But I was keen on getting the lust element on a higher level. Heironymus Bosch's The Garden of Earthly Delights had just poked me from behind. Focusing on the middle part of the triptych and taking no notice of the two panels on both sides, I was drawn to hypnotic scenes of dreamlike landscape of carnal bliss, frolicking in exposed nakedness while at the same time eating strawberries. This is surely too much to take in. So I elbow my way out and head to my next stop.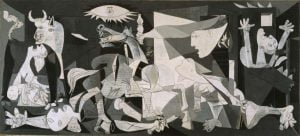 Museo Reina Sofia prides itself as the premier house of Spanish contemporary art. And why would they not be? Famous works of Salvador Dali will wink right at you, while Joan Miró's paintings gesture you to come closer. From here, visitors can leap forward to an even more modernist masterpiece of other 20th century artists that bloom with creativity and inspiration. Just like others who made a pilgrimage to El Reina, I must familiarize myself with the museum's gem. Guernica, by Pablo Picasso is as compelling as the artist himself. Inspecting the painting, my eyes stay glued to every detail – the unflinching vision of the devastation and savagery of modern warfare. The tragedy taking place inside the frame is for anyone to draw a lesson from. Wouldn't it be ironic if a poignant piece of art can be a step to saving the world? That something I would like to know.
Scene 5. Take 3. I did it my way.
As the afternoon heat begins to wane, shutters are once again raised, curtains are drawn and windows flung wide open to let the early evening breeze in. Life returns. Madrileños after indulging in siesta, are now getting out of bed just as chic storefronts welcome customers once more for the impending long night. Traffic starts to purr and it seems that almost everyone is in a party mood. I am strolling or rather strutting (as one is expected to do) along Madrid's upscale and most exclusive neighborhood.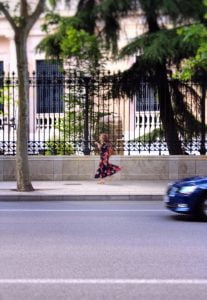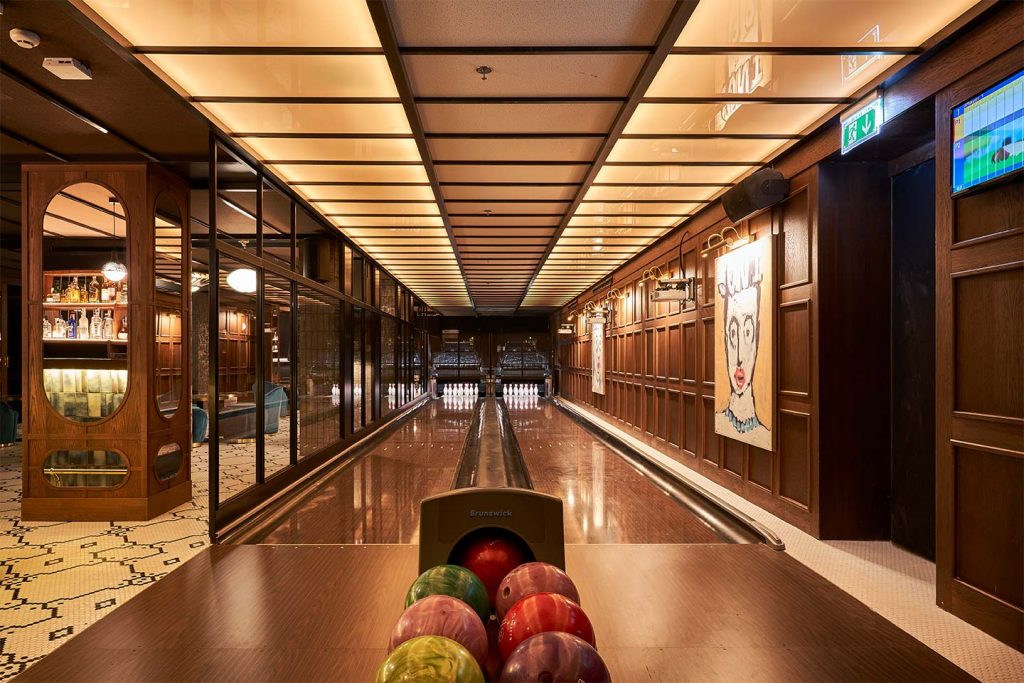 Barrio de Salamanca is like a miniature version of New York's Upper East Side with a more strait-laced kind-of-panache. I thought of playing Carrie Bradshaw but this is Madrid and I am in Almodovar's Universe. The red flats I'm wearing are still up for walking but my feet are in opposition. Retiro Park, the green lung of the city is just around the corner. Down the broad avenida of Calle Velazquez, with my feet in need of respite, I went inside the former Gran Hotel Velazquez now reborn as the Bless Hotel Madrid, a five-star hotel exuding sophistication and downright thespian glamour.
The hotel, although strikingly modern, radiates the exoticism of the Twenties. Crowded with wordly ghosts – tile-clad walls and a roulette wheel ceiling fitting, slabs of ochre, the velvety upholstered furniture, a glass dome and a narrow winding staircase with crystal beads that cascade from the eight-floor all the way down. The hotel wears a fragrance that has a whiff of cool and hedonistic. Poking around the stagey interior, I see a library where shelves are laden with Spanish and Catalan literature. Here every modern traveler performs the ritual of checking in and checking out. Guests ride the elevator up, walk on a plush floral patterned carpet leading to their very own private escape. I have heard from hushed conversations that all the 111 rooms have been distinctly tailored to exude an air of relaxation and lavish pampering. There is an underground bar for clandestine rendezvous and for grabbing balls – a bowling alley (yes baby)!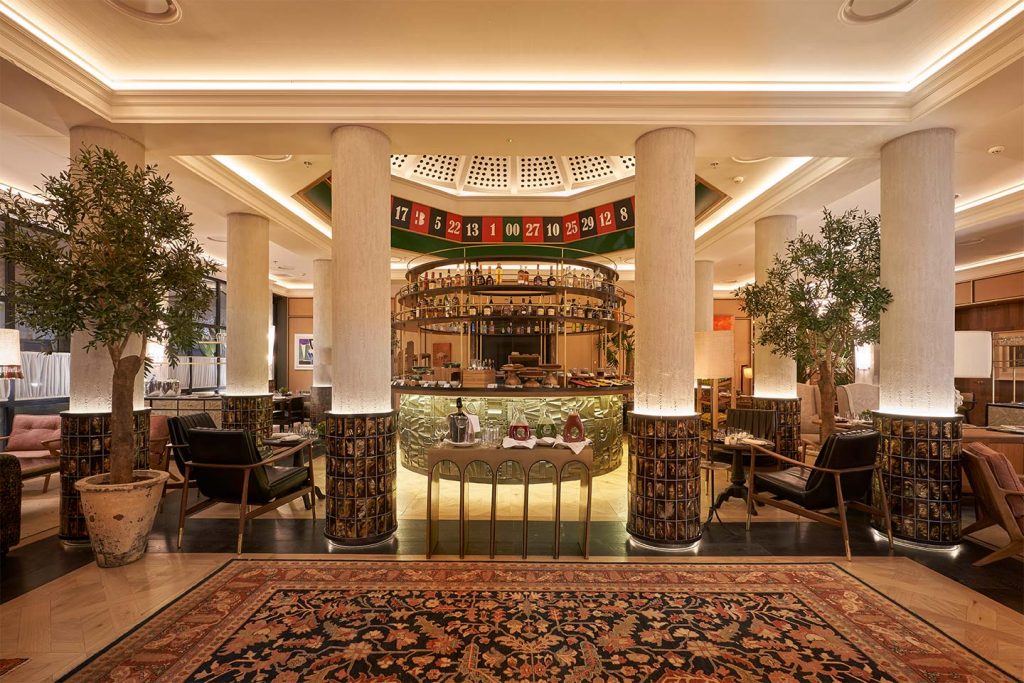 During my time in the city, feeling the constant pull of the Almodovarian Universe, it seemed that my world is starting to rotate in that axis. The hotel in some uncanny way is playing a backdrop for what my final scenes would be. Will I be someone who will end up a full blown hedonista or rather a poor curious viajera wanting to be a pseudo artista?
Before I get carried away on my vision of the imagined role, I retreated back into a comfortable silence and ascended to the rooftop. The setting sun bids adios for the day like a spilled caña – golden, dramatic and dreamy awashing the city that lays in front of me.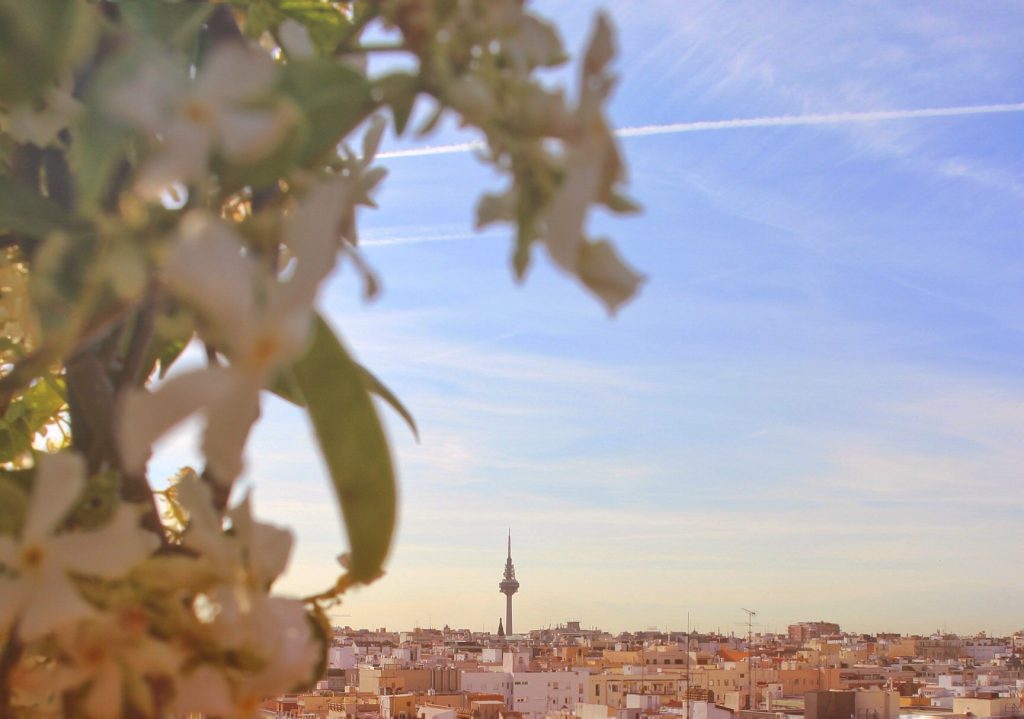 What is it with travel that offers the spirit the kind of familiarity to a place, at the same time a sense of fulfillment to every traveler's curious nature. There are just simply places that fit the mood of a given stage in life. I have come to Madrid to get close to Almodovar's Universe. I got sucked in. Whether I performed with passing colors or failed miserably,  I do not have a clue. All I can think about is that this is Madrid where Jan Sevilla the exotic, nomadic chic, deep in her glass, dreamed of sparse, resplendent prose that would haunt a generation. I am ready for the spotlight.
….And cut!!